Ask the experts
Here is a selection of Q&As from Your Surrey Wedding magazine. If you would like your question answered by our experts, please email it to editor@yoursurrey.wedding.
To view more Q&A's on a different topic, please select one from the list below.
Hot topic: Vintage-inspired weddings
Our experts solve your dilemmas on vintage-inspired weddings
---
Really retro
Q. My hubby-to-be and I would love to create a 1950s setting for our big day. We've hired a marquee, but what can you suggest when it comes to decorating it?
A. Lesley Cole says: You can create a stylish 1950s wedding by having subtle retro twists throughout the day. Firstly, I would recommend a candy-inspired colour scheme with a bold print such as polka dots or stripes. You could decorate the marquee ceiling with plain and patterned bunting, while polka dot chair sashes would set the scene perfectly – matching napkins and table runners will complete the look.

For favours, you could give guests retro sweets presented in old-fashioned, striped paper bags – you could even have a dessert table with a sweetie buffet for guests to help themselves to.

Vinyl records look great within the table centrepieces and could also double up to display your table numbers on. If you're having a dancefloor for the evening, a black and white chequered design would really complement your theme.

Finally, don't forget to highlight the theme through music – rock 'n' roll broke through in the '50s, so an appropriate band would make for excellent evening entertainment.
---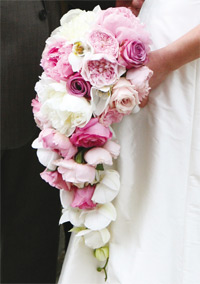 Blooming marvellous
Q. My wedding dress is 1920s-inspired in a silvery shade, and our overall colour scheme for the day comprises ivory and pale pink. What flowers would be in keeping with the theme of the wedding?
A. Claire Moore says: When I think of the 1920s, I envisage glamour, luxury and elegance. With this in mind I would design a long trailing shower bouquet that is packed full of scented, fully open blooms. It could include fragrant David Austin roses in both pale pink and ivory-coloured, and a rose called Cool Water, complemented with masses of pink and white peonies and stunning white phalaenopsis orchids to enhance the trailing look. You could also incorporate jewels into the design and use lace with pearl pins to tie the bouquet together.

If you are working to a tight budget, try a hand-tied bouquet packed full of ivory-coloured astilbe, finished with satin ribbon and pins.
---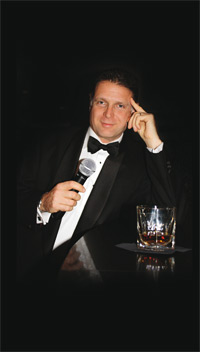 Memorable music
Q. We are unsure of the style of entertainment we should have for our 1930s-themed wedding day. What do you suggest?
A. Derek Hutchinson says: A swing singer is the perfect style of entertainment. Classic songs from that period can really create the atmosphere of a bygone era. As well as swing legends like Frank Sinatra and Nat King Cole, Tony Bennett and Bobby Darren, your entertainment can also bring some of the classic songs up to date by performing Michael Bublé's versions of Sway, Feeling Good and Me and Mrs Jones. Your singer could perform to a backing track, or to really set the scene, hire a professional that comes with either a band or piano accompaniment.
---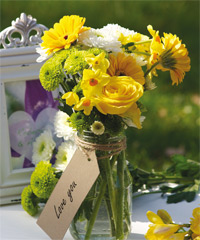 Picture perfect
Q. Our wedding is going to have lots of finishing touches and we would really like our vintage-inspired day to be reflected in our album. How can we work with our photographer to achieve this?
A. Kate Dawkins says: Good communication with your photographer is important, so the more you discuss your ideas with them, the better.

Ask your photographer to take pictures of the individual finishing touches as these will help to tell the story of your day. If you have something on a larger scale, such as a vintage bus, ice cream stand or even a band, discuss opportunities with your photographer for some posed portrait pictures with these elements in the background.

One of the biggest decisions you need to make is how you would like your wedding photographs to be processed. Genuine vintage photographs usually have a dated look and if you want to recreate this for your own wedding photos they can be processed to achieve this. It's a good idea to discuss the level of effect before the big day.

When it comes to wedding albums, there are a huge number of designs to choose from and some companies offer album covers with a vintage style.
---
Creative cake
Q. When it comes to our cake, which key details should we choose if we want a vintage-style design?
A. Shenaz Lake-Thomas says: When a customer suggests a vintage-themed wedding cake, I immediately ask what era they would like their cake to represent and their chosen colour scheme. When I think of vintage, the colours that spring to mind are pastel shades; how about opting for a Wedgwood blue with a hint of grey? The design could also incorporate elements of the bride's dress such as pieces of lace or ribbon or perhaps even an antique brooch.
---
Contact our experts...

Claire Moore
Florist

Derek Hutchinson
Swing singer

Kate Dawkins
Photographer

Lesley Cole
Wedding planner

Shenaz Lake-Thomas
Cake designer
---