Ask the experts
Here is a selection of Q&As from Your Surrey Wedding magazine. If you would like your question answered by our experts, please email it to editor@yoursurrey.wedding.
To view more Q&A's on a different topic, please select one from the list below.
Hot topic: Planning worries
Our local experts solve your problems
---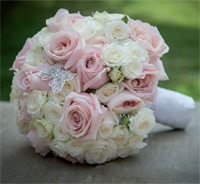 Pick of the bunch
Q. We're struggling to choose our wedding flowers as we have no theme in mind, what's a good starting point for picking our blooms – there's so much choice!
A. Linda Brooker says: It can be massively overwhelming. However, just knowing what you don't want/like is just as useful.

As a starting point, consider your favourite colours or combinations you'd like to incorporate within your day.

Let your venue influence your flowers, it's really quite a vital factor when deciding upon your big-day blooms. Opt for flowers and arrangements that look like they'll complement the décor of the venue. Clusters of wild pasture-style flowers may look out of place in a ballroom, the same way a glam dome of tightly compacted white roses wouldn't seem right in a rustic barn setting. Also bear in mind your table configurations (round tables or long tables?) as this can help influence the shape and design of your centrepieces.

Opt for flowers that are in season to keep costs down. Your florist will be able to advise what's in bloom when you're set to wed – make those the main flowers within your arrangements. If your favourite blooms won't be in season (or you've just seen the price tag for your beloved lily of the valley), ask your florist to suggest substitutes that achieve the same look. Big blousy garden roses, which are available almost year round, are often a stand in for summer's peonies, while hydrangeas can pose as sweet peas.

Finally, ask the experts! Meet with a florist to discuss your colour schemes, themes and ideas, and take on board their suggestions with regards to flower suitability, seasonal availability and price.
---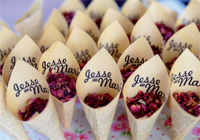 Planned to perfection
Q. We've just embarked on our wedding planning and already feel overwhelmed. What's the best starting point and order of priority to get things done? Help!
A. Lisa Vassallo says: Firstly don't panic and don't rush to book anything too quickly. The first thing you need to think about is the unromantic task of setting your budget. If relatives will be contributing, have a sit down and work out exactly how much you have to spend on the wedding. This will help with the next big decision – when you want to get married. It may be that you need more time than you thought to save for your dream day.

Once you have a budget and a rough date, start thinking about your guest list. Write a list of everyone you want to invite in an ideal world, then prune it until you're happy. If you do this first it narrows down your venue options as there will be some that just won't cater for the size of your wedding. It pays to start thinking about the type of nuptials you want too, either on your own or with your planner so that you see the types of venue that match your style. There's no point viewing big old country houses if you want a very modern look.
---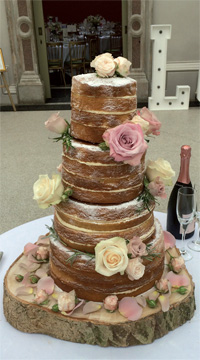 Cake expectations
Q. Our wedding is just a mixture of everything we love, but we don't know what cake style to go for. What should we be go for? Help!
A. Eleanor Gerrish says: While the wedding cake can be thought of as the visual centerpiece of your reception and, as such, feel like a big decision to make, the process of choosing your design should be fun and exciting and represent your personalities.

Before your consultation, think about the feel of your day, will it be chic, elegant, romantic, glamorous, modern, classic, rustic, bohemian or whimsical? The list goes on. Don't forget your cake designer is there to guide you and help you determine your dream vision too. Here are a few aspects to consider...

Venue: Your choice of venue can be a big influence. For a grand country house or a glamorous hotel ballroom you might want to go more formal, perhaps a four- or five-tiered cake with sugar paste and as much detail as appeals to you. From a simple clean finish with some light metallic touches to a few brush embroidery motifs and stylised flowers, you can opt for what suits. Barn venues, or similar, lend themselves to a more relaxed, informal atmosphere for which you might choose a naked or semi-naked cake, or a simply-iced design finished with gorgeous fresh flowers that match with the floral styling. This would be a mouth-wateringly scrumptious and budget friendly option.

Styling: I often get asked to recreate the design elements of the dress such as ruffles, or pearl-like details. If your dress has lace with pearl buttons on the back, your design can have the same, using piped brush embroidery or petal paste appliqué and perhaps adding a pearl and diamanté brooch with draping ribbon bow.

Colour: The colours you've selected for your flowers and your bridesmaid dresses etc can play their part. Cakes don't have to be matte white or ivory. Sugar paste can be coloured and tiers can be pearlised before adding detail, or you might include a feature tier in colourful metallic lustre or gold or silver leaf to make a bold, luxurious statement.

Still stuck for inspiration? Why not reflect the seasons in your cake creation? In autumn, you might depict the seasonal colours with a woodland theme and for example, a winter wonderland look in white and silver with sparkles, sequins, ruffles and white florals. As well as the season, cake flavours can show you as a couple. I have clients with an Italian connection that have chosen lemon and limencello cake, or macaron tiers!

And finally, once you've considered these factors check out Pinterest and bridal magazines to see what stands out to you. If you're not sure which way to go, just bring along what you can to your consultation.
---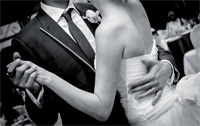 Perfect playlists
Q. My hubby-to-be and I can't agree on our big-day music choices and are struggling to finalise our playlist for our DJ. Can you help?
A. Danny Costello says: With so many music genres, albums and songs, narrowing down your final song choices can be quite a minefield. Here are my golden rules:
Select an epic anthem to finish the night with. It's quite possibly the most important song of all.
A typical four-hour reception should consist of around 65/70 songs in total including background music (a lot less than most expect).
A concise playlist is an effective playlist. Your DJ will benefit from a list that contains songs that you and your guests will definitely dance too, rather than ideas and suggestions alone, which can confuse the vision you're communicating and could potentially upset the general rhythm and success of the entertainment.
One great idea is to ask both families to choose 10/15 records each!
First dance. Would you like to fade out early, invite guests midway or go all the way? Double check the song isn't too long, five-minutes is a long time to make shapes with your partner.
Father and bride dance. If your dad isn't present, or unwilling to boogie let your DJ know!
We've designed the following to help select your perfect playlist.
First dance:
Second dance:
Final song:
5 x must-have songs the bride would like to dance to:
5 x must-have songs the groom would like to dance to:
5 x must-have songs the bride and groom would dance to together:
5 x must-have songs the guests would like to dance to:
5 x songs that must not be played – your 'Don't you dare list':
---
Contact our experts...

Danny Costello
Entertainment specialist, DJ2K Ltd
Eleanor Gerrish
Cake designer

Linda Brooker
Florist

Lisa Vassallo
Wedding planner
---