Ask the experts
Here is a selection of Q&As from Your Surrey Wedding magazine. If you would like your question answered by our experts, please email it to editor@yoursurrey.wedding.
To view more Q&A's on a different topic, please select one from the list below.
Hot topic: Winter weddings
Our local pros answer your wedding worries
---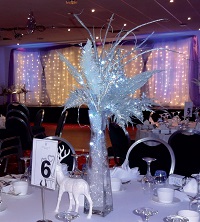 Stylish sparkle
Q. We're having a marquee that, at the moment, is a blank canvas, how can we create the complete winter wonderland look we're after?
A. Annabel Grange says: Lighting is critical. I'd start with up-lighters set to blue and pale purple, alternately placed around the sides of the marquee, and suspend a glitter ball from the roof.

For your table centrepieces, use glittery silver decorations in tall glass vases with LED lights in them, or if you want flowers, display pinecones and seasonal white blooms in tall martini vases with the addition of glittery decorations and crystal strings hung from the tops – marquees need high table centrepieces to give that 'wow' factor. Table décor should be set on a mirror plate with crystals in clear and pale blue and LED lights in votives set on to the mirror; this will create a wonderful, sparkly effect.

A long starlit backdrop behind the top table, as budget allows, would add that extra focal point and additional lighting.To reduce the amount of open space, place Christmas trees or tall glittered branches in the corners of the marquee. If it's a Christmas-themed wedding, I'd add artificial presents around the base of the trees in a mixture of silver, pale blue, purple and glittery wrappings with pretty ribbons.

For the approach to the marquee, use bay trees with lots of lights to line the walkway and glittering drapes integrated with fairy lights around the entrance.
---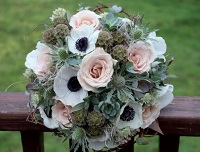 Seasonal blooms
Q. We're having a lovely festive, winter wedding and are open to any bouquet design. What do you suggest to really epitomise our theme?
A. Rosie Welch says: Winter is such a fantastic season for a wedding; it opens up a whole new opportunity for creativity. For your bridal flowers I'd suggest a textured, flowing hand-tied bouquet with lots of natural movement to give a woodland feel. Lots of foliage such as ferns, which often have a scent reminiscent of this time of year, work really well. Eucalyptus is one of my favourites as it comes in so many varieties, the dusty blue is suggestive of frosty fallen snow and berries add gorgeous texture.

My top flower choices would be deep red ranunculus or anemones paired with a two-tone red and pale green hydrangea and you can't go wrong with a classic scented deep-red rose! I'd also make use of beautiful filler flowers such as red skimmia, white waxflower and red astilbe with brilliant scabious stellata balls to add interest. I'd also incorporate some trailing amaranthus to create a modern shape. The overall feel of the bouquet would be rich and cosy with a natural woodland feel, perfect for a winter wedding!
---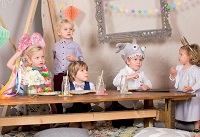 Child's play
Q. For our winter wedding we're expecting the whole day to take place inside, but with the lack of outdoor playtime for the children we're worried about keeping them entertained indoors all day – help, what can we do?
A. Susie Young says: We love winter weddings and agree, it's very important to make sure children are provided for. We recommend setting up a children's area or den – our indoor tent and teepees are very popular – so that the children have their own space. This also contains all of the toys, games and mess, and can be decorated beautifully to fit in with your theme. We bring fancy dress, craft activities, toys, board games, a DIY photo booth and tattoo station etc with us, meaning children of all ages are catered for. If possible, set this up away from the speeches so that children are allowed to run about and make noise rather than expected to be quiet and still.

We have amazing entertainers and childcare who can set up games and create a fun environment. If there's a specific hour or so that you'd like the adult's attention, then arranging an entertainer is a great idea. For mixed ages we recommend a magician or balloon artist.

When indoors, our team will arrange active games in any size space to make sure children have a chance to use up some energy, and if children have coats, we will make sure everyone is wrapped up and go on a treasure hunt outside for a blast of fresh air.

The other thing to think about is food. Children need to eat at more routine times than adults, so providing a snack box upon arrival, and serving their meal separately or at their own table with supervision is a great idea. No child is happy sitting for several hours, and this gives parents the rare treat of a meal without having to focus on their little one, it can also save money on seating and table settings. We serve meals in our tents and offer extra treats such as a chocolate coin treasure hunt or a biscuit decorating session. At a wedding, we encourage a little bit of sugar as children need more energy to cope with the day, and also, it's a celebration – an unmanned sweetie cart, however, is a liability!

As the day goes on and the adults want to dance/drink, the children will get tired, and we then turn our dens into sleepovers complete with hot chocolate, lanterns, glow stick jewellery and a film night for your smaller guests.
---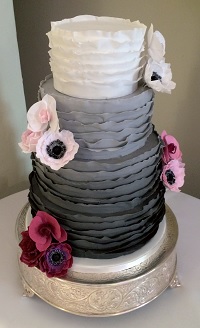 Let them eat cake
Q. For our winter wedding we'd like a big-day bake and dessert table. What flavours and sweet treats should we opt for to reflect the season?
A. Elle Gerrish says: To reflect the winter season, consider luscious flavours such as almond and clementine-syrup cake, spicy carrot and pecan or sticky ginger with Belgian chocolate. Under the icing, each tier of your cake can be a different flavour so get adventurous. Perhaps add a layer of salted caramel or a chocolate ganache laced with your favourite liqueur such as Grand Marnier for chocolate orange, or Framboise with a layer of raspberry coulis?

A semi-naked red velvet cake, revealing glimpses of red through the shear white buttercream, with glistening winter berries and foliage would look very seasonal. For a complete naked cake, layers could include apple and cinnamon or chocolate and pear, decorated with sugar-frosted winter fruit and berries and liberally dusted in 'snowy' icing sugar.

For the winter dessert table there are so many delights to consider; toffee apples, candy cane meringue kisses, salted caramel macarons, iced ginger heartshaped biscuits, caramel popcorn, shards of chocolate bark topped with fruit and candy, melt-in-the-mouth marshmallows on sticks, truffle-centred cake pops decorated with sugar snowflakes, and white chocolate and pistachio fudge.
---
Contact our experts...
Annabel Grange
Wedding planner

Elle Gerrish
Cake designer

Rosie Welch
Florist

Susie Young
Children's entertainment provider
---