Ask the experts
Here is a selection of Q&As from Your Surrey Wedding magazine. If you would like your question answered by our experts, please email it to editor@yoursurrey.wedding.
To view more Q&A's on a different topic, please select one from the list below.
Hot topic: Botanical weddings
Our experts answer your big-day worries inspired by this 2018 trend
---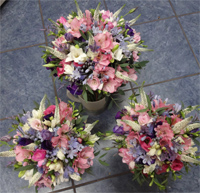 Fancy florals
Q. We want a wildflower look for our spring wedding – what blooms are in season at this time of year to achieve this?
A. Annabel Grange says: There are several flowers in season in spring that will create a wildflower look, but some dried or even silk blooms could also be added to the fresh ones if you have a particular flower you just have to have! I'd tend to use mainly smaller headed blooms with just a few larger ones to create a softer, wild look. Here's a few to take your pick from:

Lisianthus – a pretty bell-shaped flower available in a wide range of colours, there's also a double-headed variety.

Freesias and dried lavender – will not only give a wildflower effect but will also add a lovely aroma to your bouquet!

Asters – have daisy-like heads.

Alstromeria – plenty of colours to choose from, with delicate tiger stripes on the petals to give added interest.

Chrysanthemum – in either a single large-headed bloom or choose a smaller spray variety.

Carnations – again, available in single heads or as spray effect.

Gerberas – available all year round in a vast array of colours, it's a large daisy type flower.

Gypsophilia – pretty, delicate tiny white flowers for a very wildflower look.

Limonium – a wild-looking small bloom.

Ranunculus – a very pretty flower with a rose-style, poppy-type head.

Spray roses – delicate and small.
---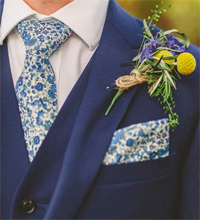 Catwalk to aisle
Q. My fashion-forward groom will want to look on-trend on the big day – what do you suggest?
A. Simon Prince says: If you love following latest trends then try immersing with a floral tie and a matching handkerchief. Ties are always a great way for any fashion-forward man to show his personality without sacrificing his style – and formal attire elegance.

The perfect match would be if the colours of the tie complement the overall colour scheme of the wedding – and especially the suit – for example, a blue suit with a white shirt and light cream, blue and pink floral tie with matching hankie will work really well for those refreshing wedding ceremonies.
---
Food, glorious food
Q. We're having a botanical-themed day and would like to reflect this in our wedding menu – what do you suggest?
A. David Gillott says: It has to be ham hock terrine with pickled vegetables, edible soil and a garden of herbs. I bet you're thinking – what is edible soil? We take malt flour, seasoning and Guinness then make it into a dough and dehydrate it to create the soil itself. It looks beautiful and is perfect for a warm summer's day. We have a little smallholding and often use our own Four Gables-reared pigs – you can't get much more home grown than that!

The presentation has to be rustic, lots of log slices and natural earthy plates that complement the theme. Our sushi evening food is always served on bamboo leaves for example. For beverages, an elderflower Tom Collins, the classic gin and lime cocktail with a dash of elderflower and loads of crushed ice. We serve beverages from the side of our bar, a 1960s converted VW campervan – just a thought!
---
Planned to perfection
Q. The botanical trend is going to be big this year and we'd love to channel this on our big day. What key elements do you recommend for styling this look?
A. Samantha Poole says: Long before Pantone released the fresh new colour of the year, Greenery – symbolising new beginnings – I'd seen a huge rise in couples opting for a chic, stylish, botanical look.

Firstly, think about how the theme fits with your venue. If you're marrying near a magical woodland or beautiful meadow, try and incorporate the natural spaces into your day and the photos, it's the perfect backdrop without the cost of hiring luscious green foliage and earthy, rustic styling.

For marquee weddings, opt for open or clear-sided walls – if the grounds allow – to incorporate the natural setting into your look.

For an indoor venue, the use of suspended foliage installations create breathtaking focal points adding depth and elegance. By using foliage to dress your venue, from chairs, to the bar area you can create a sumptuous look filled with greenery without breaking the bank on expensive, luxury floral displays.

Eucalyptus bouquets, flower crowns, buttonholes and foliage table runners incorporating moss, fern leaves and candles complete the look. The use of herbs such as mint and rosemary as decorations on napkins and escort card displays are visually pretty and enlighten the sense of smell. Wedding favours can include potted herb plants or succulents, handmade botanical soap or wildflower seeds packs adding to your table décor.

Illustrations of flourishing foliage can be used for your stationery suite, and try adding gold or silver calligraphy to natural green leaves for place cards or menus as an inexpensive, impactful addition to your design.
---
Contact our experts...
Annabel Grange
Wedding planner

David Gillott
Chef proprietor

Samantha Poole
Wedding planner

Simon Prince
Menswear specialist
---