Ask the experts
Here is a selection of Q&As from Your Surrey Wedding magazine. If you would like your question answered by our experts, please email it to editor@yoursurrey.wedding.
To view more Q&A's on a different topic, please select one from the list below.
Hot topic: Summer weddings
Our local experts give advice on summer weddings.
---
Let's go outside
Q. We're having an al fresco ceremony and we're finding it daunting to know how decorate an outside space! Do you have any tips?
A. Michelle Lane says: There's something very special about an outside wedding but there's also so much to think about and prepare for.

As the British weather is so unpredictable, I'd suggest having a contingency plan if things were to take a turn and you needed to take cover. That's where a marquee can be very useful and you can turn the space into something that represents you as a couple and in keeping with your theme.

One of my favourite themes for an outdoor wedding is boho. It works so well and is a really delicate and romantic way to present your wedding day to your guests.

You could make use of flowers such as daisies and gypsophila to decorate the surrounding areas of your day and perhaps the chairs for the ceremony. Keep the colours light; pastel shades will keep with the theme and you could use bunting or wooden shabby-chic signage to show guests the way to your areas. You could even add in some lanterns to light the way, which will transition really well from day to evening – rose petals are a lovely way to highlight the aisle.

The little touches are the most important when planning an outdoor wedding as it's really hard to decorate an open vast area, so it's best to concentrate on smaller spaces. A handy tip for your female guests is to provide heel protectors if they need to walk on grass!
---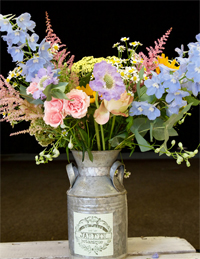 Blooming marvellous
Q. We're having a pastel colour scheme for our summer wedding. What flowers will be in season and would complement our chosen colour palette?
A. Linda Brooker says: Summer is classic wedding season and brides have an array of beautiful blooms to choose from. With a long list of flowers available and colours galore, the possibilities really are endless to create a perfect palette for your big-day blooms.

Pastel tones continue to be a top trend for 2017; their splendid soft shades exude an overall look, which is naturally elegant and understated yet very pretty, making it a popular go-to colour choice.

Sensational summertime flowers include roses, peonies, hydrangeas, gerberas, tea roses, sweet peas, stocks, freesias, astible, dahlias, delphiniums and beautifully bright sunflowers.

Peonies are a true favourite among brides due to their amazing look and are so pretty in ice cream shades of pink, lemon and peach.

Keep it local by opting for classic British blooms, which have that quintessential English country garden feel. Some of our favourite summer flowers include pastel shades of blousy English garden roses, delicate sweet peas, dahlias, stocks and delphiniums, all of which will be widely available over the summer months and can create a real statement.
---
Master in charge
Q. We're tying the knot outside – should the weather be fitting – but with all the moving about around the venue I think we need someone to take charge. How can a toastmaster help?
A. Mike says: My duties as a toastmaster start way in advance of the big day, and when I have a planning meeting with the bridal party we go through every element of the day. We discuss the plans for an outside wedding and plan B (or C!) if the weather gets in the way. I then coordinate all of the other suppliers so that each knows what the plan is and when and where they all need to be.

The last time this situation arose for me the bride and groom left the all-important decision in my hands. I arrived early in the day, checked the weather reports and made the decision to hold the ceremony outside. I then informed the florists, ministers and registrar, the outdoor A/V people and everything was ready on time. The weather held and it was a magical occasion!

A lot of the work of a toastmaster is unseen and they're there to ensure the wedding day is well organised and everything runs smoothly. This takes a lot of pressure off the bridal couple and also the best man, who will all be free to enjoy the special occasion.
---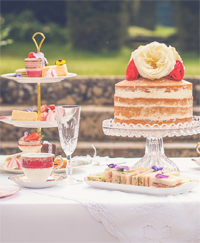 Time for tea
Q. We'd love our wedding breakfast al fresco in the grounds of our venue, but I had my heart set on an afternoon tea-style menu. What do you suggest, can we combine the two?
A. Dani May-McCallum says: Oh absolutely you can. A formal afternoon tea garden party – what could be better?

Our beautiful vintage china, with it's floral patterns and our crisp white embroidered and lace linens, look so beautiful in an al fresco setting. We also use edible flowers on a lot of our cakes, petit fours and canapés so this would really complement a gardenparty theme beautifully.

For your menu, I suggest a selection of open and finger sandwiches of cream cheese and cucumber, smoked salmon and ham and mustard, scones with clotted cream and strawberry jam, mini rosewater pavlovas with fresh cream and summer berries, delicious macarons and little individual lemon drizzle cakes. All adorned with beautiful, homegrown edible flowers and washed down with plenty of tea – heaven!
---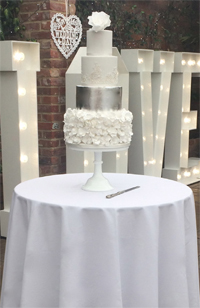 Have your cake and eat it!
Q. We're hosting our reception outside, and should the weather be warm and sunny, what should we bear in mind when choosing our big-day cake?
A. Eleanor Gerrish says: Tying the knot outside is very romantic and provides incredible photo opportunities, with some couples wanting to incorporate the cutting of the cake.

Ask your venue for their advice if this is something you'd like and remember to always organise an indoor back-up plan. Discuss with your wedding organiser about the cake initially being set up inside in an air-conditioned room and then being brought out just before the cake cutting and photographs to minimise the time it has to heat up and attract unwanted bugs.

The cake should never be left in direct sunshine as nobody wants a meltdown! A picturesque tree or gazebo for shade can be dressed to complement the cake display, think: chandeliers or sparkly paper lanterns and flower vases hanging from branches.

In case of an unpredicted shower, consider someone having the duty of grabbing an umbrella to hold over the cake while the contingency plans kick into action. Think how your table cloth will be weighed down or fastened to prevent sudden gusts of wind causing problems.

Generally speaking, a sugarpasted cake will hold up longer than a buttercream-coated cake. When choosing your venue and cake designer make sure you have a pre-wed meeting to talk this all through so that your wedding dreams can be turned into a spectacular reality.
---
Contact our experts...

Dani May-McCallum
Eleanor Gerrish
Cake designer

Linda Brooker
Florist

Michelle Lane

Mike
Toastmaster
---