Ask the experts
Here is a selection of Q&As from Your Surrey Wedding magazine. If you would like your question answered by our experts, please email it to editor@yoursurrey.wedding.
To view more Q&A's on a different topic, please select one from the list below.
Hot topic: Wedding themes
Our experts answer your big-day questions
---
Must be the music
Q. My fiancé and I love attending music festivals and would love to incorporate our passion into our wedding reception. What do you suggest?
A. Natalie Fairbairn says: A music festival-themed reception is a really great idea as it shares an important part of your life with your friends and family.

You can really go to town with this theme and I'd suggest a venue with a large open space that can hold a large, side-opening tent for cover, in case the British weather decides to rain on your parade! In the tent place trestle-style benches for your guests to relax at while they enjoy their delicious food.

The catering can be an assortment of different styles you'd find at a music festival; a burger van, hog roast stall, fish and chips cones, doughnut stand and sweet cart with candy floss bags would look really authentic.

For the refreshments I'd have a slush puppy bar for the little ones and for the adults there are a wide variety of prosecco stands, some come in the style of an old-fashioned van, a cocktail mobile bar and a good cider and lager tent.

Entertainment has to be a live band, and there are plenty that play a wide variety of genres to suit all tastes. If you want a couple of different bands, but wish to keep costs low, the academy of contemporary music based in Guildford may have students that will perform for free to add to their portfolio.

Then the finishing touches could be a henna tattoo artist, a face painter, glow sticks necklaces and wellies for tired feet.
---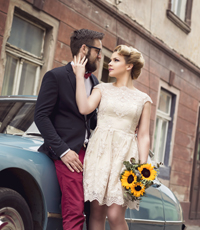 Dance the night away
Q. Our wedding reception has a '50s vibe, and we'd love to include a first dance fitting with this theme. What do you suggest?
A. Emma Harris says: There's so much great music from this era, and from a dance point of view, a jive, swing, rock 'n' roll-style of dance would be perfect.

Depending on the mood you want, you could always go down the romantic route and pick something like Dean Martin, The Everly Brothers, The Drifters etc and then the dance style would be less energetic and more tender yet with a swing feel.

If, however, you want to kick the party off in style, then go for Elvis, Jerry Lee Lewis or similar and get everyone in the mood!
---
All-out glamour
Q. I adore the romance-luxe themes; the roses, crystals, colour scheme – wedding style heaven! Although, I don't have Kim Kardashian's budget, how would you suggest we get the wedding of our dreams?
A. Vicki Thomas says: I'd recommend using faux flowers to get the right look. A good wedding hire decoration company is bound to have an array of beautiful high-class artificial flowers which are sure to compete with the real thing; in fact, we doubt your guests will notice any difference – these can even be teamed with scented candles or fragrances to create a heavenly aroma!

Our own wedding collections include a wide range of exclusive handmade items; that are delectably arranged with crystals and fine detailing to ensure that your wedding day exceeds your expectations and makes you feel like a VIP... just like any Kardashian!
---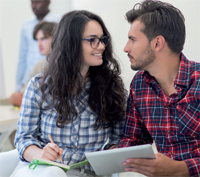 Planned to perfection
Q. We'd really like to theme our big day but don't know where to start; do you have any tips and advice to begin planning the wedding of our dreams?
A. Victoria Camp says: Firstly remember, a theme can be anything from a colour to a specific era, a mode of transport to a type of flower. The possibilities are endless but don't let it overwhelm you. Your wedding is a chance to reflect on what makes your relationship unique and you want to be able to look back and have enjoyed the process of piecing it all together. So make it fun from the start. Sit down and write a list of things like, where you met, your favourite music or film you watched together, a holiday etc. Writing this list might evoke an idea, and set up a Pinterest board – I always find interesting little ideas on there which lead to other ideas.

Something that makes life easier is deciding on a budget right from the start. It shouldn't be seen as a restriction, but rather a way to manage the process and minimise stress. Break the wedding down into different areas, venue, food, entertainment, cars, flowers, clothing, photographer etc. Think about which elements to include or leave out, for instance, it might be very important to you to arrive at the wedding in a vintage car, or to invite a specific band to play at the reception.

From there, you can begin to explore venues and narrow down a date. Take one step at a time. Don't be afraid to say no to suppliers who don't quite meet your needs, you'll never see them again, but equally, don't be afraid to rejig the budget to accommodate more extravagance in one area that you will remember that for the rest of your life.

A lot of things you may worry about during the planning process won't even matter on the day, so step back take a deep breath and remember what it's really all about.
---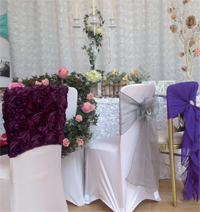 Clean and classic
Q. We're having a very chic and contemporary wedding, although our dream wedding venue has a few unsightly chairs. How can we disguise these in a contemporary way?
A. Maxine Cole says: Chairs can be unsightly due to colour and style, especially if they're not in-keeping with your wedding style, for chic and contemporary you need something stylish but also clean. My suggestions would be:

- Depending on the colour of the chair you can sometimes just add an organza or satin sash to temporarily disguise them.

- White chair covers always work a treat as they give a contemporary feel to the room. If you wanted to add in a colour scheme enhance with a sash.

- Ruffles and vertical drops look gorgeous and are very chic at the same time.
---
Contact our experts...

Emma Harris
Co-founder of First Dance Ltd

Maxine Cole
Venue stylist

Natalie Fairbairn
Wedding planner

Vicki Thomas
Venue stylist

Victoria Camp
Wedding PA
---