Ask the experts
Here is a selection of Q&As from Your Surrey Wedding magazine. If you would like your question answered by our experts, please email it to editor@yoursurrey.wedding.
To view more Q&A's on a different topic, please select one from the list below.
Hot topic: Royal wedding fever
Our experts solve your seasonal problems
---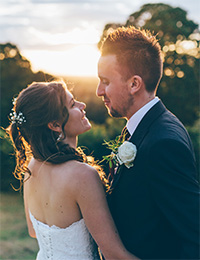 Pictures of romance
Q. I adored Harry and Meghan's engagement pictures, and would love to recreate these romantic shots on our wedding day, although we're a bit shy in front of the camera. What do you suggest?
A. Eleanor Smith says: As a wedding photographer I hear this all the time – I'm not always recreating Harry and Meghan's engagement photos – but working with couples who are camera-shy and a little nervous is part of my job. I see it as my task to relax the couple and let them know that taking a few photos can be fun not stressful.

Try and find a photographer that offers 'initial meetings' like I do for my couples. This is a chilledout chat about the wedding plans so far. It can take place in a local coffee shop/pub or on Skype depending on preferences. Initial meetings give you and your photographer a chance to get to know each other and also for you to let them know what you're after. As in all relationships, whether personal or professional, communication is key.

If you've made the effort to find a photographer who's images you like and you've warmed to, then the wedding day itself should be a total breeze. It's up to the photographer to find the best spots and prettiest light, all you need to do is follow their instructions, smile and relax!
---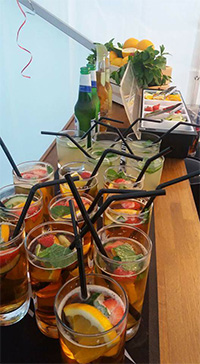 Top themes
Q. How can we take inspiration from all of the royal celebrations this year these for our own big-day décor?
A. Helen Wade-Smith says: The British people just love having an excuse for a big celebration, and with two Royal weddings in 2018, we have the perfect opportunity to use the ever-popular garden party-theme in our festivities. As a result, Events by Helen are being inundated with enquiries for festivalstyle events full of bunting, bright colours and the occasional Pimms or three!

As experienced wedding coordinators, we pride ourselves on our flexibility and provide a multiservice package including venue decoration and table laying, food and drink services by experienced staff and clearing the venue so you don't have to face it the morning after.

Muriel, our classic horsebox bar, is perfect for such occasions and can be tailored to a client's specifications, from serving tea and cakes to Pimms and prosecco, or even pancakes and ice creams – as well as a fully stocked mobile bar, of course!

We also have traditional wooden bars, rustic barrel bars and even hay bale bars as well as gorgeous crockery, cutlery, tablecloths and glassware – allowing us to take care of everything for you, meaning you
---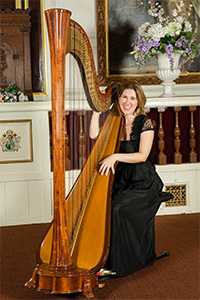 Must be the music
Q. With two royal weddings happening this year, how can we reflect this and add a sophisticated regal touch to our wedding entertainment?
A. Vanessa Gordon says: In recent years, royal weddings have happened when actually there wasn't a lot of money around in the country as a whole, but still there was celebration, fanfares, and plenty of great British music for all to enjoy. There is sure to be the same at the wedding of Harry and Meghan, even though we won't know till the day itself exactly what their personal choices will be. All the same, if you're getting married this year, a few pointers are already clear; it must be your own personal taste of celebratory music that leaves everyone tingling, and, to be truly royal, lots of British music.

We have lots of ideas for our 2018 couples: one or more trumpeters in uniform to play fanfares from the great British fanfare tradition of announcing the bride and groom. A quartet of classical singers during the ceremony singing melting harmonies that make you grow an inch taller; the traditional English harp is the most royal of music, or, an immaculately-dressed string quartet playing Handel's Water Music as the bride walks in.

It's your personal choice that matters. Add the very best of saxophone-led cool jazz for the reception and an amazing band for the night and you can't help but feel royal!
---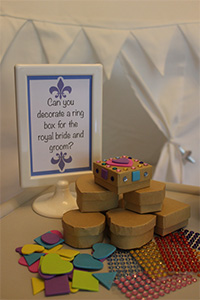 Child's play
Q. I'm a true royalist and we're having this as our theme for our own nuptials. What could we do in our kids' corner that would be fitting to a royal day but be interactive for the little ones?
A. Cat Marks says: There's plenty of ways to incorporate a royal theme into a kids' corner, without the royal budget! Why not decorate foam crowns to make them feel like a real prince or princess? Instead of glitter, adhesive gems are a fantastic way to add the sparkle of the crown jewels, without the glue and mess.

Colouring pages with a royal border are another creative, yet inexpensive, way to keep the little ones occupied. How about designing the wedding dress, or the different tiers of the royal cake? And what's better there's no need to spend hours searching, Sparkle Box online offers several free downloadable royal wedding colouring pages.

Alternatively, if you want to go a step further, how about providing the kids their very own colour-in castle? Not only will this keep them entertained whilst colouring, but is also a perfect addition for a royal role play. These are proving popular and selling quickly, but are often available on Amazon. Lastly, not forgetting the all-important weddings rings! How about supplying mini craft boxes as wedding ring boxes, for the kids to decorate using crayons and adhesive gems. You could even pop a pack of Haribo rings inside as a tasty treat!
---
Contact our experts...
Cat Marks
Creche services
Eleanor Smith
Photographer
Helen Wade-Smith
Event services
Vanessa Gordon
Live music entertainment
---