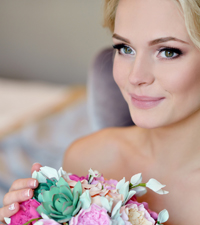 Spring blooms
Q. We're having a spring wedding as I just love this time of year and adore flowers; although I'm very aware of the cost of having so many fresh, large floral displays. How can my wedding have the flower-wow-factor but not cost the earth?
A. Annabel Grange says: Using UK-grown seasonal flowers will make it far more cost-effective! Adding lots of greenery to a pedestal arrangement will also keep the cost down.

- Tulips look lovely and are available in a wide range of colours from yellow, red, orange, pink, purple, lilac and even two-tone − matching lots of colour schemes.

- Ranunculus comes in a wide range of colours, with its many layers of petals it's plentiful and beautiful.

- Muscari, a delicate little flower in pale blue, lilac.

- Daffodils will look lovely for table centres.

- Anemones with pretty delicate petals and a black contrasting centre will make a statement.

- Hyacinths have a gorgeous scent and come in whites, pale pinks and lilac/blue.

- Lily of the Valley is a delicate white flower and is at its best in late spring.

- Peonies are available from April and will go well with roses.

- Irises comes in white and blues/lilac and have a quirky dash of yellow in the centre.

There are a host of other flowers available in spring which can be used with the above; roses, gypsophilia, alstromeria, carnations, eustoma, gerbera, solidago to name but a few.