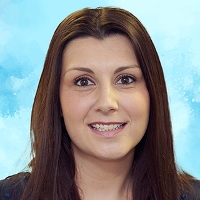 Get to know Danielle Harvey, editor of Your Surrey Wedding, with these top 10 questions.
What do you love most about working on Your Surrey Wedding?
Having worked on Your Surrey Wedding for nearly 10 years I have such fondness for the title and I'm very proud of what we create issue after issue.
I have brilliant working relationships with suppliers in the Surrey area, and many local businesses like the fact that Anita Bridge, the sales executive and myself as the editor, are familiar faces and they know exactly who's on the end of the phone.
Our readers have shared our journey with us too, and I really enjoy sharing my own wedding plans with couples reading the magazine.
Surrey really is the wedding destination for brides- and grooms-to-be looking for the epitome of a romantic, classic big day.
Describe the style of a Your Surrey Wedding bride?
The brides I write about are always classically elegant; yes there are alternative themes out there such as festival-style raves or a carnival-inspired celebration, however the Surrey bride will always channel a sophisticated, romantic ambience that's about the heart of a wedding – the vows.
What's your favourite feature to write for Your Surrey Wedding?
Ooh! This is a tricky question, as wedding trends change all the time so each time you write a feature in
Your Surrey Wedding
you're inspired by something different.
However, if I have to pick one it would be the Wedding Cake articles. Firstly, I have a sweet tooth and I love baking, so enjoy reading about all the varying flavour combinations you can have – which I attempt at home.
Secondly, I have a complete admiration for the time and skill these professional Surrey cake designers and bakers put in to their creations. From piping lace to cascades of sugar flowers, from a mass of icing ruffles to hand-painted watercolour drawings the amount of patience and time that goes in to wedding cakes means they really are a work of art and it's a shame (although enjoyable) that they get eaten.
Top tip: Always make sure you have your photographer capture the cake in all it's glory as you'll never see this masterpiece again.
If you were to get married what type of wedding would you have?
As I write this I'm actually planning my own wedding – eeek! I started off with a very rustic, boho-inspired moodboard when we first got engaged, I had always been drawn to the ethereal-style wedding dresses, sprigs of lavender in jam jars and the naked-look cakes.
However, when we found our dream venue, it didn't fit this theme at all, and when I found my dream dress it wasn't what I had in mind and, again, certainly didn't scream: rustic and bohemian.
The theme is now classic, with a luxe-twist: I have an Art Deco-inspired gown, masses of white roses with plenty of rose gold embellishments dotted around the venue.
Who would be your number one wedding guest and why?
I know I should have someone really inspirational that would have a life-changing story to tell, or at least someone A-list that is known around the world.
However, on my wedding day I just want to be happy, laughing with friends and family and having a good time so it would have to be Stephen Mulhern - the Britain's Got More Talent presenter. I don't know why, but he has direct line to my funny bone, I think he's hilarious, and better still, he's a magician so can entertain guests too!
What are the five words that best describe you?
1. Light-hearted
2. Loyal
3. Loving
4. Friendly
5. Opinionated
When did you last go to the cinema, what did you see?
I am a bit of a film buff, and regularly watch movies at the cinema or at home. The film I last saw at the time of writing this was The Mummy remake with Tom Cruise. I adore the originals, fun, easy-going family films and the remake certainly isn't. It's a bit creepy and jumpy, and not for kids, but definitely an enjoyable watch.
What three items could you not live without?
1. My engagement ring
2. Cheesecake
3. Perfume
Favourite food?
As above, my ultimate dessert would always be cheesecake. Whenever I visit a restaurant the first thing I do is check out the dessert menu to see if they have one I can try.
I'm a bit of a foodie, and happily eat anything or try it once, but do enjoy making a lasagne which always goes down a storm at home.
Where are you happiest?
Anywhere outdoors in the UK with my son and fiancé. From the beach on a sunny day, to the woods in our wellies avoiding the downpours, as long as we're together, enjoying the wonders of mother nature there's no place I'd rather be.
Contact me
I'd love to hear all about your plans for your big day, or whether you'd recommend your wedding suppliers. Alternatively, let me know about any budget-saving tips you feel may benefit other readers. Email me at editor@yoursurrey.wedding.