Tiffany and Tom met on a cold night in October 2003. "We first laid eyes on each other in a nightclub in Reading," says Tiffany. "Tom could see I was freezing while waiting to get served at the bar and offered me his jacket. A few drinks later and the rest is history! The weeks following were filled with romantic dates that Tom chose so thoughtfully. We realised we had so much in common and that our fields of work even overlapped. It didn't take Tom long to make it official, and by Christmas, we were a couple very much in love. The next few years were filled with so many exciting memories, including moving into our first flat, visiting Switzerland, travelling South East Asia, buying our first house and getting our first dog. It became abundantly clear early on that this was the real deal."
Tom popped the question during a trip to Brownsea Island. "We were staying in the infamous Brownsea Castle, a place close to Tom's heart as he had spent many summers there as a child," shares the bride. "I'd always wanted to go, firstly to share this special place and secondly because what lady doesn't want to stay in a castle on the beach? The proposal was a complete surprise, and an evening I'll never forget. On the 8th August, 2017, we were finishing up dinner when Tom disappeared as I was tucking into my dessert. Shortly afterwards, I received a message asking me to meet him on the terrace where he was holding two glasses of champagne. As the sun started to set, Tom took me by the hand and led me along a candlelit beach. As we arrived at a secluded spot, he got down on one knee and asked me to be his wife. There was never an easier answer, and we spent the rest of our stay in a newly engaged bubble."
"My wedding day was something I'd been dreaming about since I was a little girl and I knew I wanted to feel like a princess," explains Tiffany. "As we pulled up to view Farnham Castle, we knew immediately it was the venue for us. We fell in love with every detail and couldn't imagine a more perfect setting. The team also provided the catering, and it was the most amazing menu with a wonderful selection of wines. We decided on a white, gold and green theme to complement the beauty of the castle. Our theme started at the grand entrance where we had an abundance of green foliage with white, gold and sparkly touches."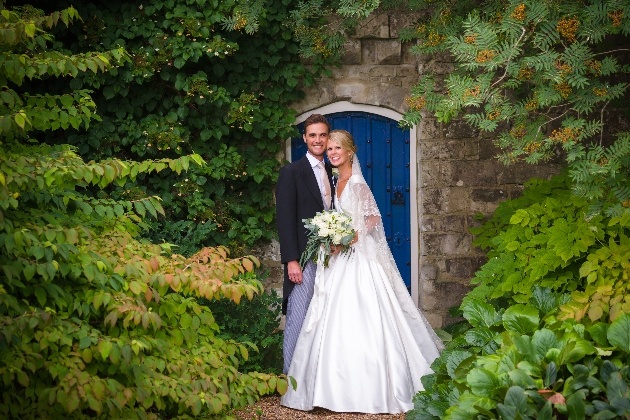 "We gave our guests personalised wooden cutouts that we'd sprayed gold as favours," shares Tiffany. "These doubled up as place names and looked great. We also hired Silhouette Sarah, who did a portrait of each guest during our drinks reception."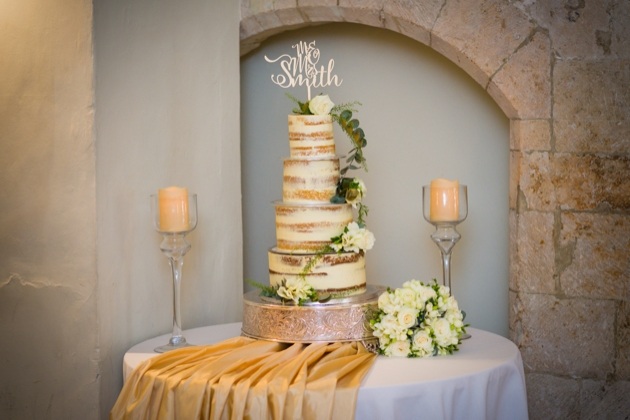 The couple's wedding cake was provided by The Travelling Cupcake. "We had a semi-naked design that was four tiers, and made up of delicious flavours including salted caramel, lemon and Victoria sponge," says the bride. "We had a 'Mr and Mrs Smith' cake-topper and delicately placed flowers and greenery."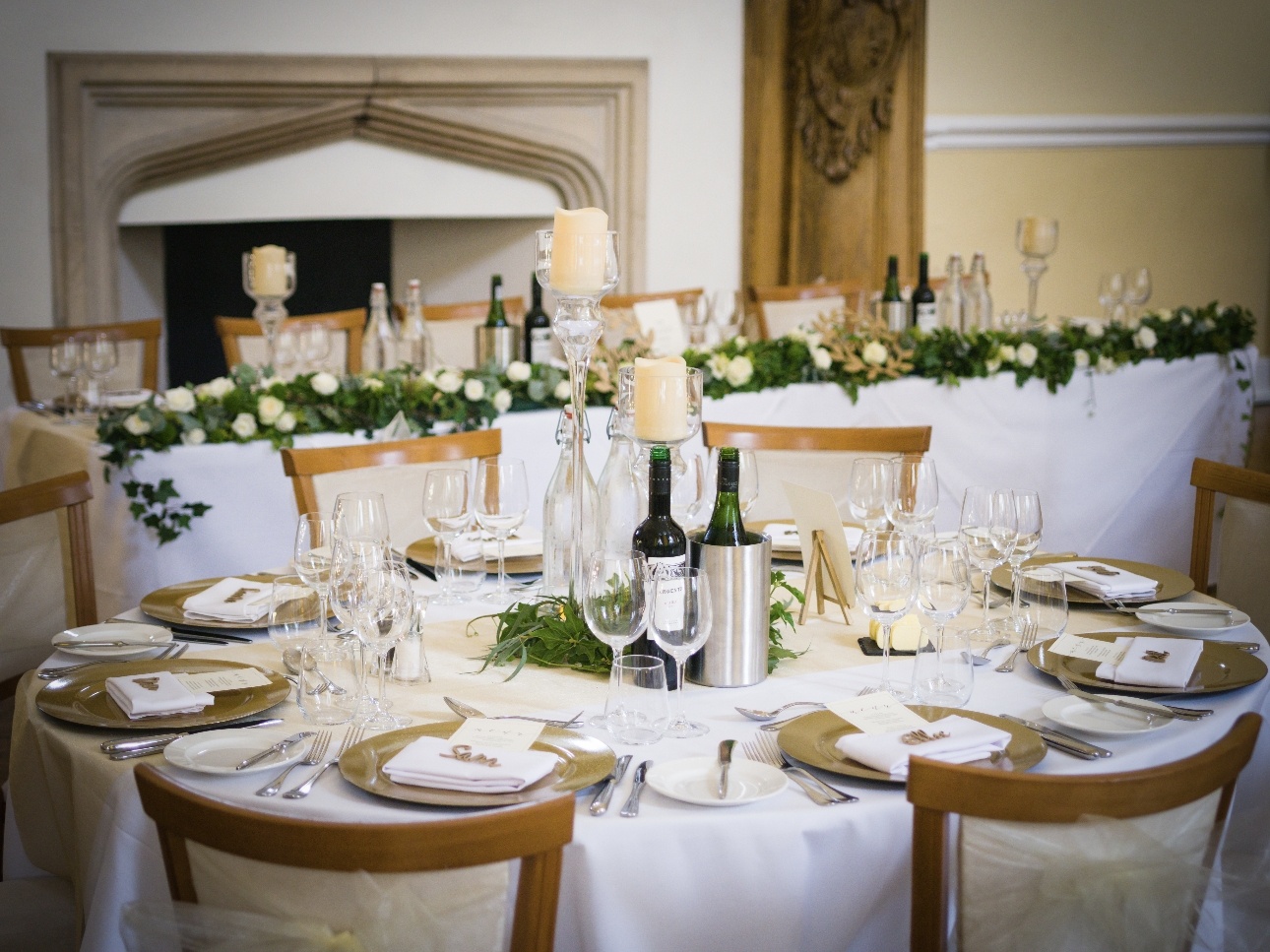 For their flowers, the couple chose a selection of soft white blooms with lots of greenery from Emma Curtis Flowers. "Our centrepieces were a selection of glass candelabras and tea lights surrounded by foliage," adds Tiffany. "We decorated each chair with a white organza bow and used gold charger plates to frame each place setting. To finish the look, we create a table to display our guest book along with a Polaroid camera."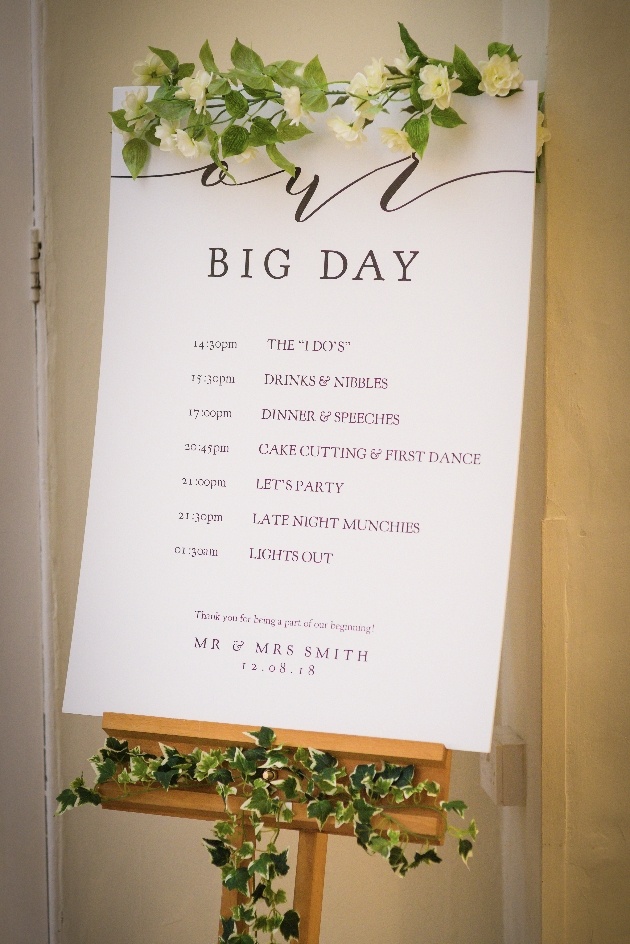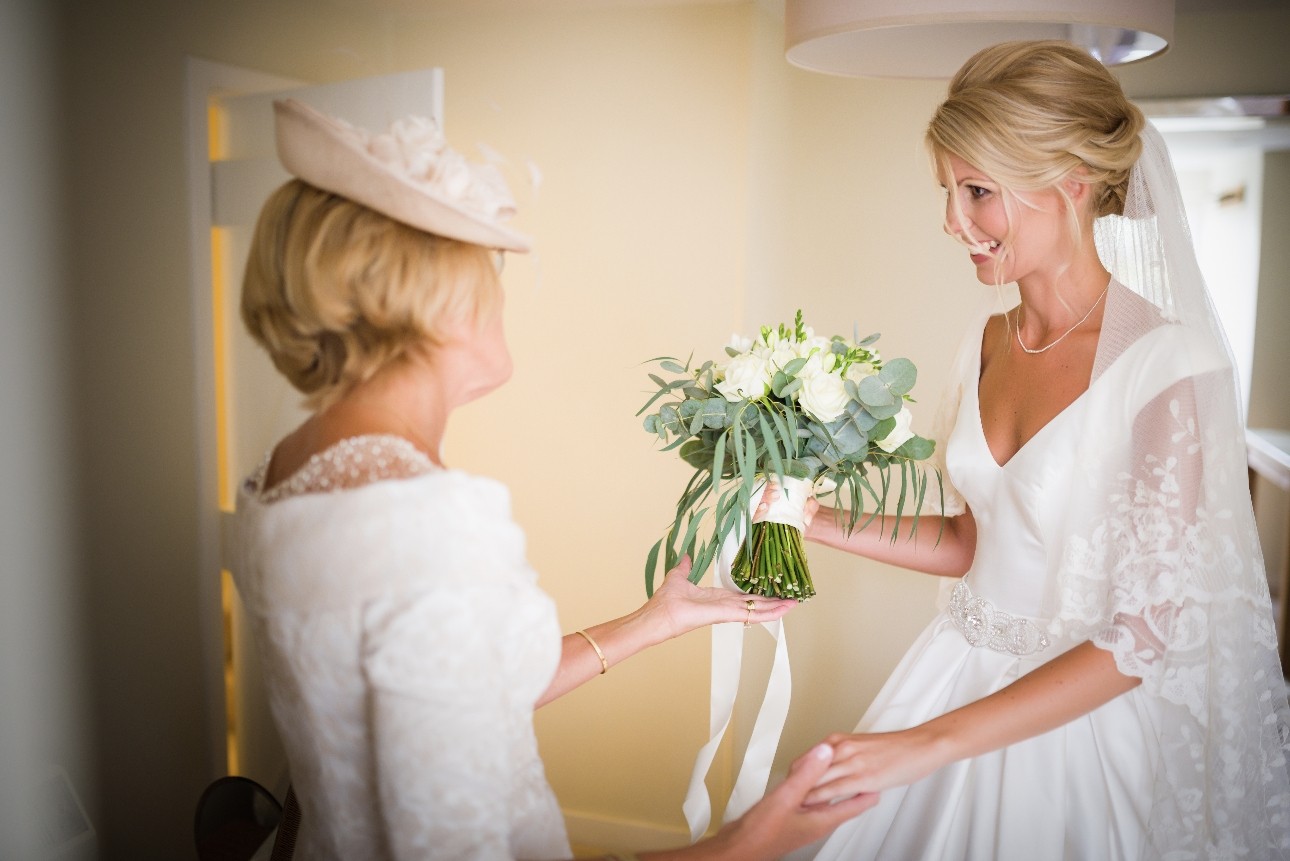 Tiffany chose a dress by Diane Legrand called 30241. "I fell in love with it from the moment I put it on," says Tiffany. "The satin Cinderella dress was just perfect for our castle wedding, and I adored the low-cut illusion back. I was lucky enough to use my sister's mantilla Cathedral-length veil from her wedding. The lace detail looked beautiful against the classic satin. I also wore my late grandmother's pearls. It was so lovely to be able to use wonderful things for my something borrowed. In the evening, I got party-ready by replacing my veil with a sparkling hair clip, Swarovski earrings and a necklace."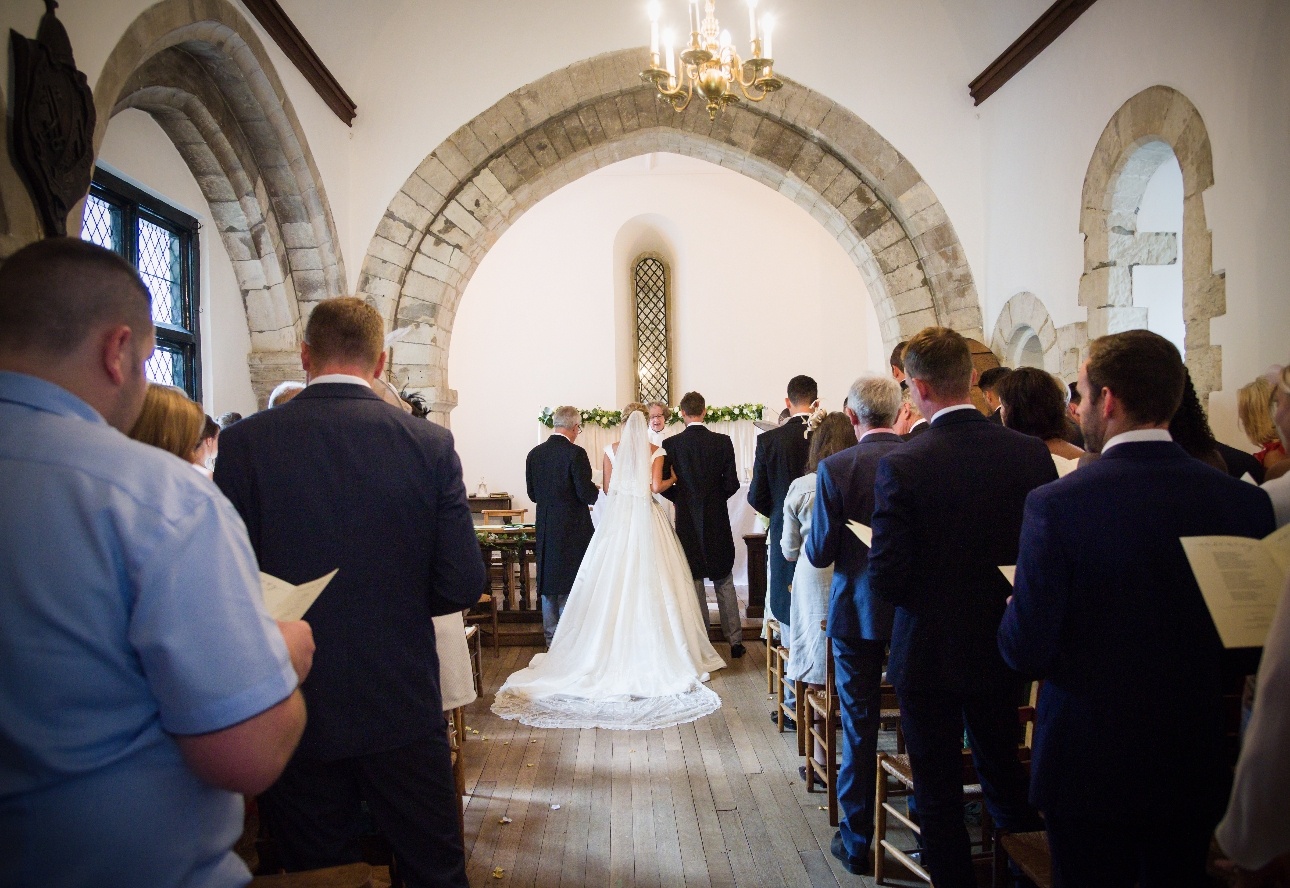 Tom opted for a fitted three-piece suit from Anthony Blay. "He stood out from the groomsmen with his houndstooth waistcoat and pocket watch," explains the bride. "The groomsmen had matching outfits with gold waistcoats."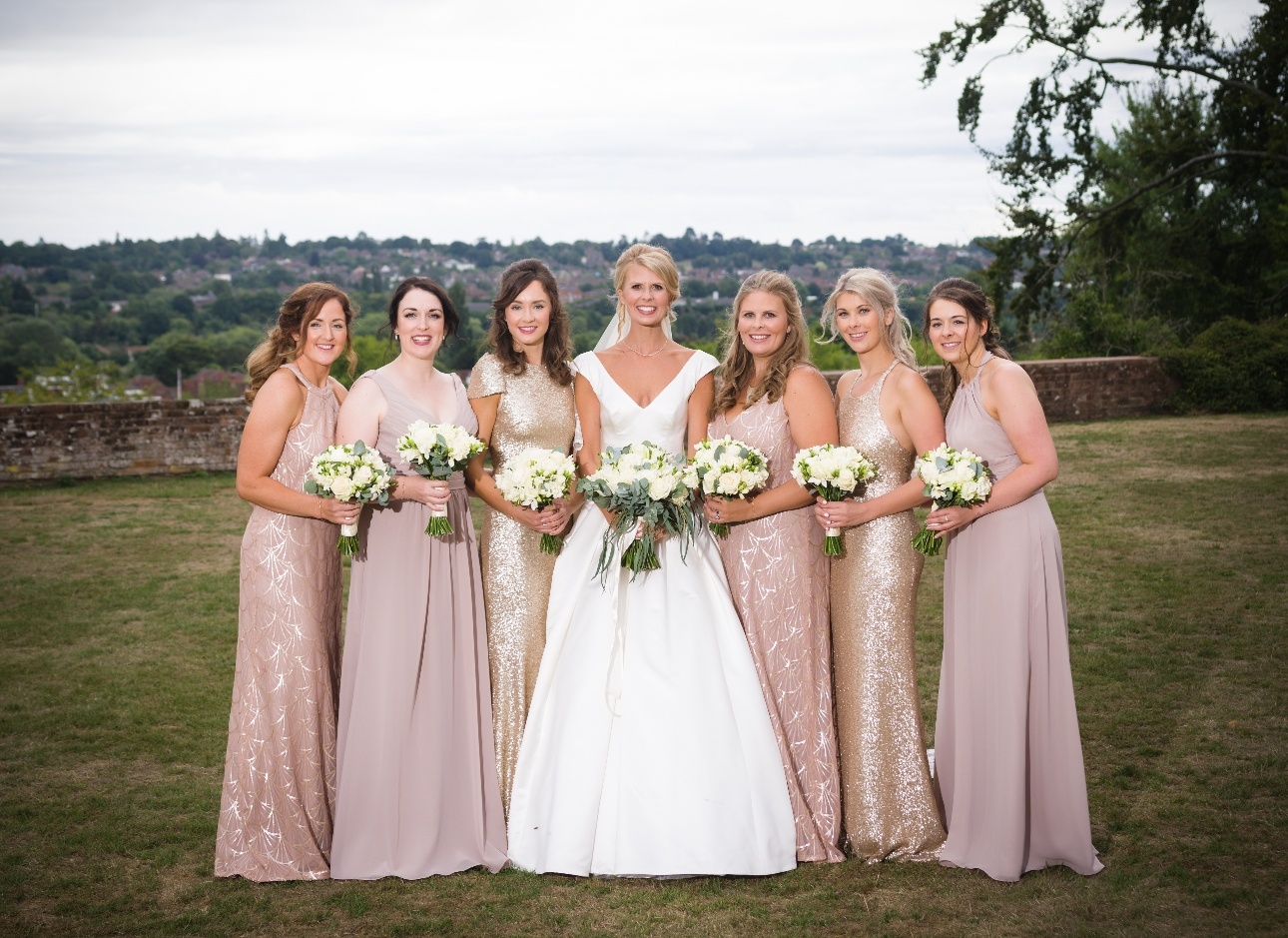 The bridesmaids wore full-length Sorella Vita dresses from Bride To Be. "They each picked a different style," shares Tiffany. "We chose a mixture of colours and textured fabrics, including gold sequins and soft nudes."
"We hired Silhouette Sarah who created an amazing portrait of each guest which doubled up as favours," recalls Tiffany. "In the evening, we had a photo booth displayed on a wall in the great hall so our friends and family could laugh at those drunken snaps. We also indulged in a doughnut van that made fresh treats on-demand and a pizza oven for late-night snacks."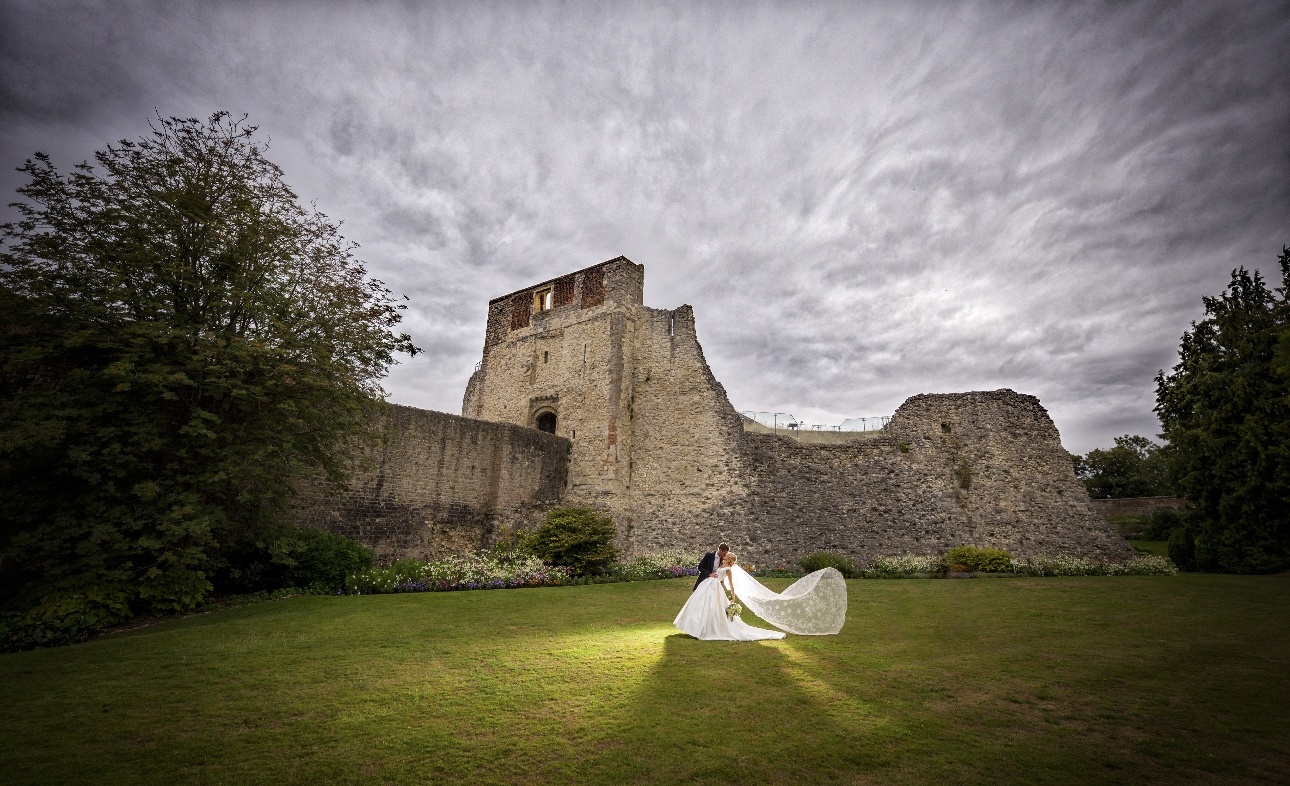 "It was the best day of our lives," Tiffany shares. "I have honestly never been happier and didn't stop smiling the whole day. To celebrate our love with all our friends and family was just so special and we wish we could do it all over again. Walking down the aisle and seeing my husband-to-be for the first time and his speech are two moments that we will never forget. We also treasured the moment of calm after the ceremony, where the two of us had a glass of bubbly and took in the magic of the day."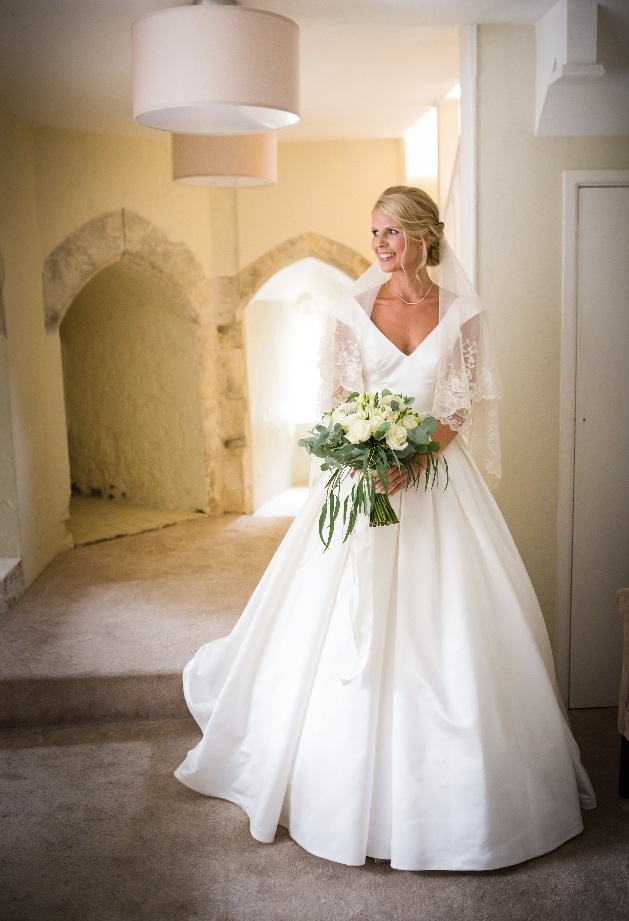 Tiffany and Tom's wedding was full of memorable moments and fabulous suppliers. "I enjoy a pint, so the bartender let me sneak behind the bar and pull my own," explains the bride. "The best man smashed his speech by doing a rap which had us all in stitches! The staff at Farnham Castle went above and beyond to make sure we had the very best day, which is an understatement. Nothing was too much to ask. The food was unbelievable, and all our guests commented on how amazing it was. One of our other favourite suppliers was the fresh doughnut van. It's one of my weaknesses and was an absolute hit with our guests."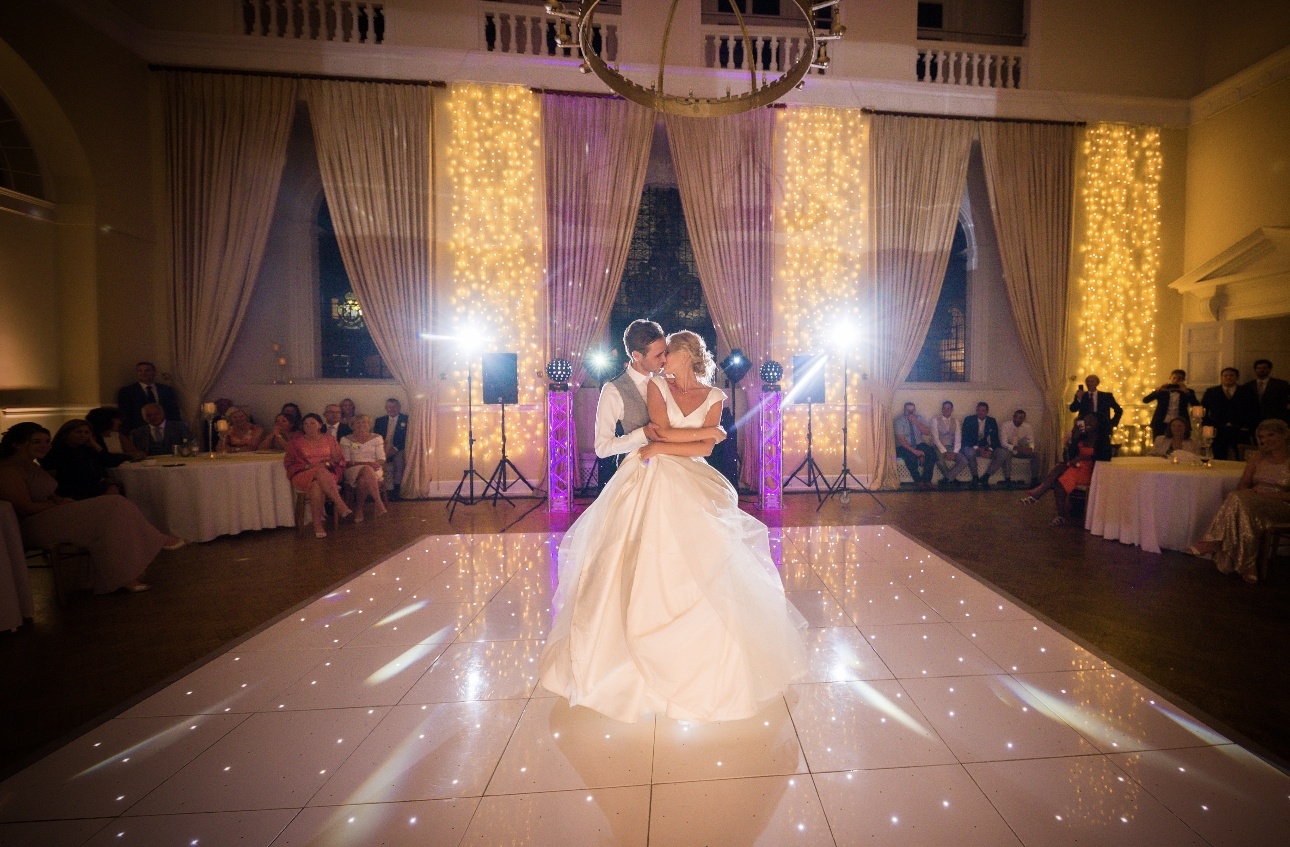 "We escaped to the Maldives for 10 days, which was absolute paradise," reveals Tiffany. "Tom planned the whole trip and arranged a private beach villa with a hot tub. We were lucky enough to enjoy the most amazing meal at an underwater restaurant and indulge in a full body massage while looking down into the sea through a glass floor. It was a trip that we'll never forget."
Tiffany and Tom's contact book