Why you should buy issue 72 of Your Surrey Wedding magazine...
August/September 2018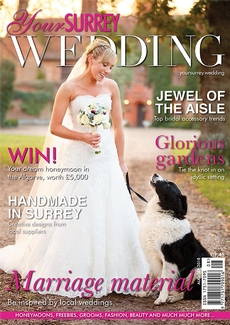 Algarve competition
Win a romantic honeymoon in the Algarve worth £5,000
My love, is your love
Gabrielle and Rizz's wedding was the epitome of classic elegance with a sophisticated black and ivory theme
Let it snow
Simple, stylish and snow! These were the themes of the day for Anne and Matt's nuptials at Woodlands Park Hotel
Rustic romance
Nava and Nicholas' wedding encompassed the natural setting of the venue
Glorious gardens
Tie the knot in an idyllic setting
Going Local
Where to wed in Sutton and around
Creative county
Check out Surrey's finest designers and suppliers of handmade wedding essentials
Written in the stars
Check out your zodiac sign for big-day inspiration
Pets at weddings
There are lots of ways you can include them, from your hen do right through to your honeymoon
Oh-so solcial
Keep up-to-date with our CWM online news, chats and competitions
Jewel of the aisle
Check out these top three jewellery looks for 2018
Colour coordinated
These colours are #trending right now
Green living
Nutritionist Jenna Hope reveals her top tips for getting that bridal glow
Match made in heaven
Fragrances for him and for her creating the ultimate big-day pair
eMagazine
Available to download NOW for only £1.49
Printed Copy
(inc. free eMagazine)
In Stock
Click here to use our online ordering service
---
Buy a copy
There are 5 different ways to buy Your Surrey Wedding magazine.
Click here to view some sample pages from an eMagazine
To order the latest copy of Your Surrey Wedding magazine or to obtain back issues, click here.
Alternatively call us to order your copy, post-free for just £3.45, on 01376 514000
Read Your Surrey Wedding magazine in electronic format for just £1.49 per copy (Smartphone and Tablet compatible) click here
You can subscribe for just £17.60!
Annual subscription (6 issues)
Save over 15% off the normal cover price
FREE postage and packing
Receive each issue as soon as it is published
To order your subscription, simply call us on 01376 514000 or click here
Alternatively, click here to order an eSubscription for just £7.60
4. Buy a copy from a retail outlet
Your Surrey Wedding magazine is available from newsagents and supermarkets.
However, if you do have problems, or if your newsagents has sold out, then call us!
We'll send your copy to you post-free for just £3.45 inc P&P. Simply call us on 01376 514000
5. Overseas Orders
For non-UK customers, please email admin@county.wedding for full details.
---