Why you should buy issue 73 of Your Surrey Wedding magazine...
October/November 2018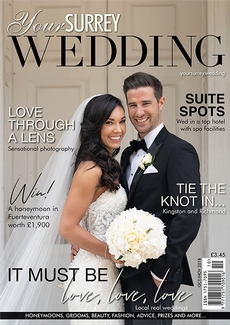 Fuerteventura competition
Win a romantic honeymoon in Fueteventura, worth £1,900
Love at first sight
An airport queue sparked not just a holiday romance for Lucy and Tom
Bold and beautiful
Cathryn's dream dress was the inspiration for the rest of the venue styling for her nuptials to Matthew
I found a love for me
Rachael and Dan's glamorous day was complemented by a romantic colour palette and even Ed Sheeran made an appearance!
Suite spots
Tie the knot in a top hotel, some with spas for a truly relaxing stay
Going local
Where to wed in Kingston and Richmond
Love through a lens
Local photographers share their favourite images
The bridesmaid diaries
Editor Hannah Faulder charts the highs and lows of being chief bridesmaid for her best friend
Movie-star magic
This season's bridal dresses have taken Hollywood glamour to the next level
Dressed to impress
Hot trends for dressing the bridal party this season
Into the blue
Your bridesmaids will love this season's teal dresses teamed with soft grey textured accessories
Lip service
Pucker up with these products
eMagazine
Available to download NOW for only £1.49
Printed Copy
(inc. free eMagazine)
Out of Stock
Click here to use our online ordering service
---
Buy a copy
There are 5 different ways to buy Your Surrey Wedding magazine.
Click here to view some sample pages from an eMagazine
To order the latest copy of Your Surrey Wedding magazine or to obtain back issues, click here.
Alternatively call us to order your copy, post-free for just £3.45, on 01376 514000
Read Your Surrey Wedding magazine in electronic format for just £1.49 per copy (Smartphone and Tablet compatible) click here
You can subscribe for just £17.60!
Annual subscription (6 issues)
Save over 15% off the normal cover price
FREE postage and packing
Receive each issue as soon as it is published
To order your subscription, simply call us on 01376 514000 or click here
Alternatively, click here to order an eSubscription for just £7.60
Readers will receive a Shearer Candles' bundle, worth £32 when they take out a year's printed subscription to Your Surrey Wedding.*

Sign up for a year's subscription and not only will you save money on the cover price, you'll also receive a fabulous bundle from Shearer Candles' new Summer Fayre range, worth £32*. Shearer Candles is a leading creator and purveyor of artisan candles and scented products. Established in 1897, Shearer Candles is the UK's longest established lifestyle candle manufacturer working with only the purest ingredients. For more information, visit www.shearer-candles.com

New for 2018, Shearer Candles has launched a fabulous Summer Fayre range inspired by favourite summer tastes, available in large scented tin candles.

CWM is delighted to team up with Shearer Candles to offer readers a very special gift – a fabulous bundle from the Summer Fayre range including:

Pink Prosecco − sparkling pink grapes lifted with fizzy notes of crisp apple and a hint of raspberry

Mint Lemonade − refreshing, fizzy and zesty with lemon slices and a hint of spearmint

Cherry Bakewell − juicy cherry, raspberry and strawberry with fondant icing and almond cake

Raspberry Ripple − rich, cool, raspberry ripple ice cream, smothered in raspberry jam

All you need to do to claim your gift set is take out a year's subscription!
* Subject to availability
4. Buy a copy from a retail outlet
Your Surrey Wedding magazine is available from newsagents and supermarkets.
However, if you do have problems, or if your newsagents has sold out, then call us!
We'll send your copy to you post-free for just £3.45 inc P&P. Simply call us on 01376 514000
5. Overseas Orders
For non-UK customers, please email admin@county.wedding for full details.
---