Charlotte and Ben first laid eyes on each other at sixth form in 2009. "We met properly when volunteering with Handicapped Children's Pilgrimage Trust on a trip to Lourdes," says Charlotte. "We went from only having said a few words to each other to a couple during our week trip to France."
Ben popped the question at Charlotte's master's graduation in 2016. "We'd spent the whole day celebrating, and I was about to return my gown when he insisted we visit a spot for another photo," shares the bride. "Little did I know he was actually going to propose. My family knew and recorded the whole thing."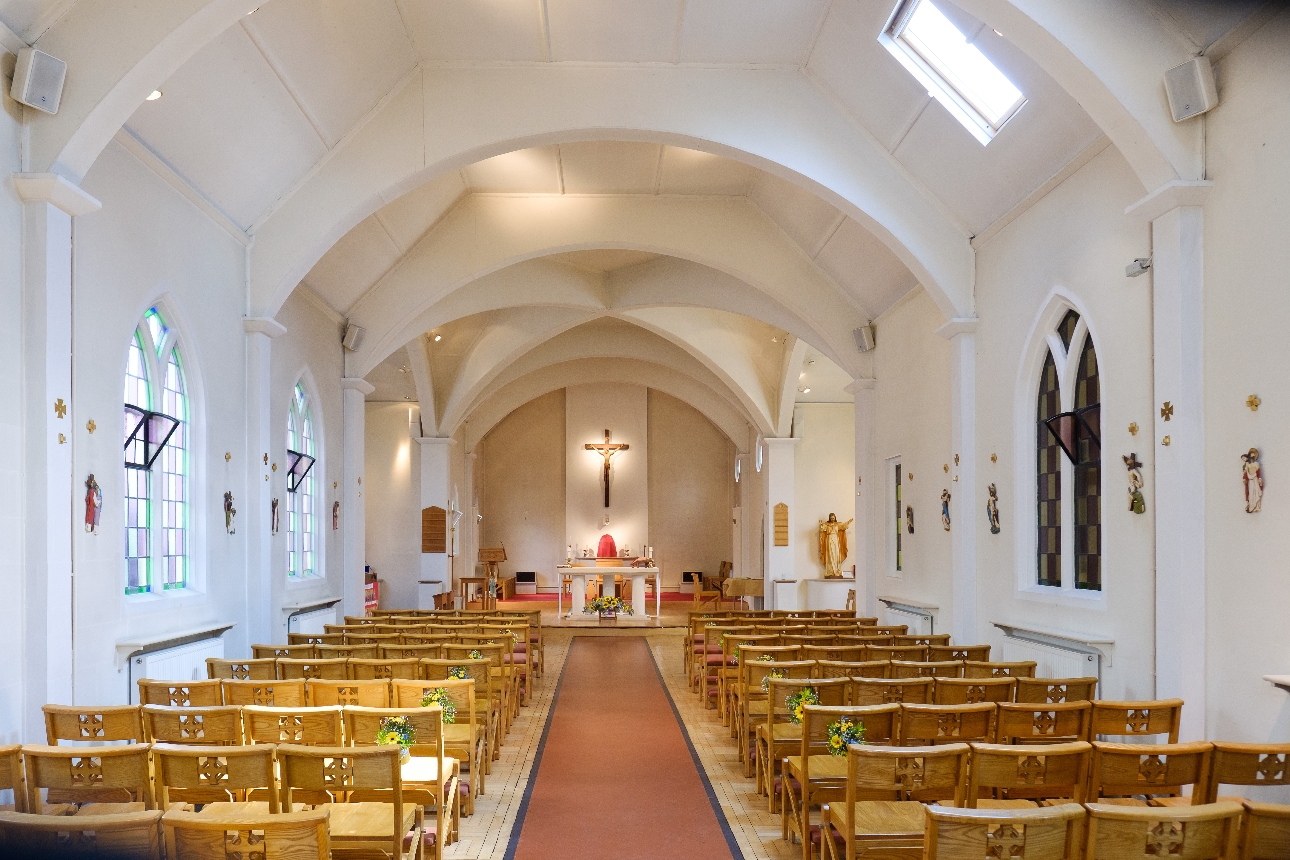 "Ben attends the Holy Angels Church, so we didn't consider anywhere else for our ceremony," explains Charlotte. "We used the small room at the side to provide tea, coffee and home-baked cakes before the service for all our friends and family as many had travelled from Norfolk and Suffolk. For our reception, we looked at a few options, but Weybourne House won hands down! It's a hidden gem with some beautiful spaces both inside and out, and of course, it's right beside the River Wey. They took care of all the food, and it was delicious! We had a huge cheese board in the evening, which we had great feedback on, although I never got to eat any as I was too busy dancing!"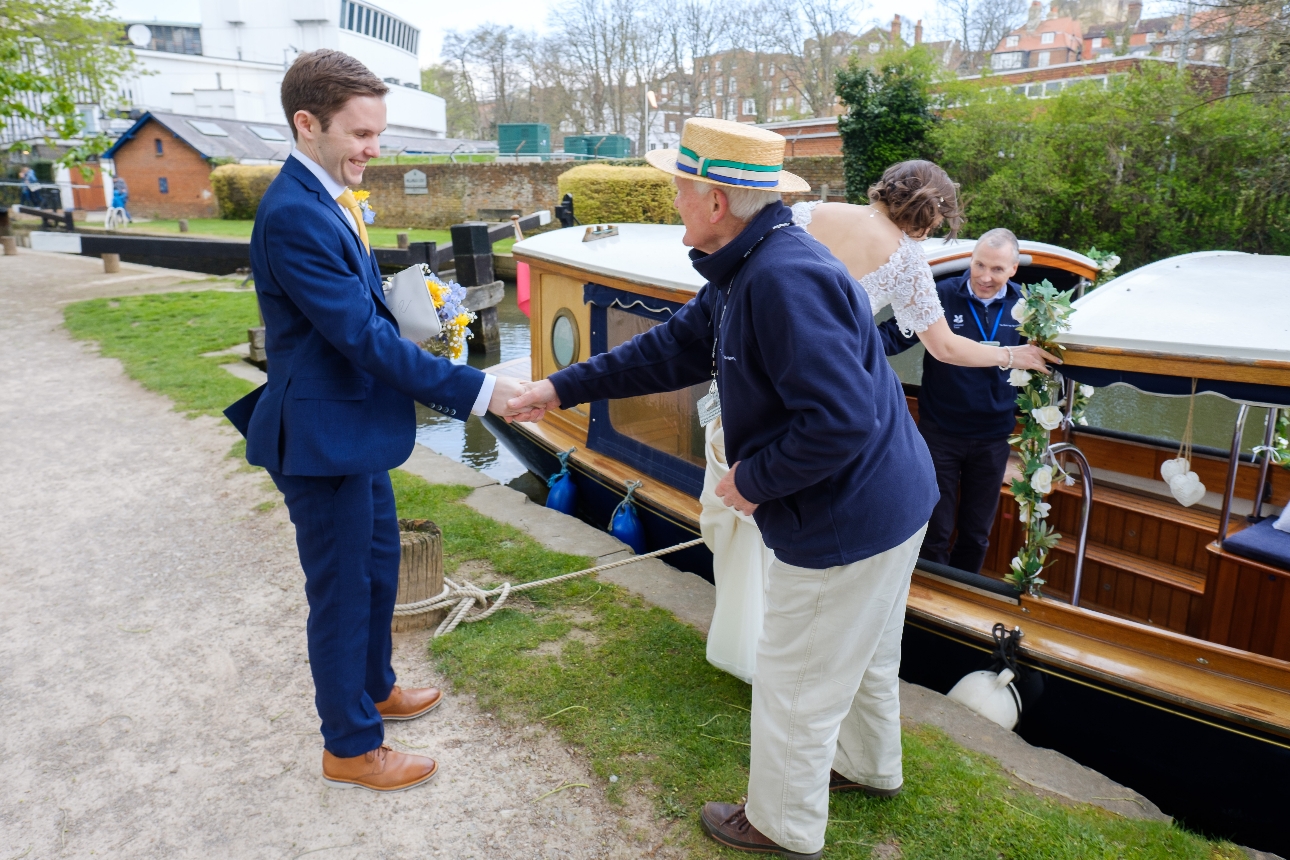 The happy couple organised a barge trip after the ceremony. "Our guests had drinks in the bar area while we took our National Trust boat trip from Guildford town centre past the venue and back again," adds the bride. "Our loved ones stood outside as we stepped off the boat onto a red carpet. The trip was wonderful and our favourite part of the day."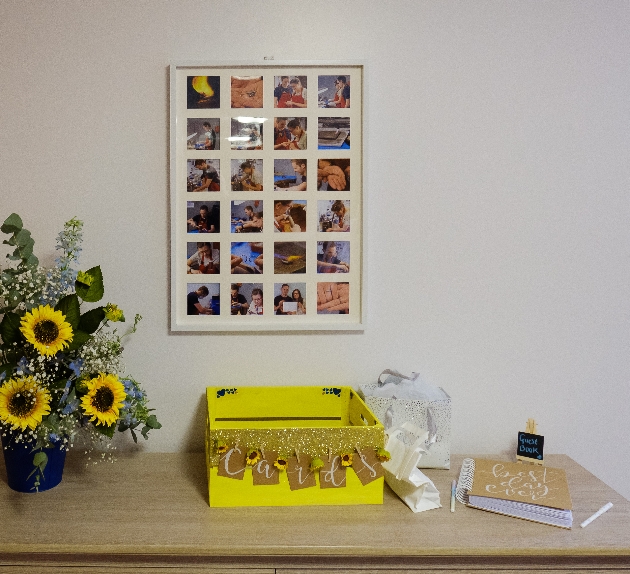 "Our favours were Cancer Research UK pins and broaches," recalls Charlotte. "Ben's mum, unfortunately, passed away from cancer the Christmas before our wedding, so it was important for there to be things that remembered her."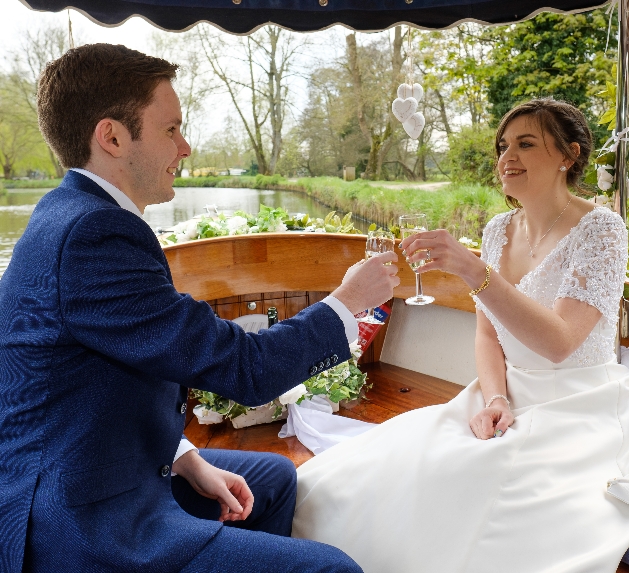 Charlotte and Ben named their tables after their favourite places in Surrey and Hampshire. "We thought it would be nice to share a little bit of where we live with the people who aren't local," says the bride. "Our table plan, invitations and place names were designed and printed by Aimee Paints Illustration. The original pencil drawing she created is now hung in our house."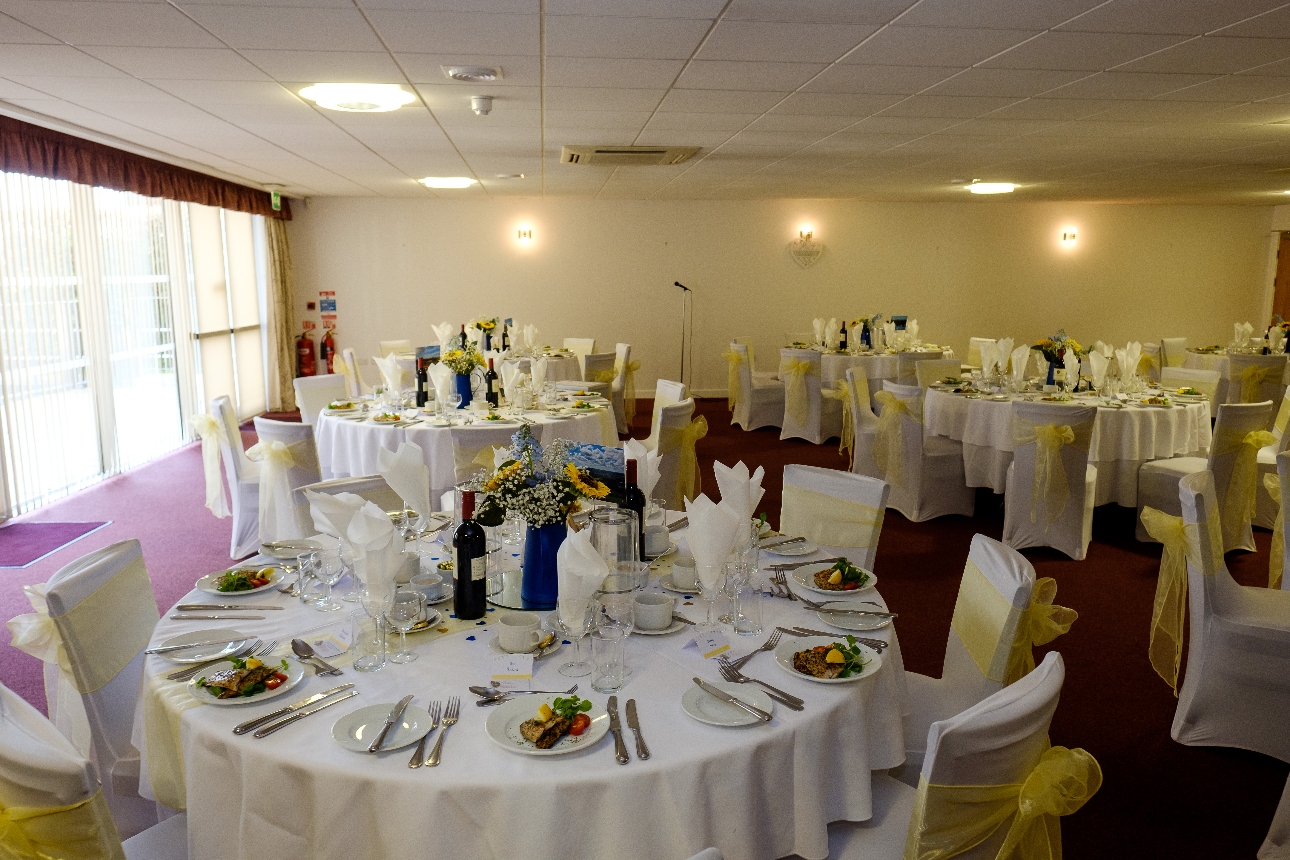 "Our centrepieces were beautiful blue jugs filled with yellow flowers sitting alongside pictures of our favourite places," Charlotte shares. "I loved our flowers, and I've since had my bouquet preserved. We used Cathey's Flowers, who we met at a wedding fair."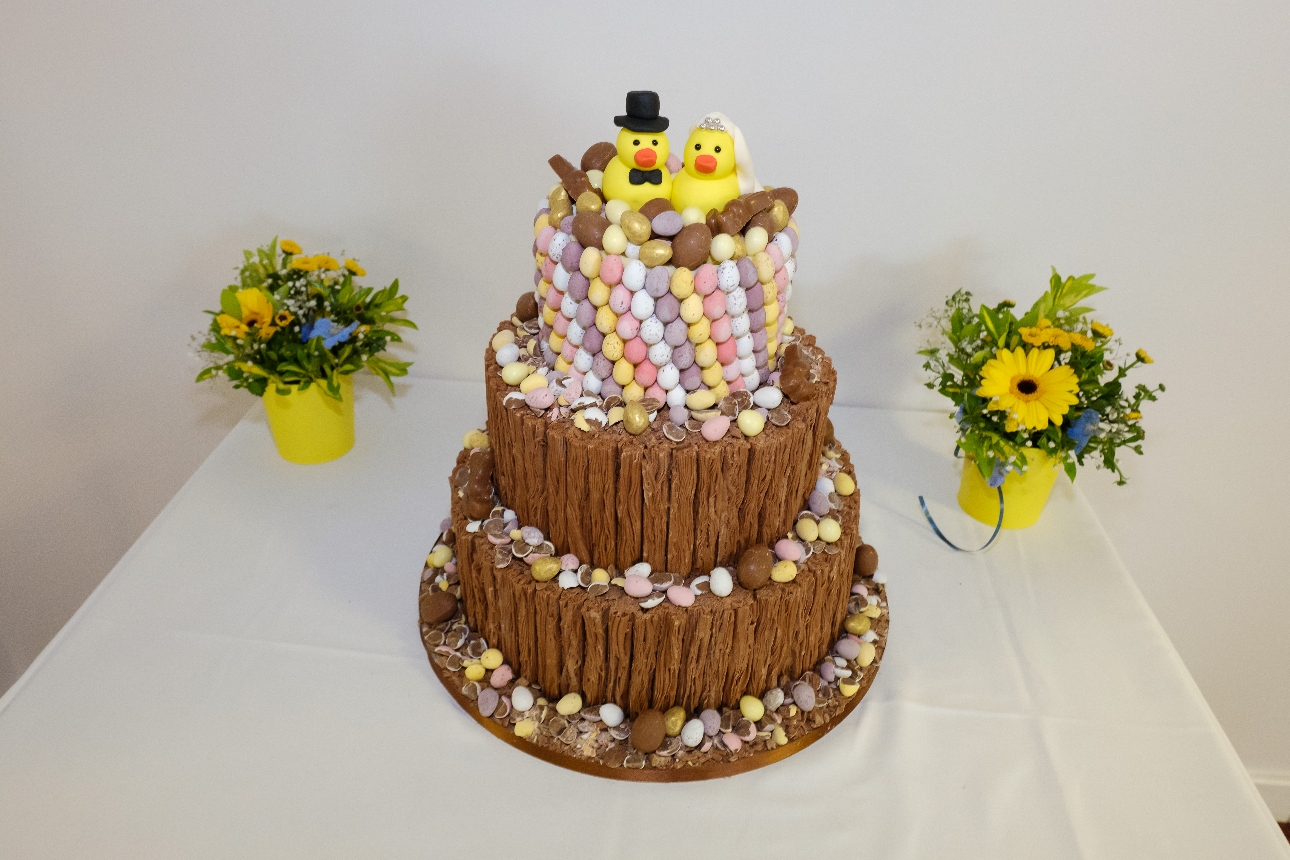 The cake was created by Jeni's Cakes & Flowers. "It was a mixture of flavours and was a design masterpiece," explains the bride. "We have always loved ducks, so it had bright yellow ducks on the top and tiers surrounded by mini eggs and chocolate flakes. Our favourite was the chocolate orange tier!"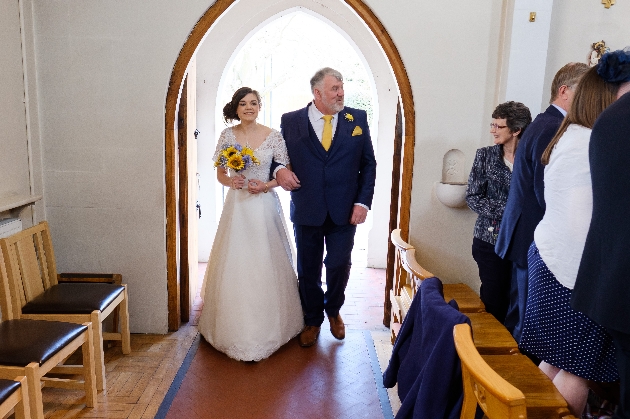 To decorate the space, the couple incorporated their love of sweet treats. "We had pots of chocolate mini eggs on the bar as well as a sweet table as I'm known for my love of Pick & Mix," adds Charlotte. "We also made our guests yellow party bags for the drive home."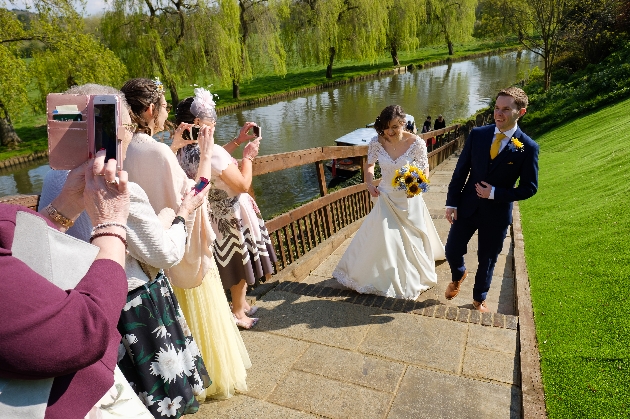 "We used a small company from Guildford called James Lewis Executive Cars for our transport," recalls Charlotte. "He took us from the church to the centre of Guildford where we boarded the barge that was all set up with champagne for us."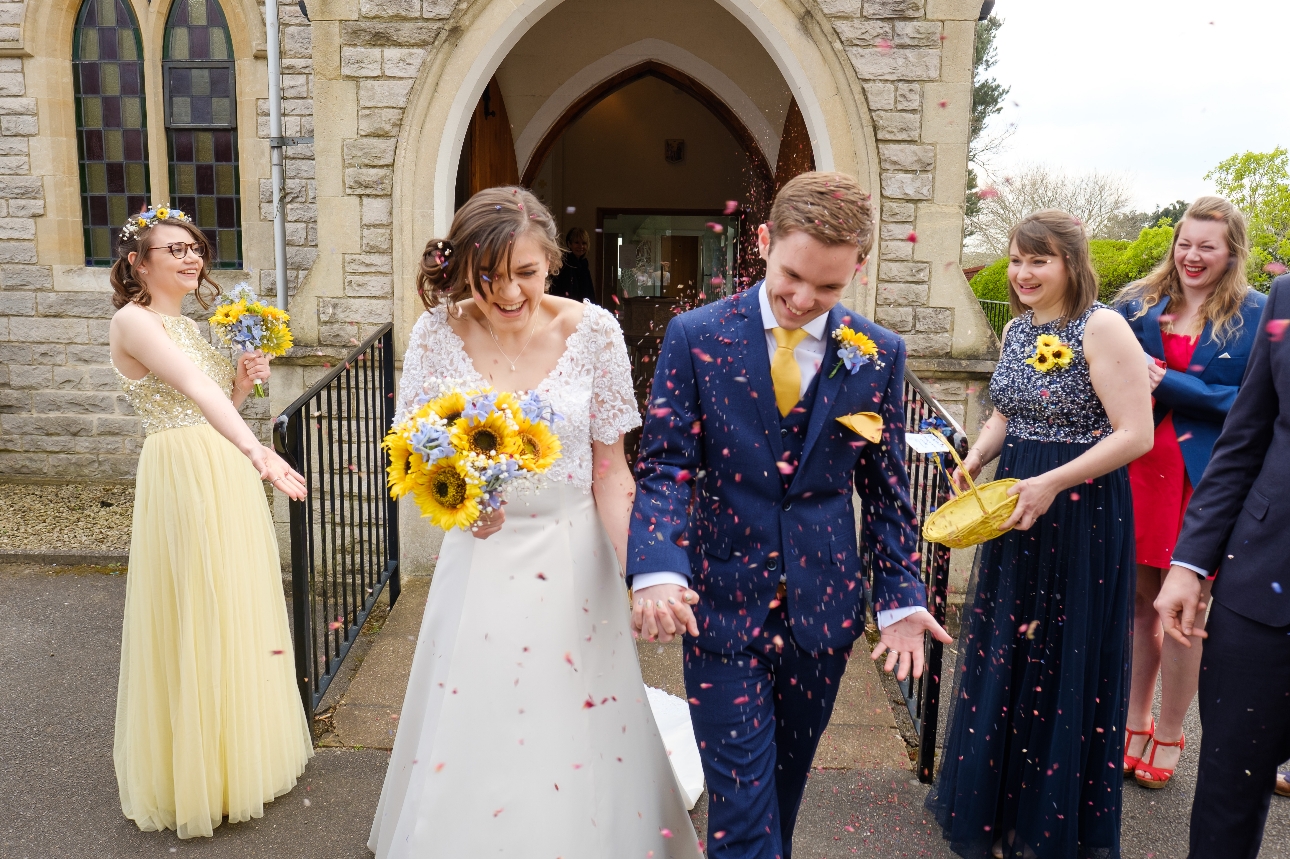 "My dress came from a cancer charity called Big C," recalls Charlotte. "It was quite cheap, so I bought it and had it altered, and it was perfect! My wedding shoes came from Clarks, and they were so comfy that I didn't remove them all day or night."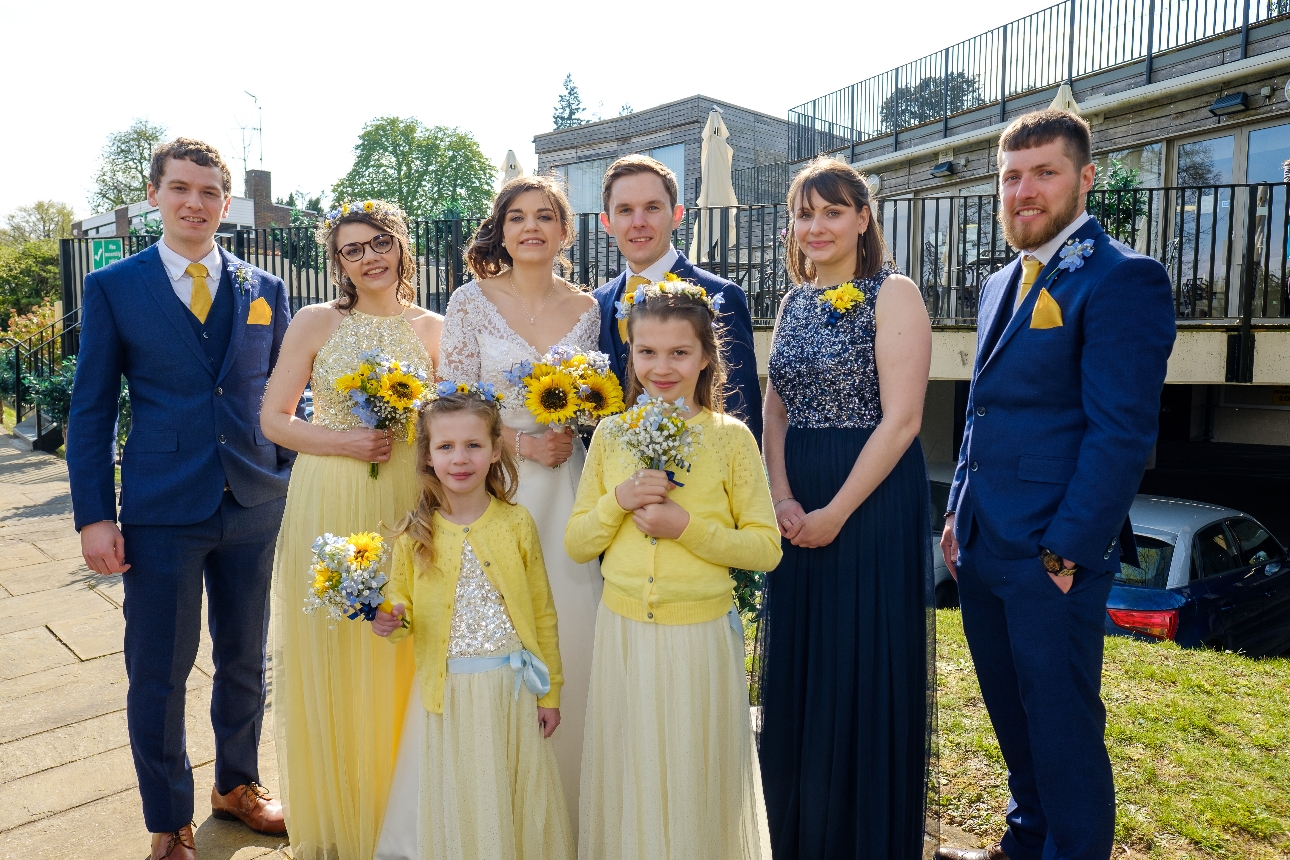 Ben and the groomsmen wore suits from Slater Menswear. "He also had a best woman who chose a navy dress that was quite similar to the bridesmaids' dresses," says the bride. "I had my sister and two children as bridesmaids. The children's dresses were from Monsoon, and I managed to get an almost identical adult version from ASOS."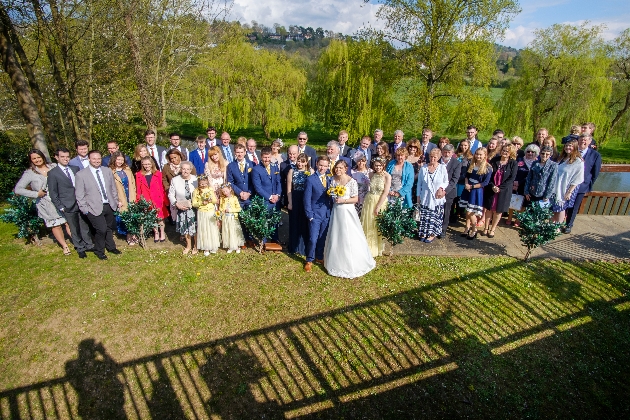 The lovebirds had the perfect wedding. "It's a day we both look back on and can't stop smiling," shares Charlotte. "The morning after the wedding, I wanted to do the whole thing again! We loved the boat ride and having a moment by ourselves just after we were married."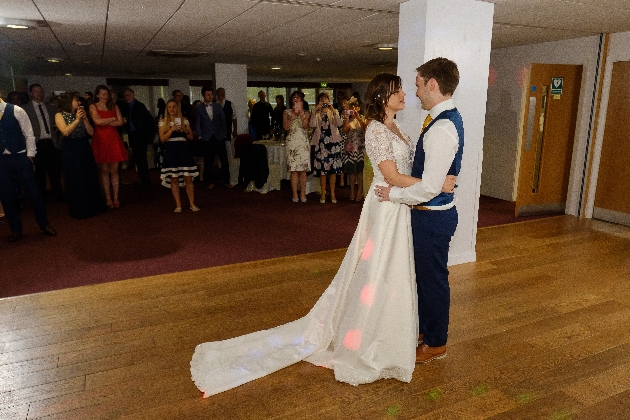 "A very funny story came out on our big day," laughs the bride. "In a little bag that my sister made and gave everyone for my family hen party, there was a small yellow bath bomb wrapped up beautifully. A family member thought it was a sweet and saved it for later. When she ate it, she obviously realised it wasn't food as soon as she began foaming at the mouth and, of course, a drink of water only made it worse!"
Charlotte's sister did a speech that everyone loved. "She works in radio production and had interviewed lots of people at the wedding and those who couldn't make it," explains Charlotte. "She then compiled these into a wonderful recording that she played, and it was wonderful."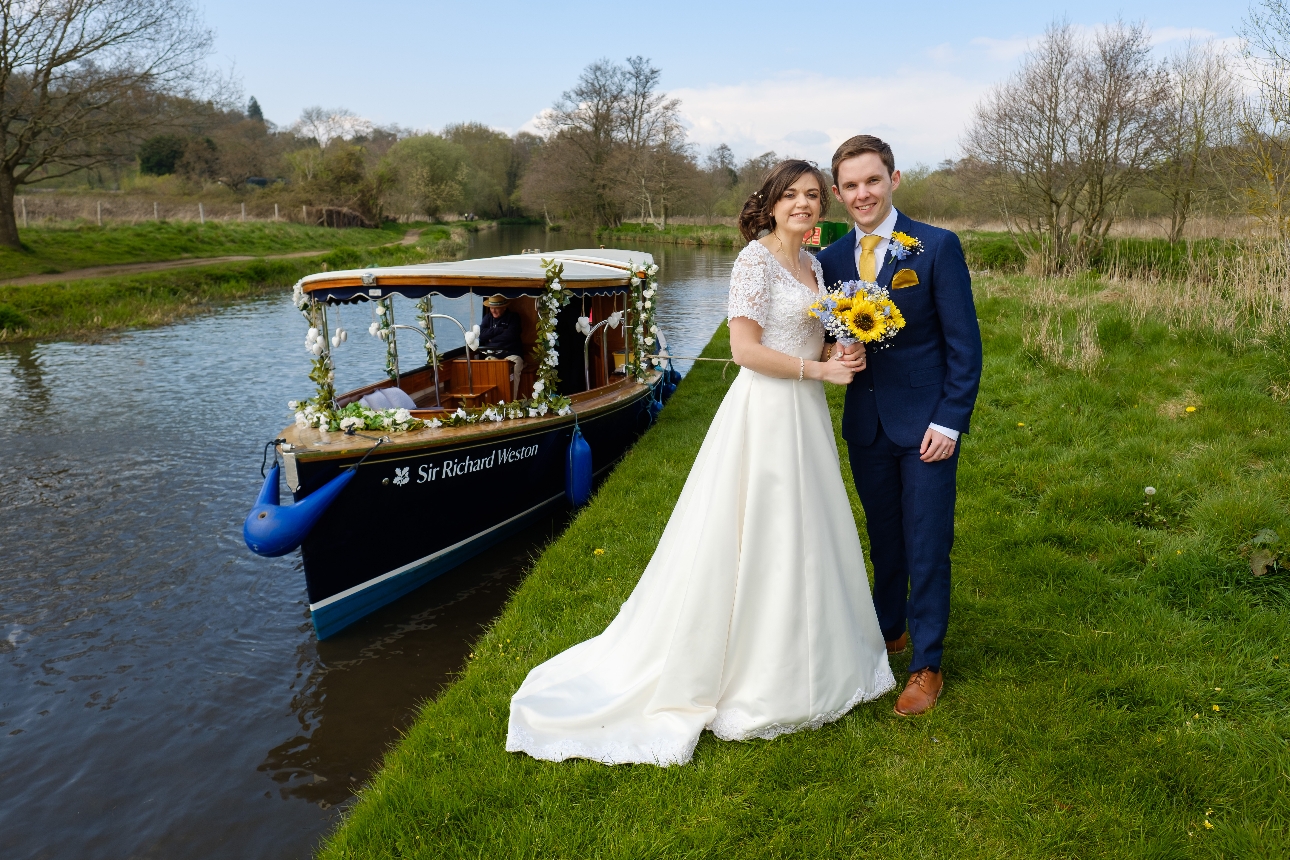 "We went on a minimoon to Venice for five days," recalls the bride. "The weather was divine, as was the food, drinks and scenery, and we loved every minute of it!"
Charlotte and Ben's contact book