Chelsea and Ryan met at a family wedding. "In the evening, we both had a bit too much drink and kissed on the dancefloor in front of everyone," says Chelsea. "My dad came in between us, and the rest is history!"
Ryan popped the question at the Yosemite National Park in California. "We went on a road trip back in 2018," shares the bride. "Ryan insisted we visit the park, so we spent a couple of days there. We parked at the bottom of a mountain for a picnic. We walked up to the top, which was scary as we had to watch out for bears because of our food! Once we were at the top, we watched the sunset, and Ryan surprised me by asking me to be his wife. We came back down the mountain in complete darkness and managed to find our car. On the way back to the hotel, the car hit a pothole, and we spent an hour changing the tyre!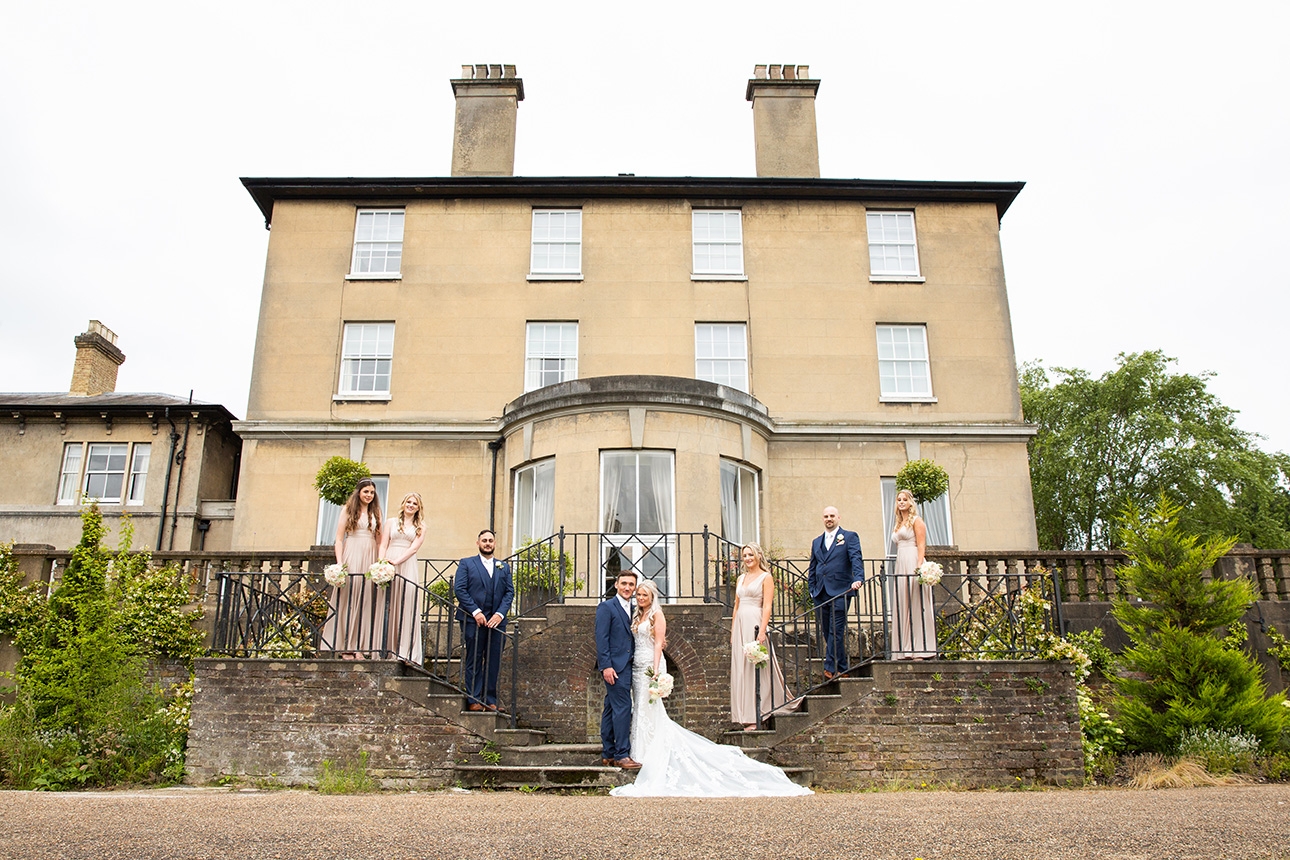 "We spent months searching for the perfect reception venue and struggled to find everything we were looking for in one place," explains Chelsea. "We wanted a bar in the same room as the dancefloor and somewhere which would be safe and picturesque if it rained.
My grandad suggested Oatlands Park Hotel in Weybridge, which we had never heard of before. We went there and quickly fell in love. It was perfect! The Mulberry Suite had an open area, high ceilings, a bar and was just beautiful. The gardens were also stunning, with lots of flowers and a rose arch for family photos. The lake was a bonus as I'd always wanted photos next to the water. We booked the venue and scheduled our date for 4th July, 2020, but sadly, like so many couples, we had to postpone due to COVID-19. When it came round to our new date in June 2021, we still didn't know what kind of wedding we were going to have. Within that year, we sadly both lost our nannies, which was devastating as if COVID wasn't around, they would have been there. On the day itself, it was scheduled to rain and be stormy, so we brought an umbrella and expected the worst weather. We woke up to rain, and although we were gutted, we accepted it. When it was time for me to leave for the church, the sun came out, and it unbelievably stayed dry and sunny for the rest of the day. We believe it was our nannies shining down on us."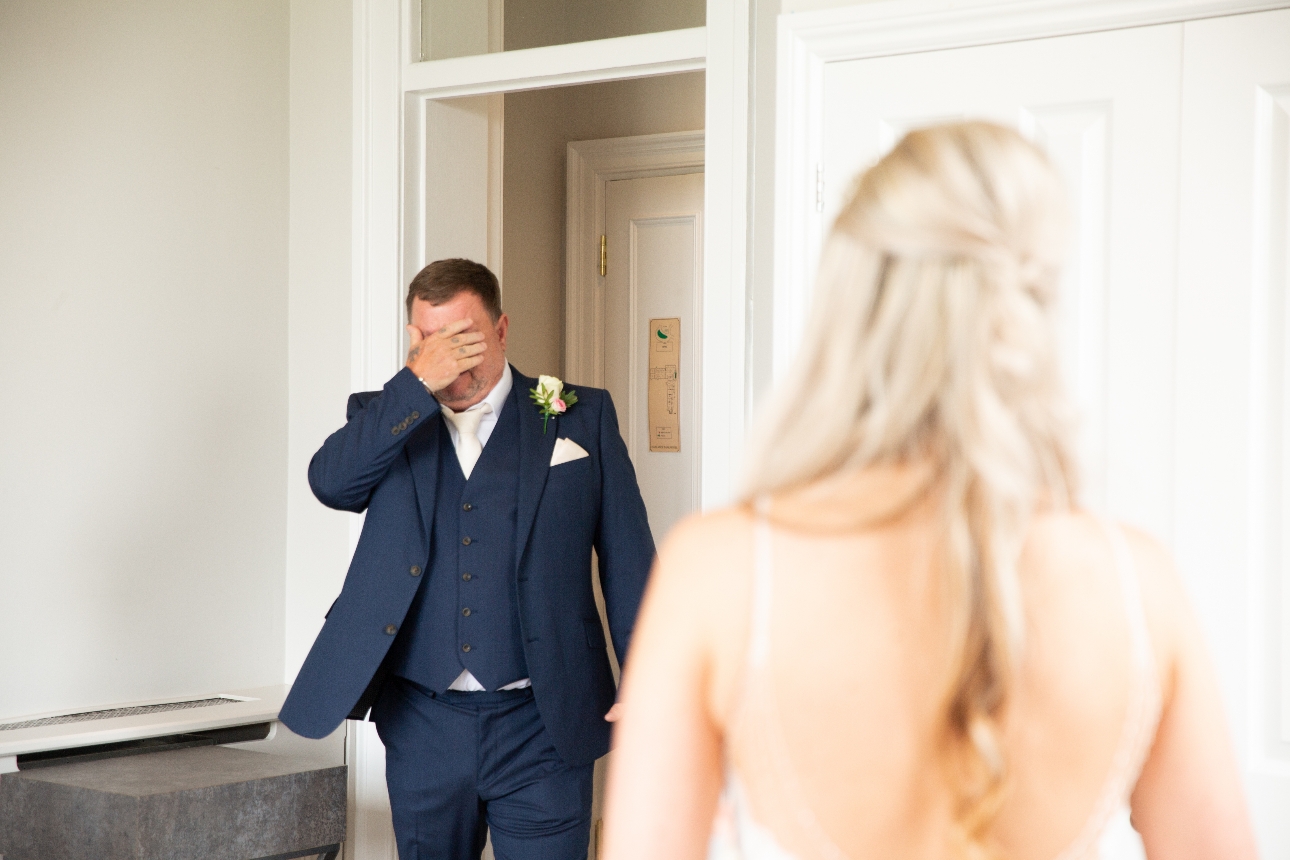 The happy couple had their ceremony at St Mary Oatlands Church. "We have been attending for three years before getting married, and everyone there is so friendly and welcoming," the bride adds. "The vicar, Folli, is a huge character. He made our wedding special, and all our guests loved his funny comments. When we came out of the church, we had a little surprise for my dad. He is a Londoner and loves Only Fools and Horses, so we organised for Del Boy's yellow three-wheeler van to hide around the back of the church. When we came out of the church, and my dad saw it, he burst into tears. That was his ride back to the hotel, and we followed him in a Rolls Royce from Clover Care. Our driver, David, was such a gentleman. He used to be in the RAF, and since Ryan is an airline pilot, it was a perfect match. We found out before the wedding that the car was also used for Sophie Turner and Joe Jonas' wedding in France. We had to have it once we found out as I love Game of Thrones!"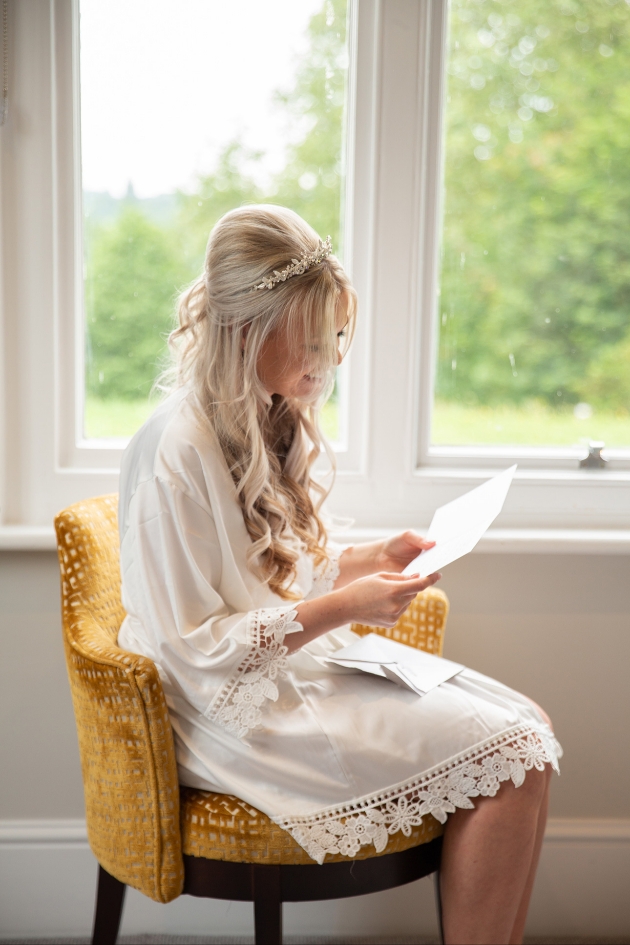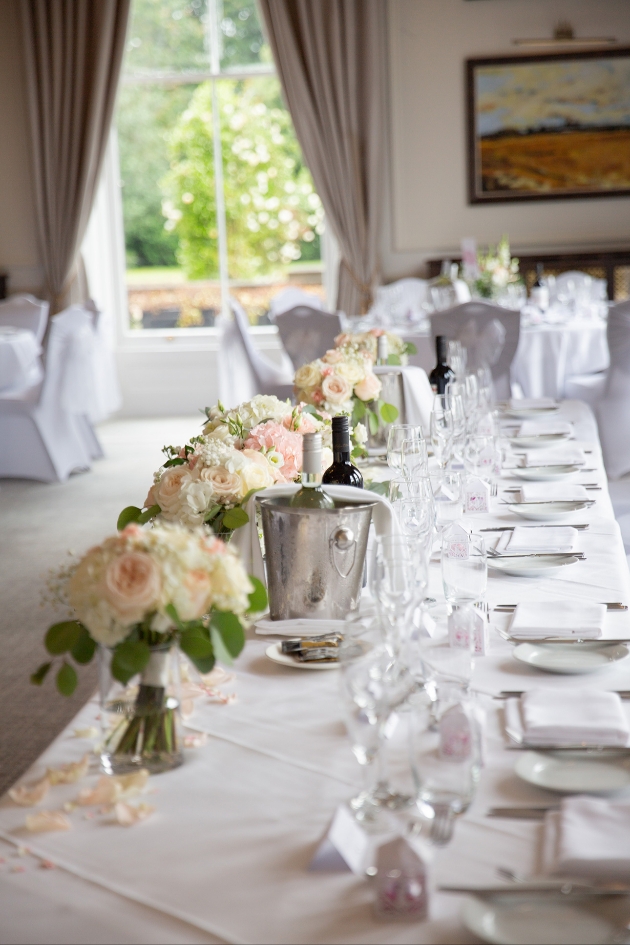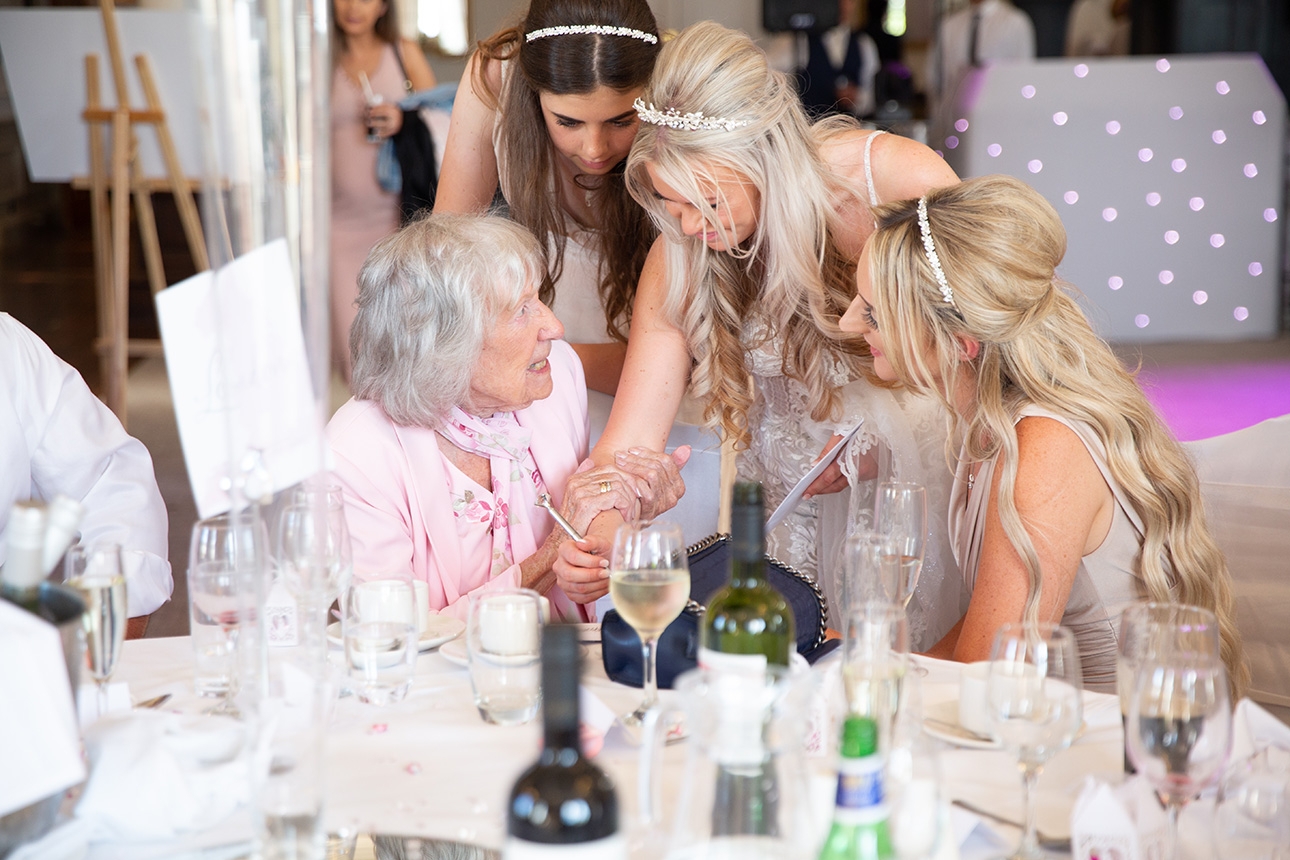 Due to COVID-19, the couple was unsure how many guests would be allowed at their wedding until a few weeks before. "This was a nightmare to plan and organise, as things were so last minute," recalls Chelsea. "The favours were small white boxes that we filled with chocolate hearts and love heart sweets. We had five children at the wedding, and to keep them entertained, we created boxes for them filled with mini-colouring books, toys and sweeties. Our table plan was also a last-minute panic as several guests could no longer attend due to the pandemic. We wanted something personal to us, and since we've been lucky enough to have travelled to many places around the world together, we decided on a map from Paper Adventure Co. We used the places we'd previously visited as table names with a small sentence about each area."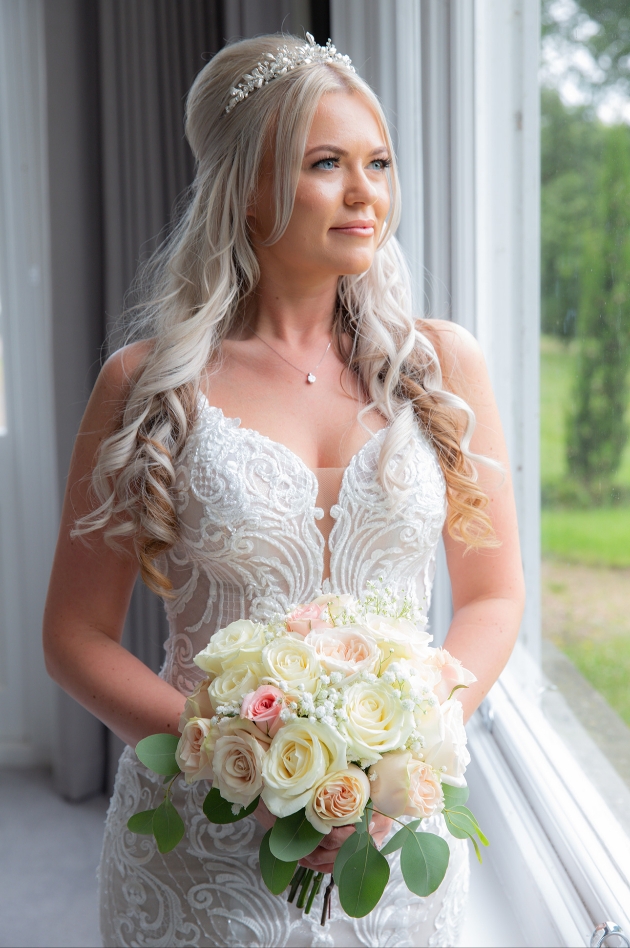 The couple decided on an elegant and neutral theme for their décor. "The Mulberry Room speaks for itself, so we wanted to keep the embellishments paired back," says the bride. "We had sash covers and white and pink flowers on the tables. On the top table, we had a spray in front of us, scattered rose petals and four vases for the bridesmaids to put their bouquets in."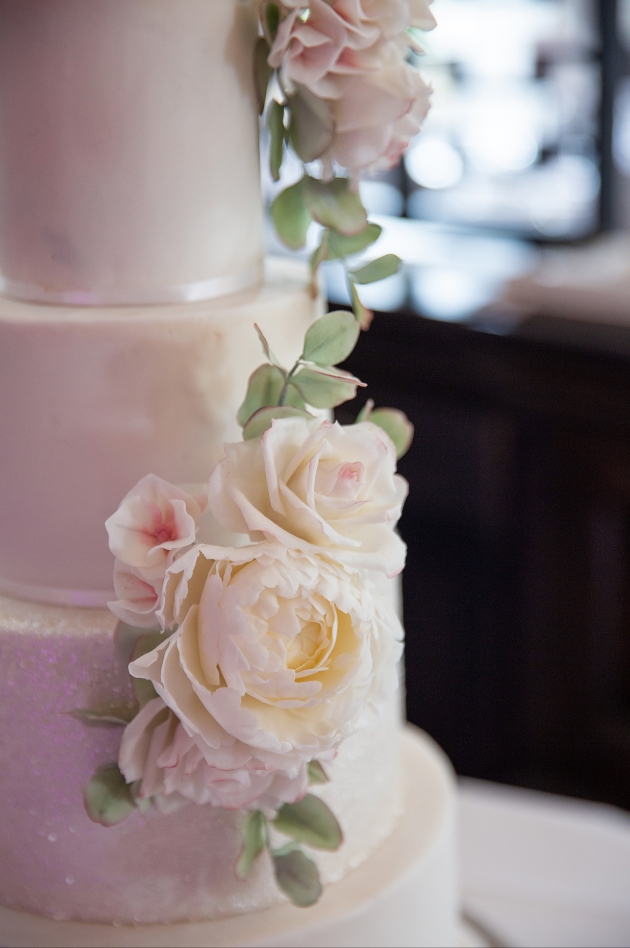 Chelsea and Ryan chose a four-tiered cake from Iced Innovations. "We opted for lemon, chocolate and carrot cake which were all amazing," Chelsea shares. "The top tier was reserved just for us. We took it home and enjoyed it over the next couple of days. The rest of the food was provided by Oatlands Park Hotel. We had a light starter of parma ham, melon, rocket salad and pine nuts. For the main, we opted for a slice of beef, roast potatoes and vegetables, with red wine jus and the chocolate brownie dessert was kindly created by the chef who knew we were chocoholics."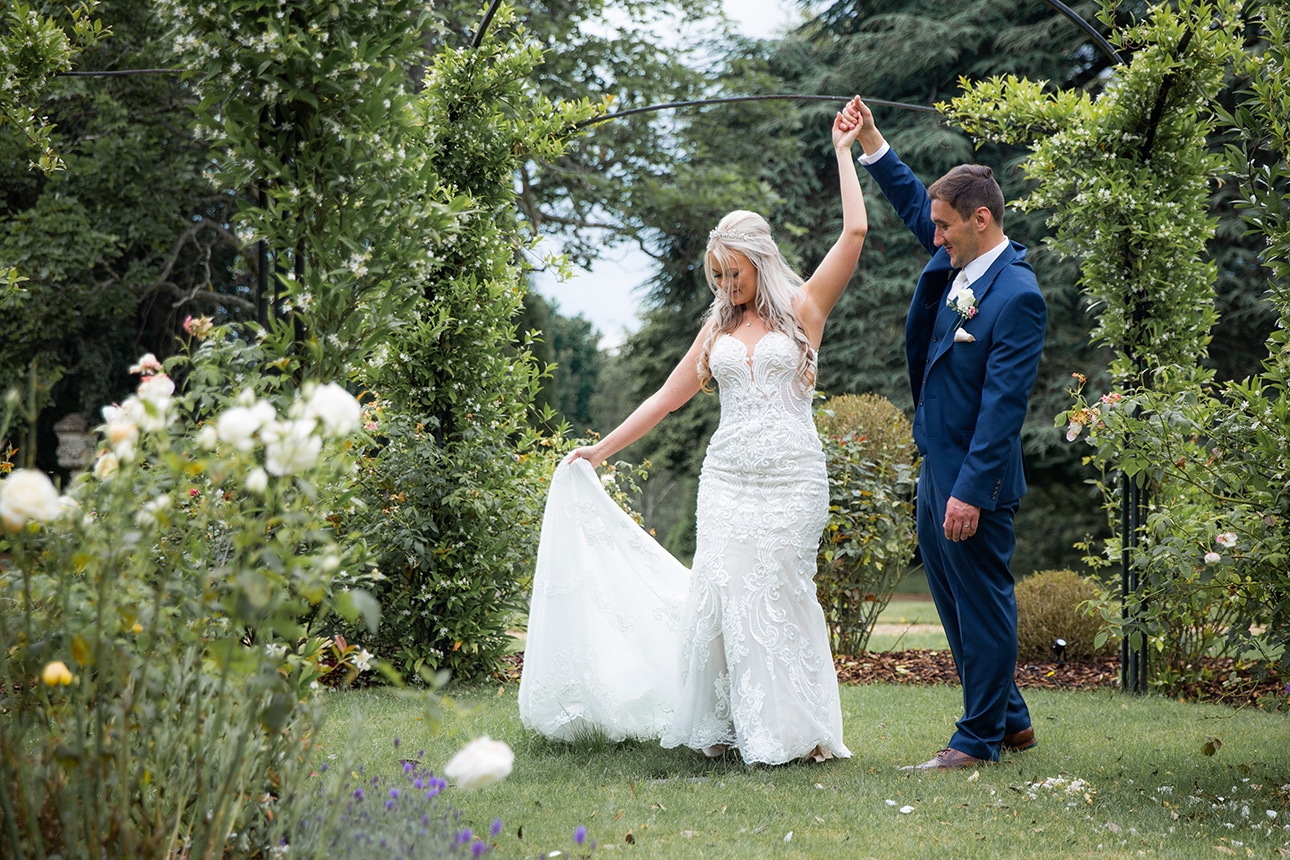 "My dress was an Essense of Australia design from The Bridal Room," explains the bride. "I wanted a dress that would suit my figure and height. The team at the boutique were amazing and incredibly friendly. The gown itself was covered in sparkles, which is exactly what I wanted. It was incredibly flattering, and the train was just perfect. I accessorised with an understated tiara from Lace & Favour, and the bridesmaids wore similar versions from Next."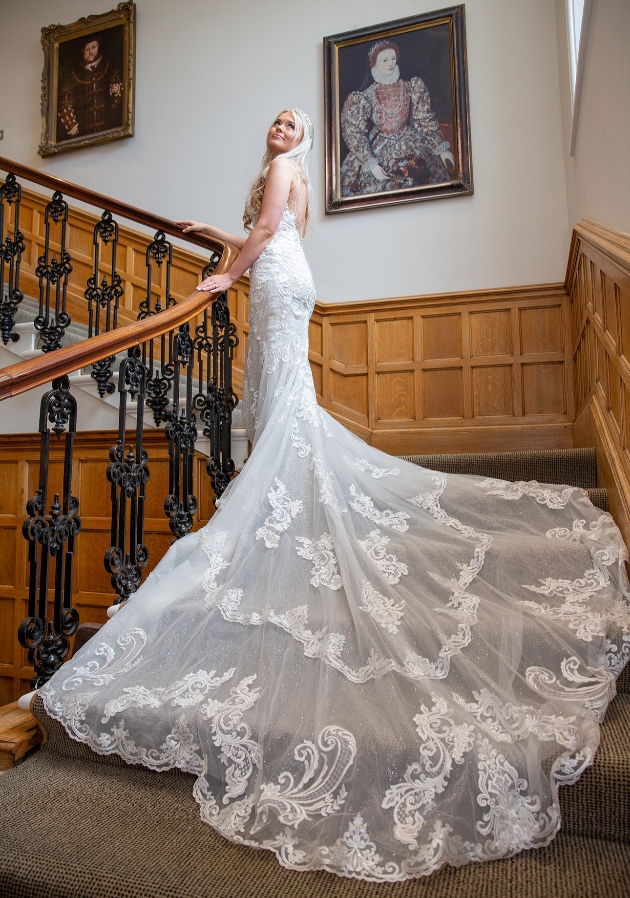 Ryan chose a navy suit from Marks and Spencer and a small flower that matched the bride's bouquet.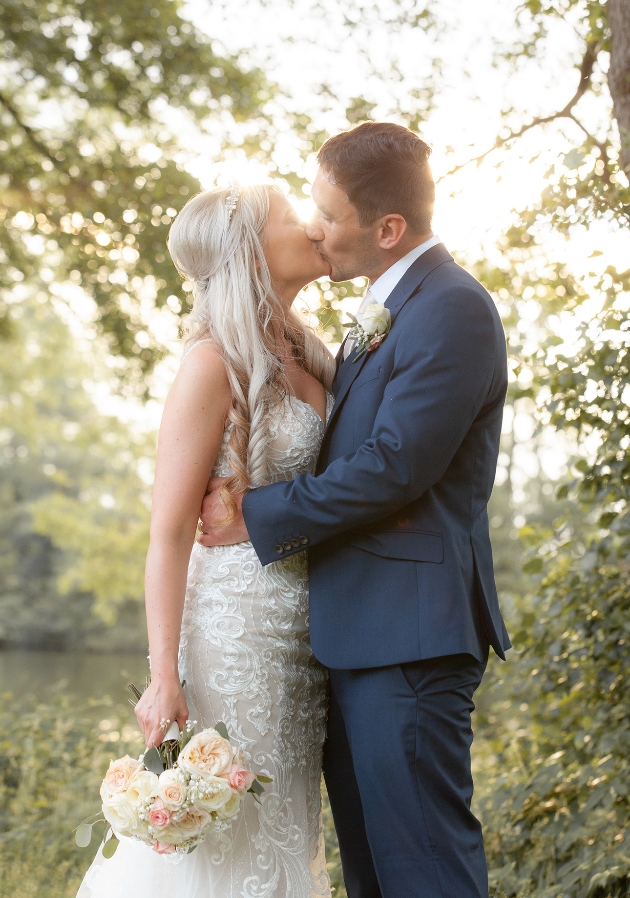 "We wanted the four bridesmaids' dresses to colour match my gown, so we went for a champagne design from House of Fraser," adds the bride. "The dresses were comfortable and very flattering."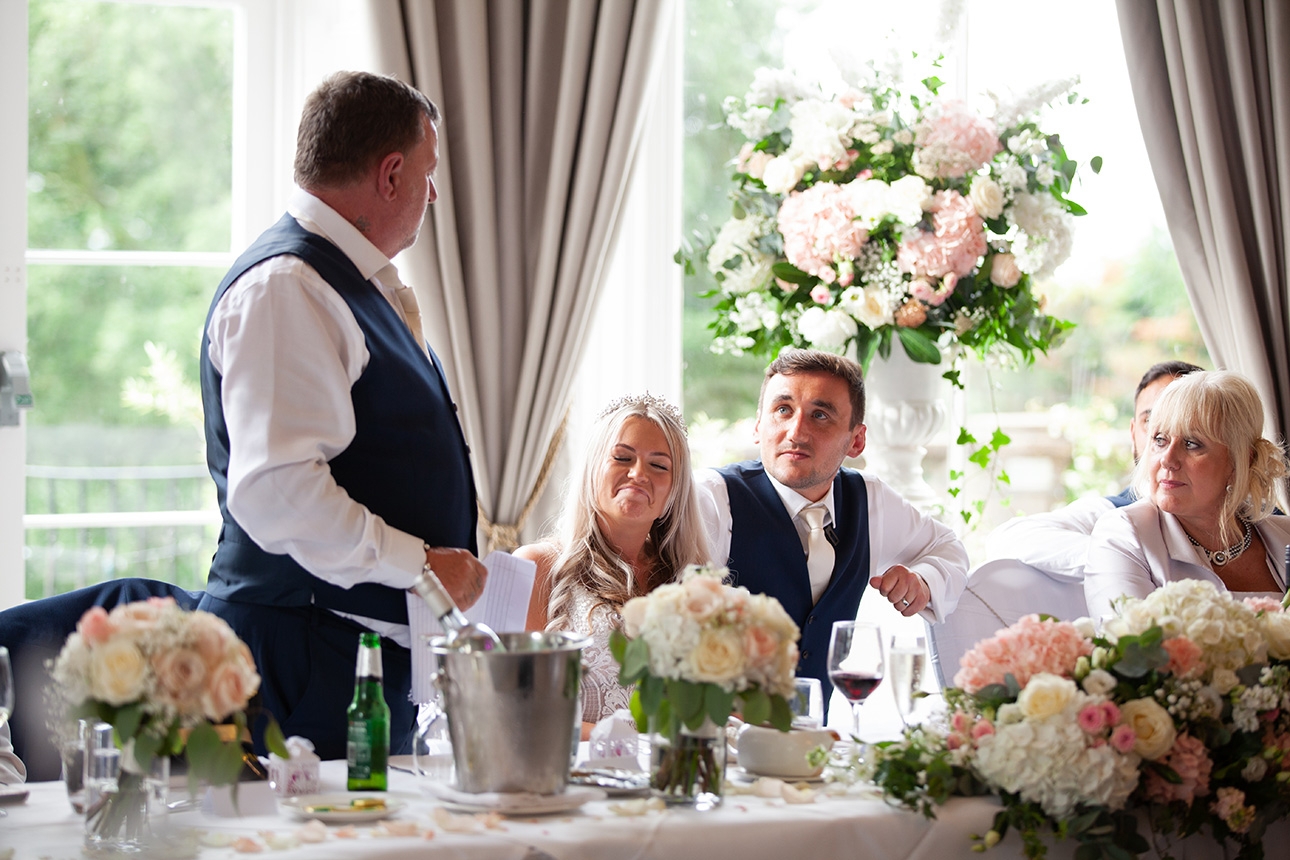 "We hired a DJ from JB Entertainment and a mirror photo booth," recalls Chelsea. "Both were equally entertaining! The same day was the semi-final of the Euros cup with England VS Denmark. When the final result came through, and we knew England had gone through to the finals, the DJ played Football's Coming Home, which of course got everyone on their feet celebrating."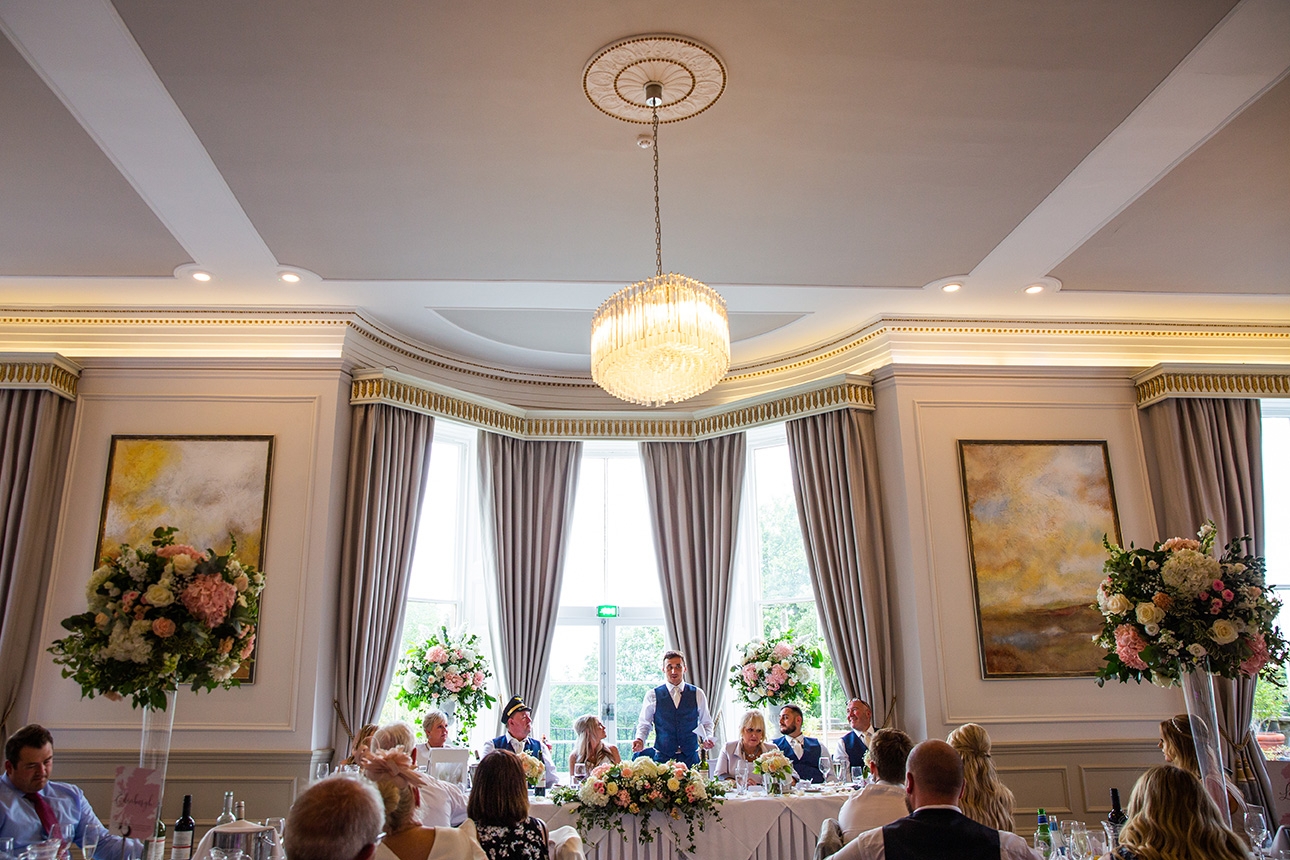 "The pandemic had put a downer on planning the wedding, but when it came to the day, we were just so happy that it was finally happening," says the bride. "The bridesmaids and groomsmen were so helpful, and we honestly couldn't have done it without them. We're so proud of every single one of them!"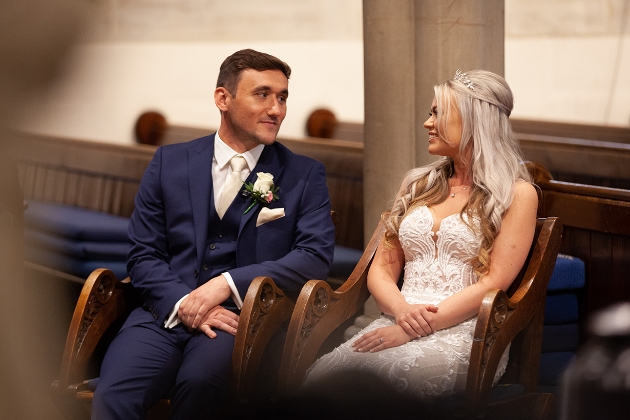 The happy couple asked their videographer, Blondot Productions, to record their speeches. "The speeches were hilarious, and I'd highly recommend having them recorded to look back on," shares Chelsea. "We'd seen that Blondot Productions had used smoke bombs in one of their videos, so we bought a white and pink version to try down by the lake in the evening. We tried the white one first as a trial, and it went well, although the wind wasn't exactly going in the right direction. Ryan then let off the pink one and threw it behind him, straight onto my dress! When lighting a smoke bomb, you are supposed to throw it as far away as possible to avoid staining. He is lucky we didn't get a divorce there and then! Looking back, I see the pink smoke stain on the dress as a funny reminder of our day!"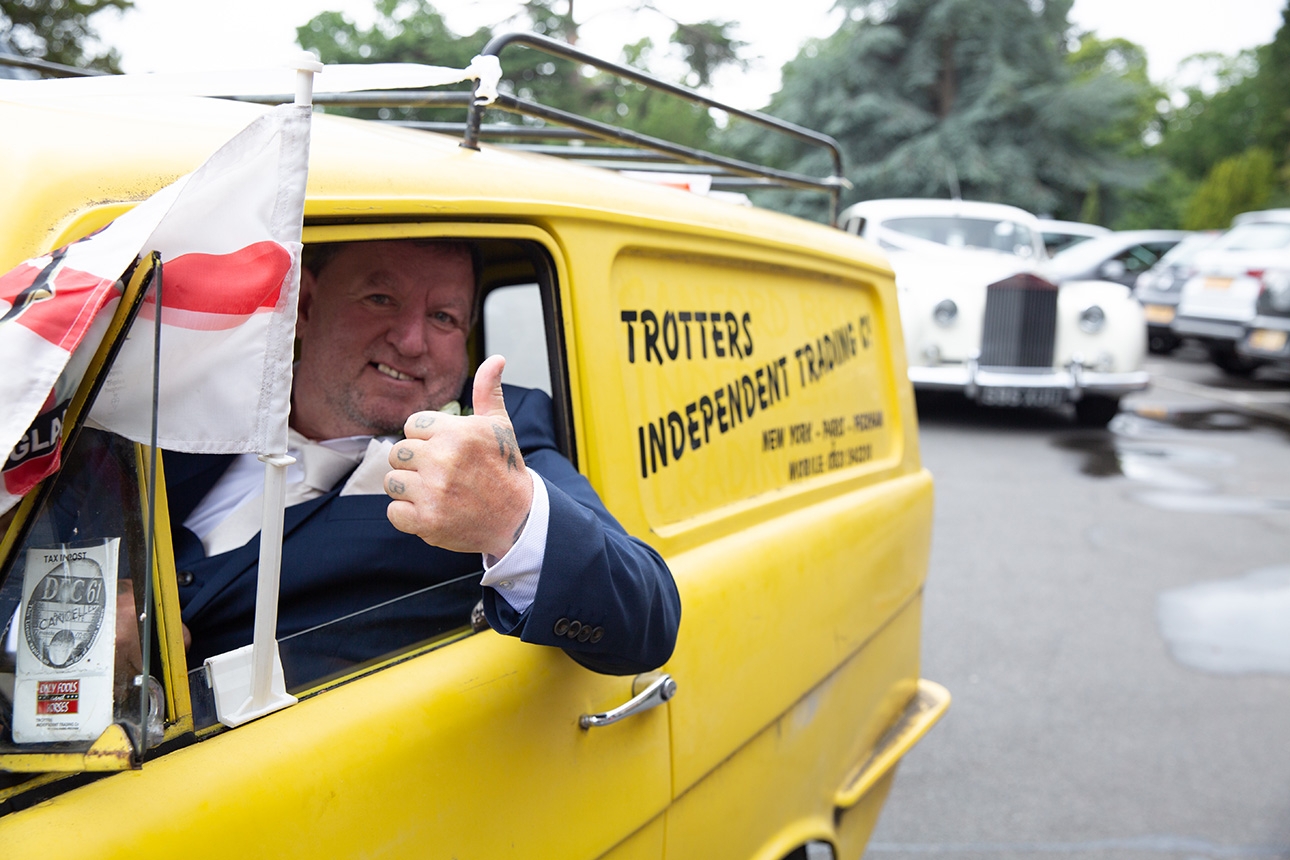 "There were a couple of suppliers who went above and beyond for us," Chelsea adds. "Ella, who is the wedding coordinator at Oatlands Park Hotel, our photographer, and Erica from Iced Innovations were all incredibly kind and helpful. They are some of the nicest people we have ever met!"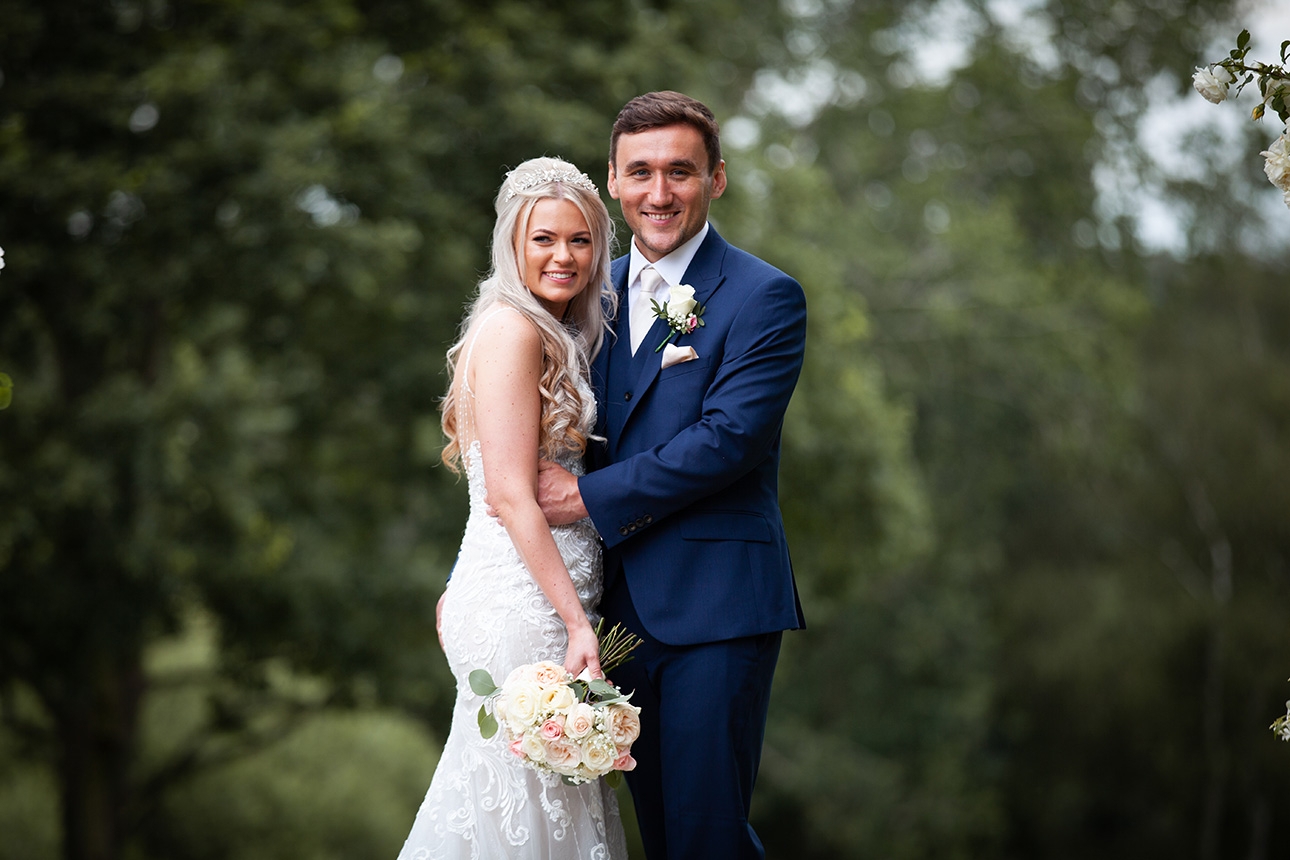 "Our honeymoon had to be postponed due to COVID-19," says the bride. "We were lucky we were still able to go on a road trip to see some old friends in Sheffield and Edinburgh. We hope to go to Tenerife soon and are looking forward to some hot weather!"
Chelsea and Ryan's contact book