Emily and Matt met at university. "The first time we spoke was in the library," says Emily. "We were introduced by mutual friends and chatted a little. When I got home, he sent me a Facebook message telling me he thought I was really beautiful. Turns out, he didn't think I'd respond, but we started dating and have been together ever since."
Matt proposed to Emily in August 2019. "Matt had wanted to propose the year before when we were travelling, but the timing just wasn't right," shares the bride. "My friend and I were out with our horses in the Surrey countryside when Matt walked onto the track and led me over to a picnic rug and popped the question. Although we had been talking about getting engaged, it was a huge surprise."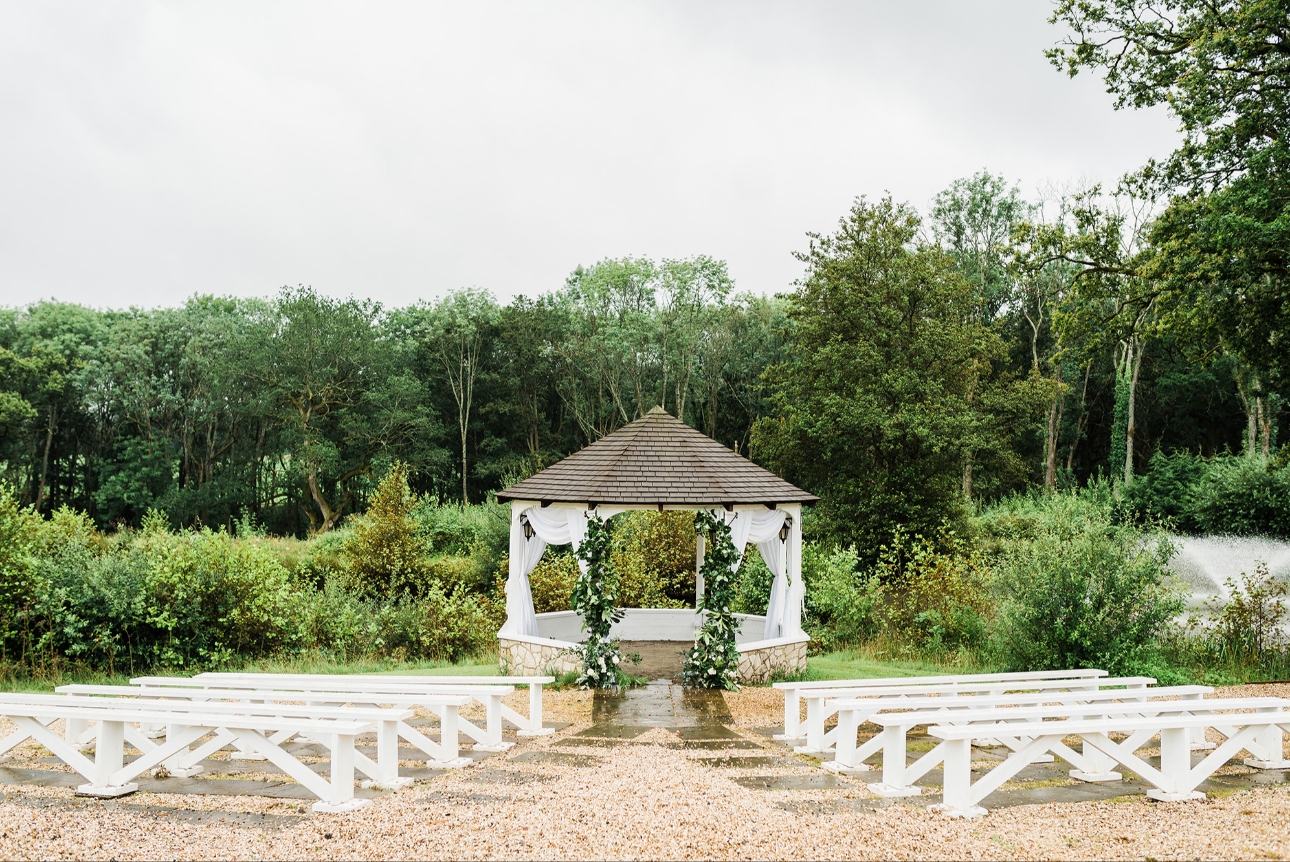 "I really wanted an outdoor wedding, and the space at Lythe Hill Hotel was exactly what we were looking for," explains Emily. "In terms of the indoor space, we loved the reception room, particularly the glass ceiling. We also liked the fact it was a hotel so we could have our guests stay there with us."
For their favours, the couple gave their guests personalised love hearts with rustic labels.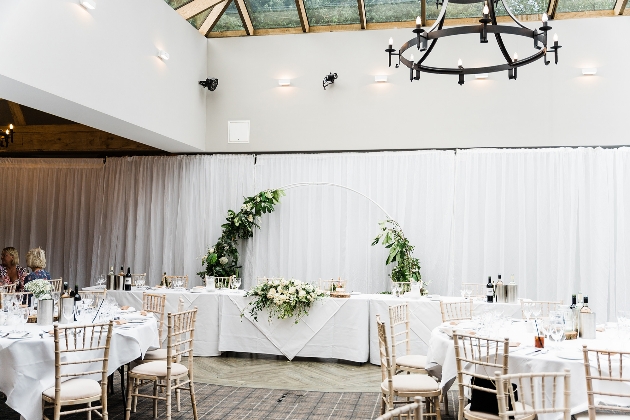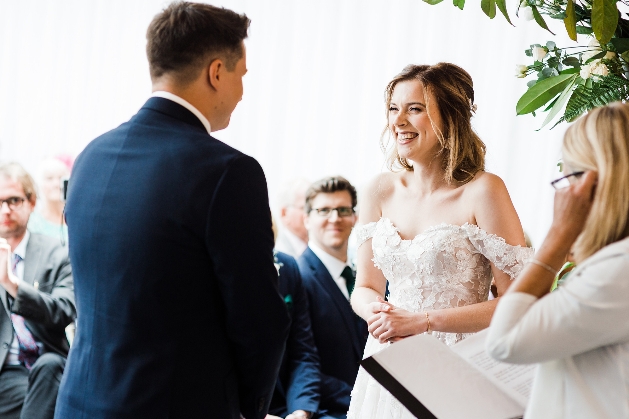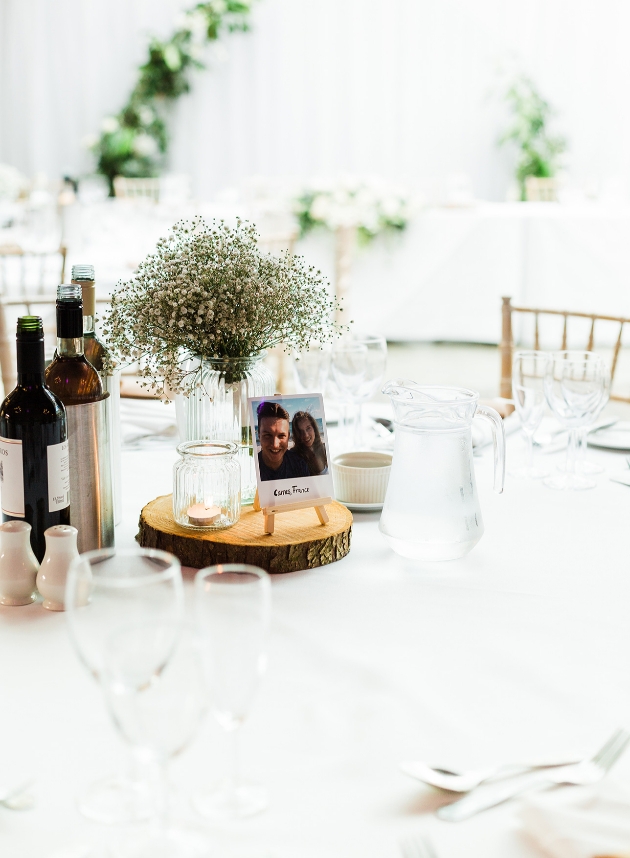 "In the centre of each table was a log slice, tea lights, mini-easels with our table names on and vases filled with the bridesmaids' flowers," the bride adds. "The bridal party made the posies the night before the wedding using gypsophila. Fuchsia Blooms Florist & Cake Atalier provided my bouquet, and it was exactly what I dreamed of with lots of eucalyptus mixed with white flowers and thistles.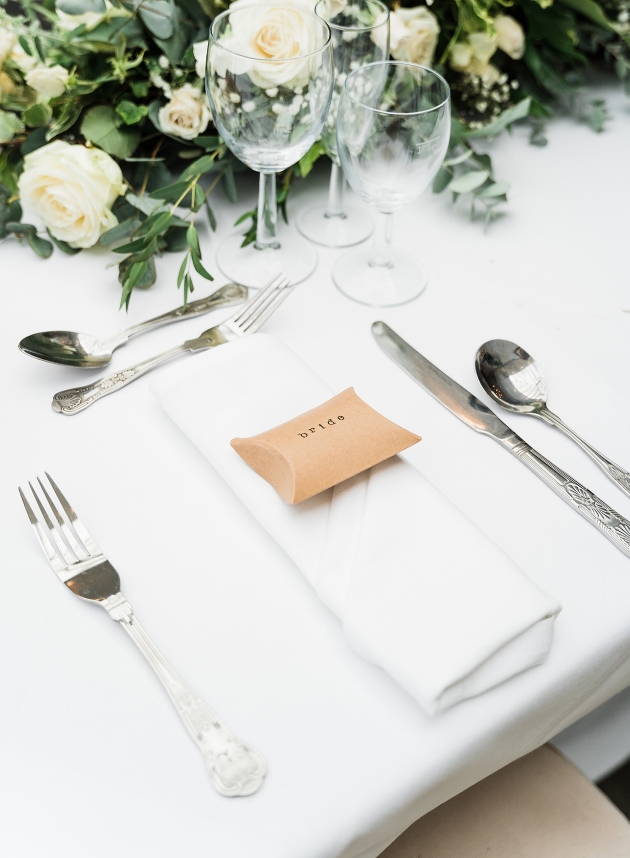 On the morning of the wedding, we had to decide whether we wanted the outdoor gazebo decorated for an outdoor ceremony or a moon gate for an indoor ceremony. We were desperate for an outdoor service, but the weather was unpredictable, so we settled on having an indoor service. However, after deciding this, my mum actually paid for the outdoor decorations to be done as well. It provided stunning photo opportunities, and we're so grateful to our florist for doing both for us."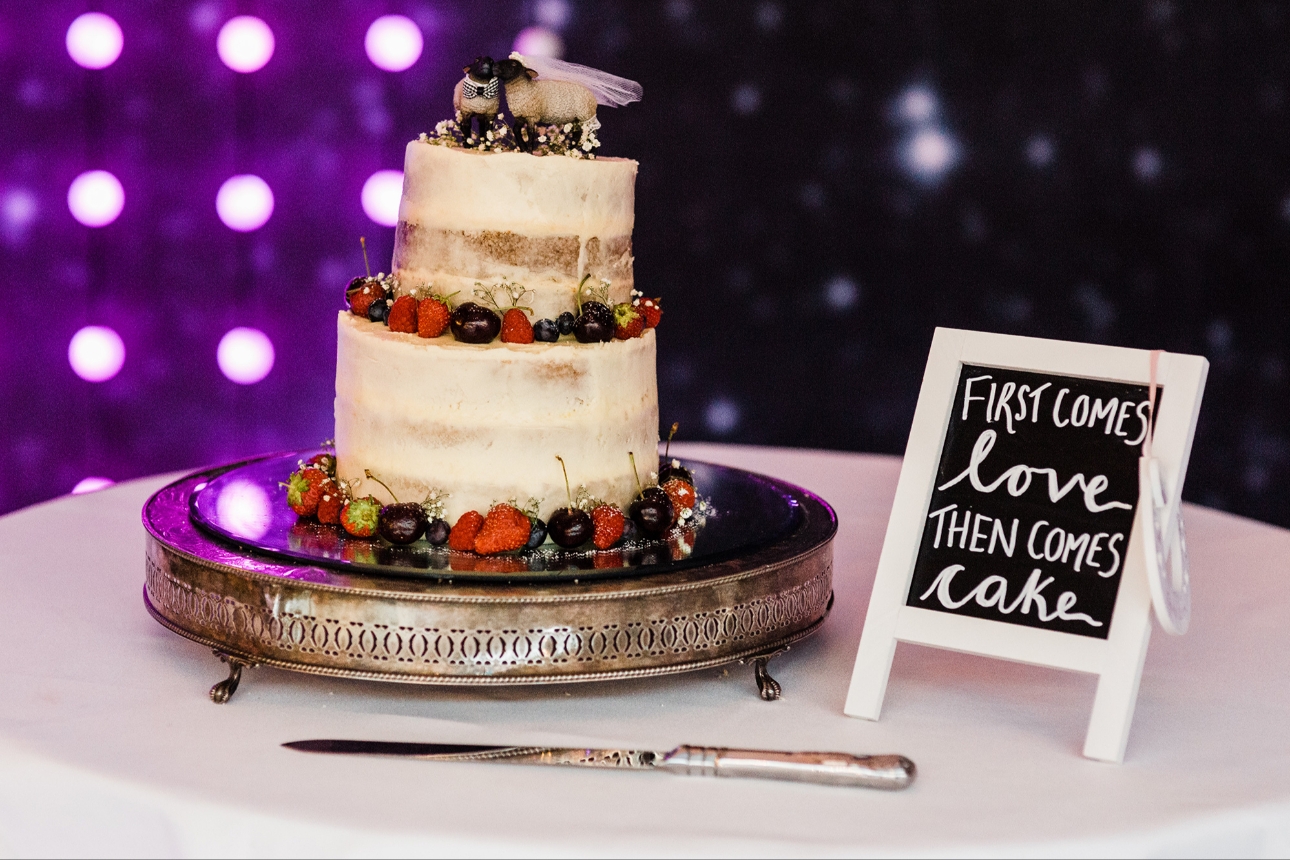 Emily and Matt hired Just As Delicious to create their big-day bake. "We wanted a vegan wedding, and this extended to the cake, which was supposed to be a semi-naked design with three different tiers," recalls Emily. "Unfortunately, when transporting our cake on the morning of the wedding, our cake maker had a car accident! Luckily she was fine, but the bottom tier was too damaged to be used! The other two tiers were still absolutely delicious, as commented on by so many guests, and we even took the damaged tier home to eat. Our cake topper was amazing too. As our surname is Lamb, we ordered a bride and groom pair of sheep from Etsy."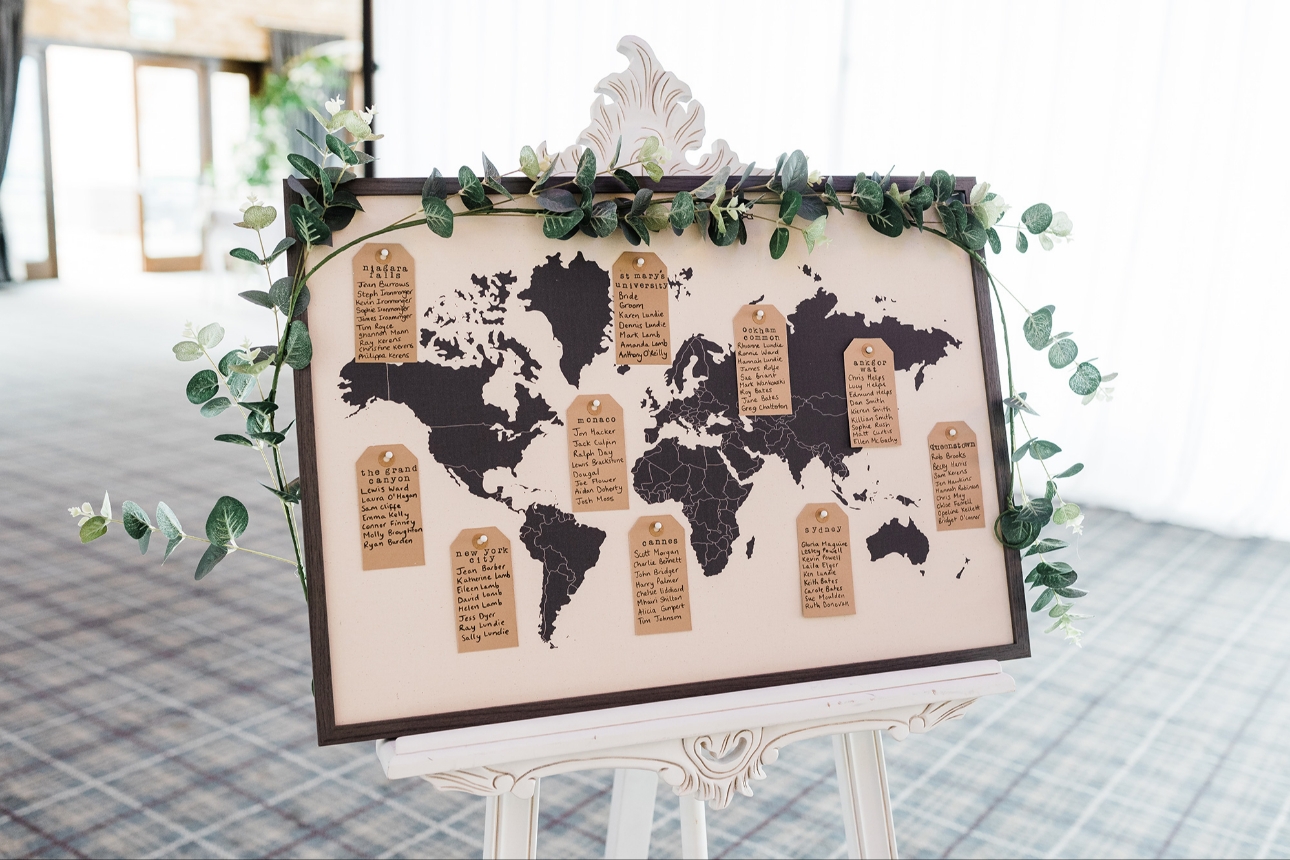 "We named our tables after different locations we'd visited together," says the bride. "For the rest of the décor, we kept it quite simple. I created a mirror sign and an order-of-the-day palette with photos of us on."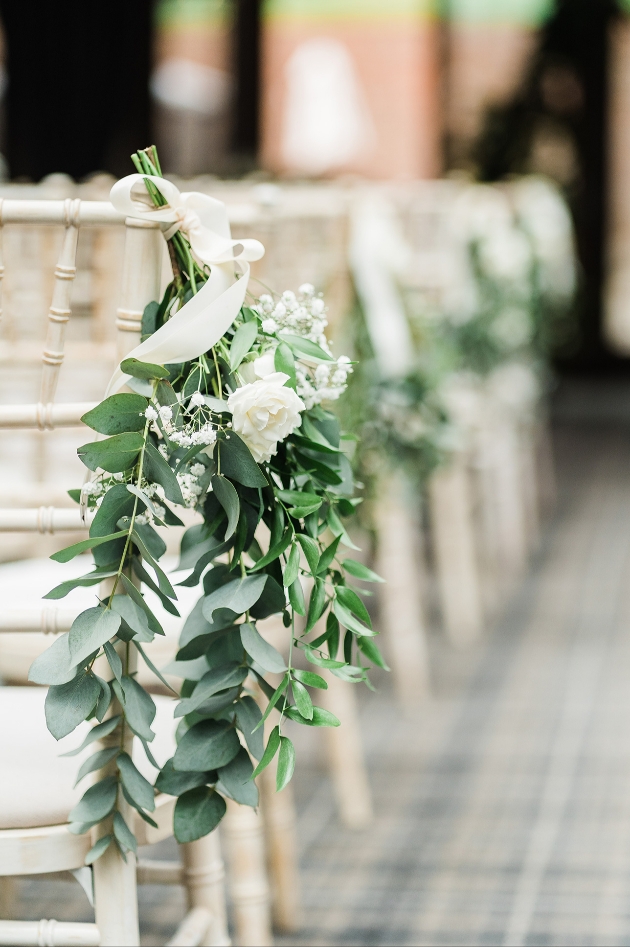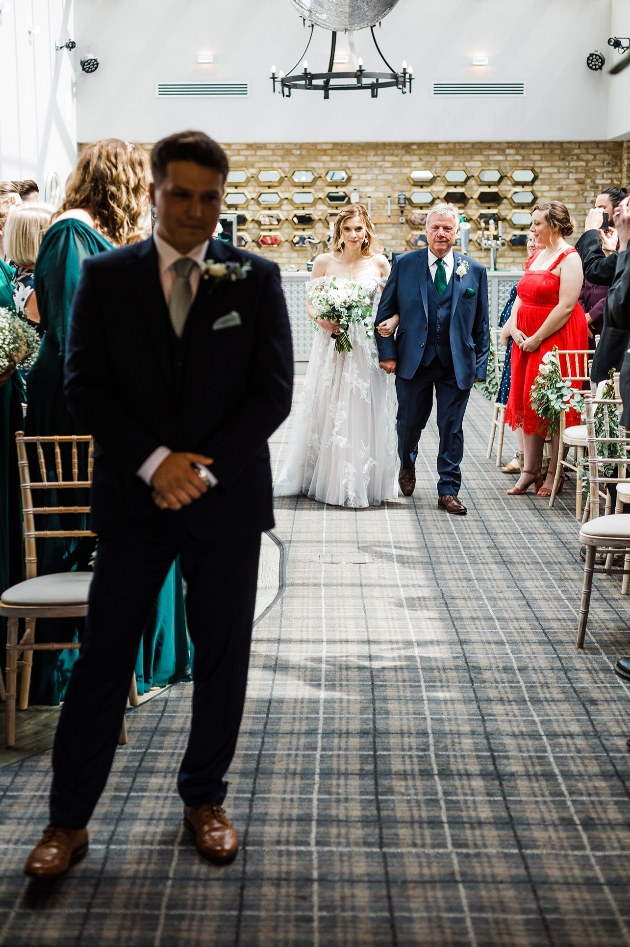 "My dress was called Elora by Madi Lane Bridal," shares Emily. "I had seen the dress years ago on Pinterest and fell in love. I loved the off-the-shoulder sleeves, the fact that the straps were detachable, the floral pattern and the low back.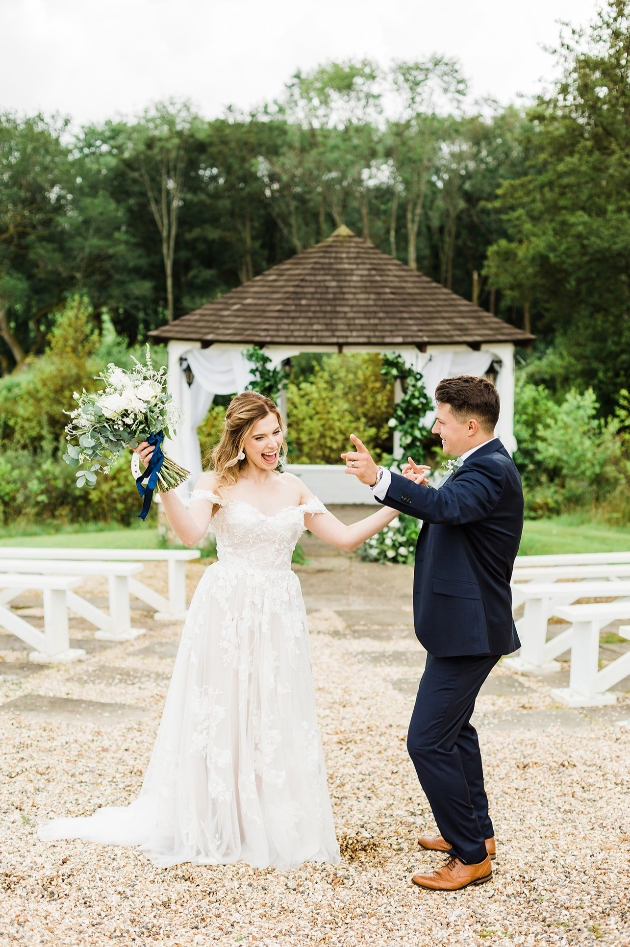 Madi Lane Bridal is an Australian designer, and there aren't a huge number of stores that stock them here in the UK, but luckily I found The Farnham Boutique, which was close by. I tried on a few other gowns, but my heart was set on Elora, and I knew it was the one. I accessorised with statement earrings and a white floral hairpiece from Victoria Harper Bridal Accessories."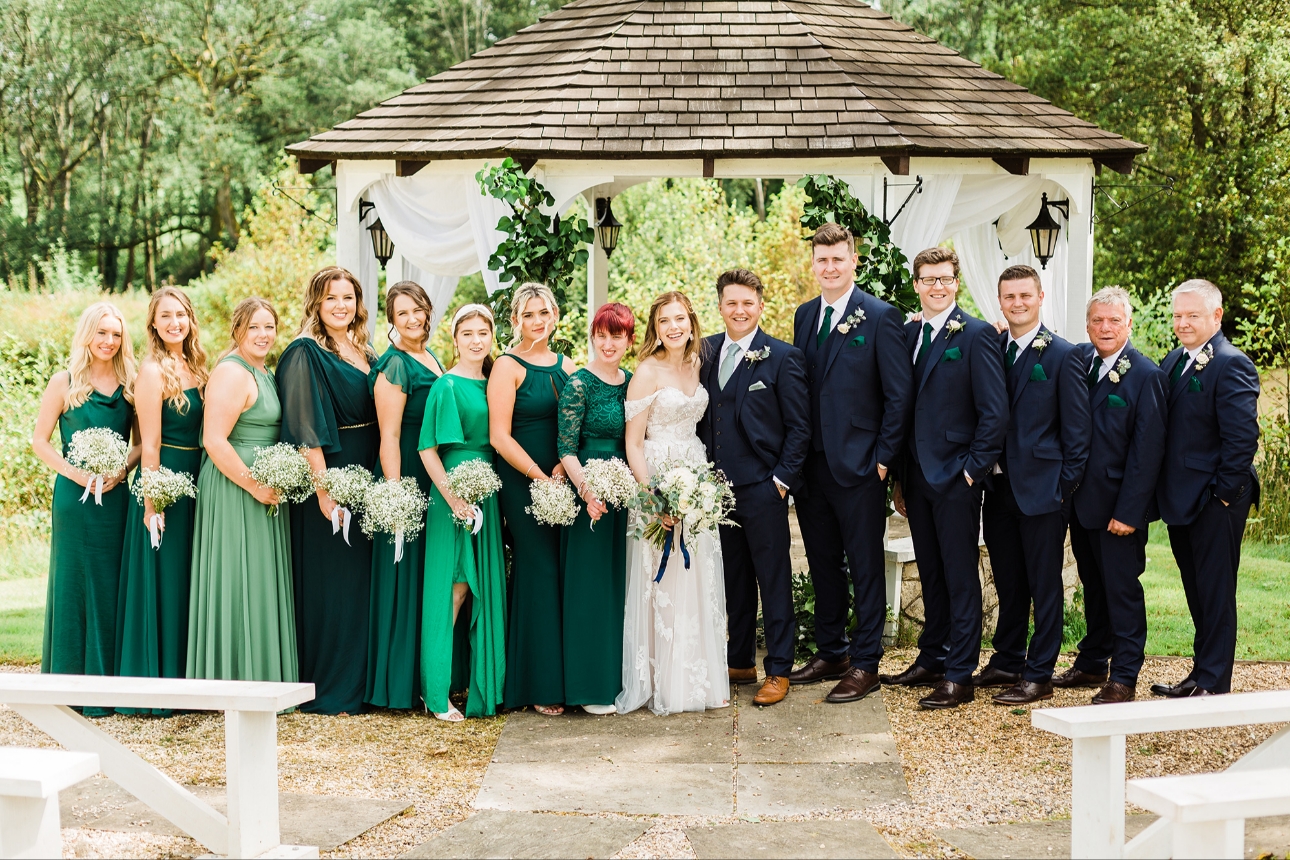 Matt and the groomsmen chose navy suits with brown shoes from Moss Bros. "The groomsmen had dark green ties, but Matt went for a lighter shade to stand out," adds the bride. "The bridesmaids wore an assortment of green dresses from Chobham Bride. I asked the girls to choose the style they wanted, so we had a variety of different looks and colours."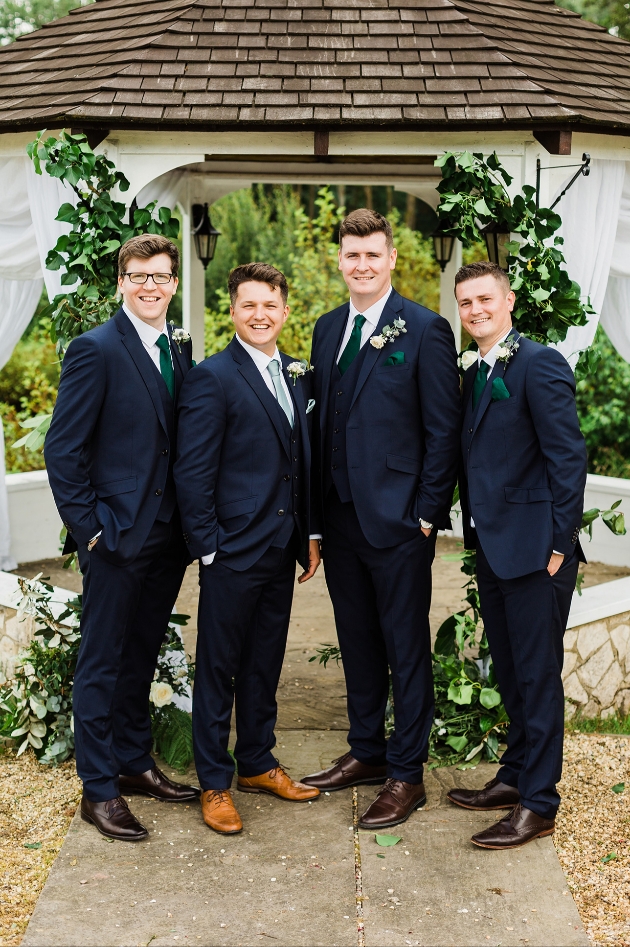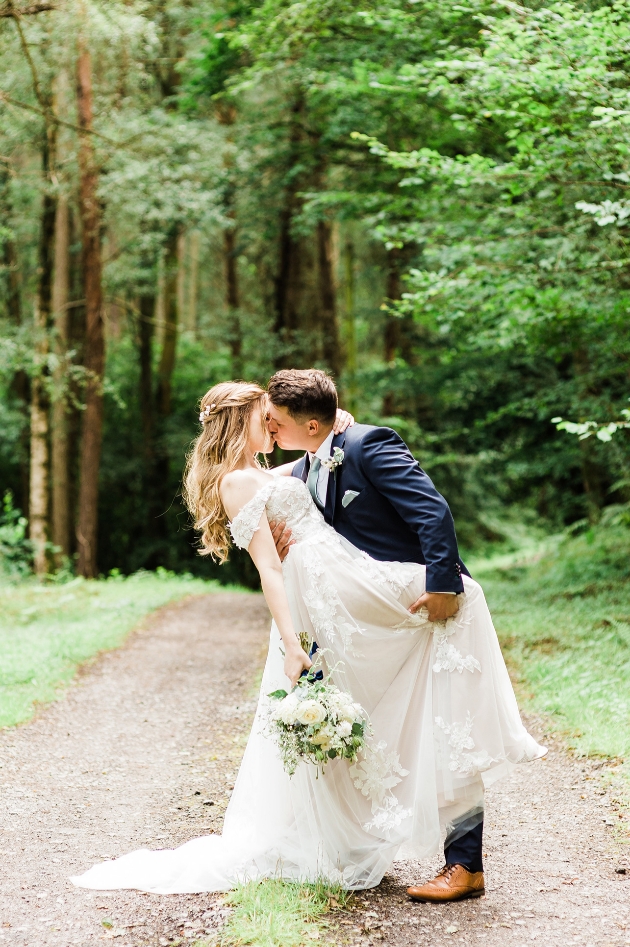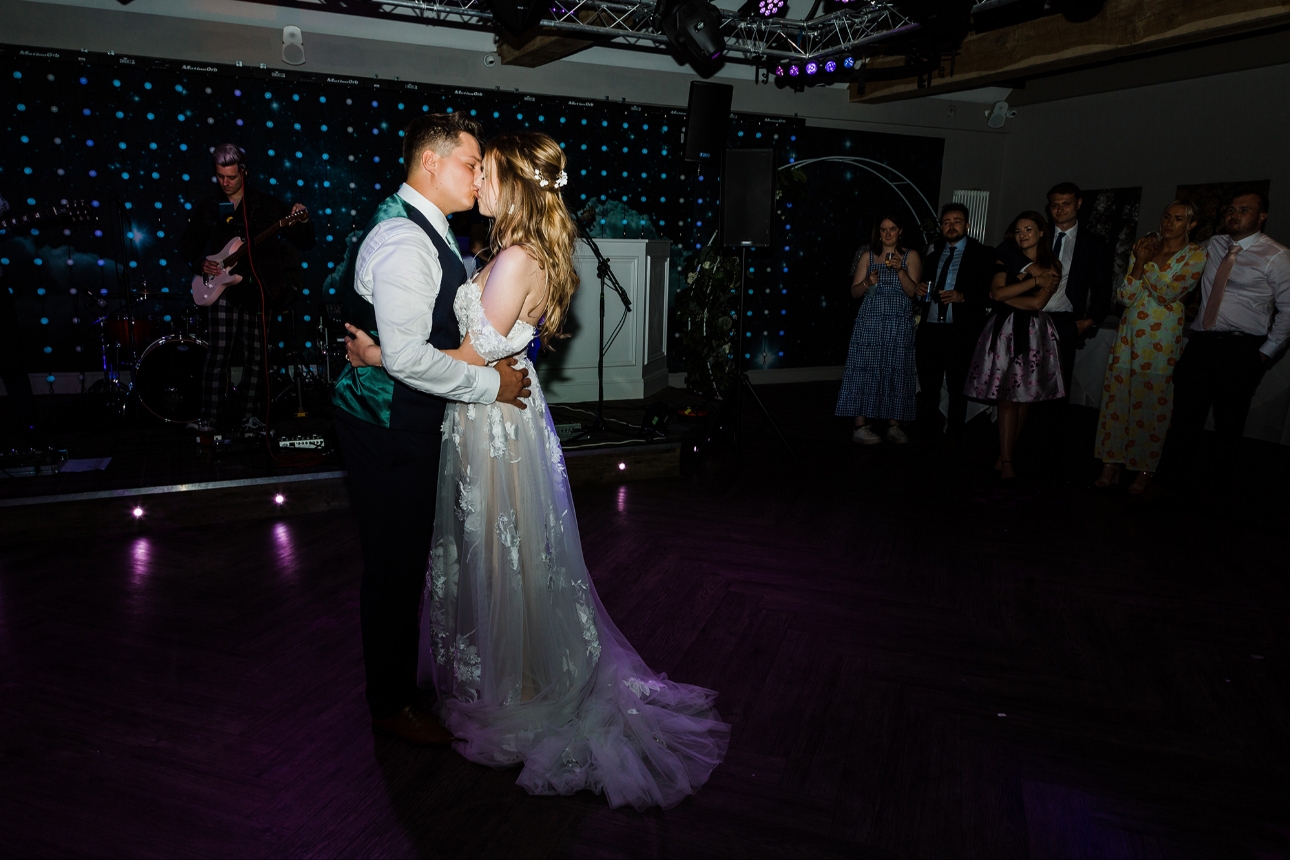 "We hired a live band called The Kicks who were incredible," explains Emily. "They played a variety of songs which we all knew. There was a large group of us dancing and singing all night. They were also great at taking requests when the DJ was performing between sets."
"I was incredibly nervous and overwhelmed getting ready, but once the ceremony started and I was with Matt, I felt so relaxed," recalls the bride. "I had an incredible day and enjoyed every minute. The evening celebration was amazing. Dancing and singing with our friends and family was so special. After a year of COVID-19 restrictions, it was so nice to be able to have a proper celebration and see people who we hadn't for so long."The couple had a day full of fun and loving moments.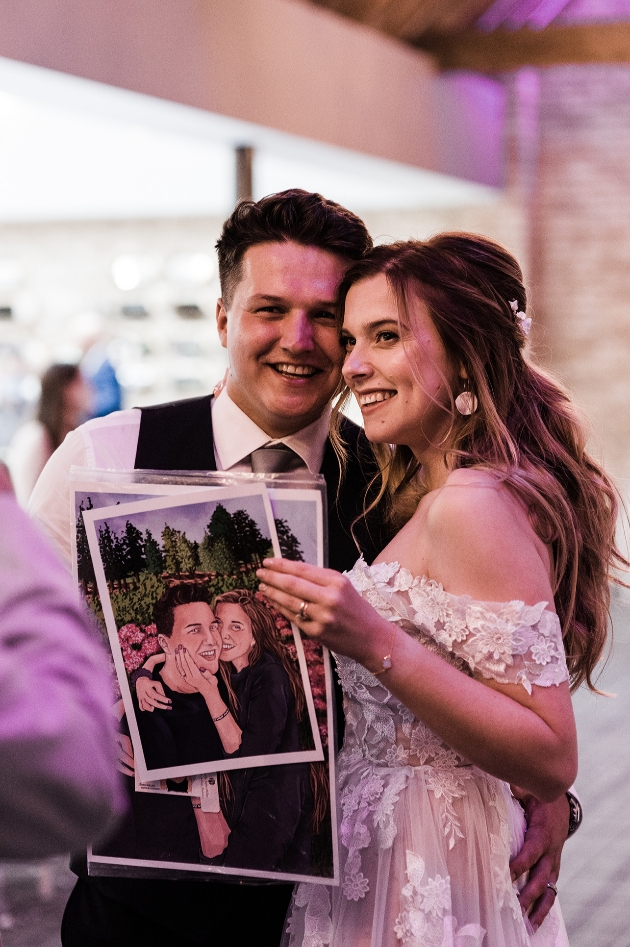 "During the ceremony, there were quite a few bits which made us laugh," explains Emily. "In particular, my full name, including both middle names, is very long and a bit of a mouthful, so every time we said it, we couldn't help but laugh. On the morning of the wedding, I asked one of the groomsmen to come to the room where I was getting ready. I gave him a box which I had prepared for Matt and asked him to give it to him before the wedding. After the ceremony, I saw that Matt didn't have the watch I had bought him on, which was in the box given to the groomsman. Turns out he had completely forgotten to give him it, which I found hilarious."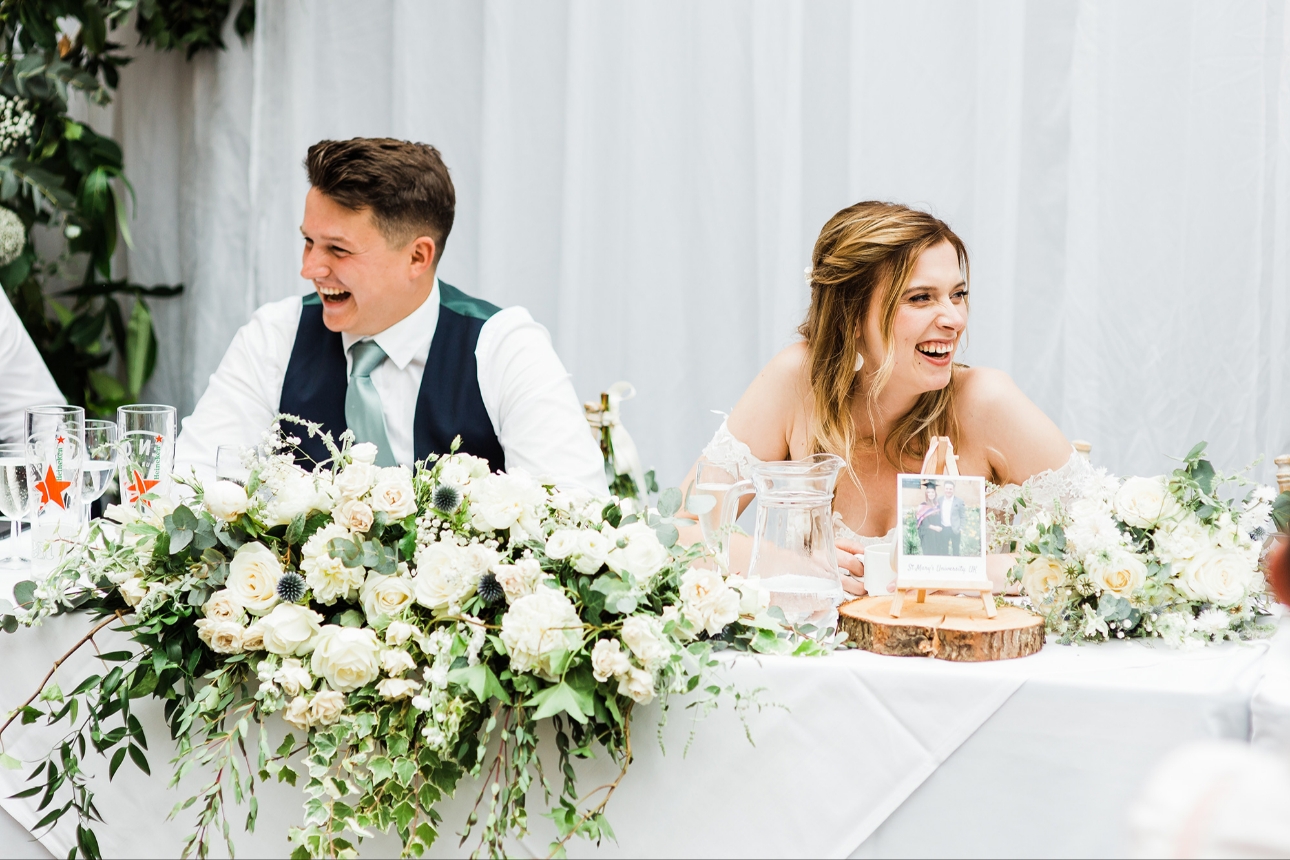 "Fringe Photography were absolutely fantastic," says the bride. "They made us laugh, and never once did we feel awkward. Fuchsia Blooms Florist & Cake Atalier, was also wonderful for decorating both the indoor and outdoor spaces for our ceremony and being so flexible. The staff at Lythe Hill Hotel were so amazing and made sure the day ran smoothly, and if anything went wrong, we didn't know about it."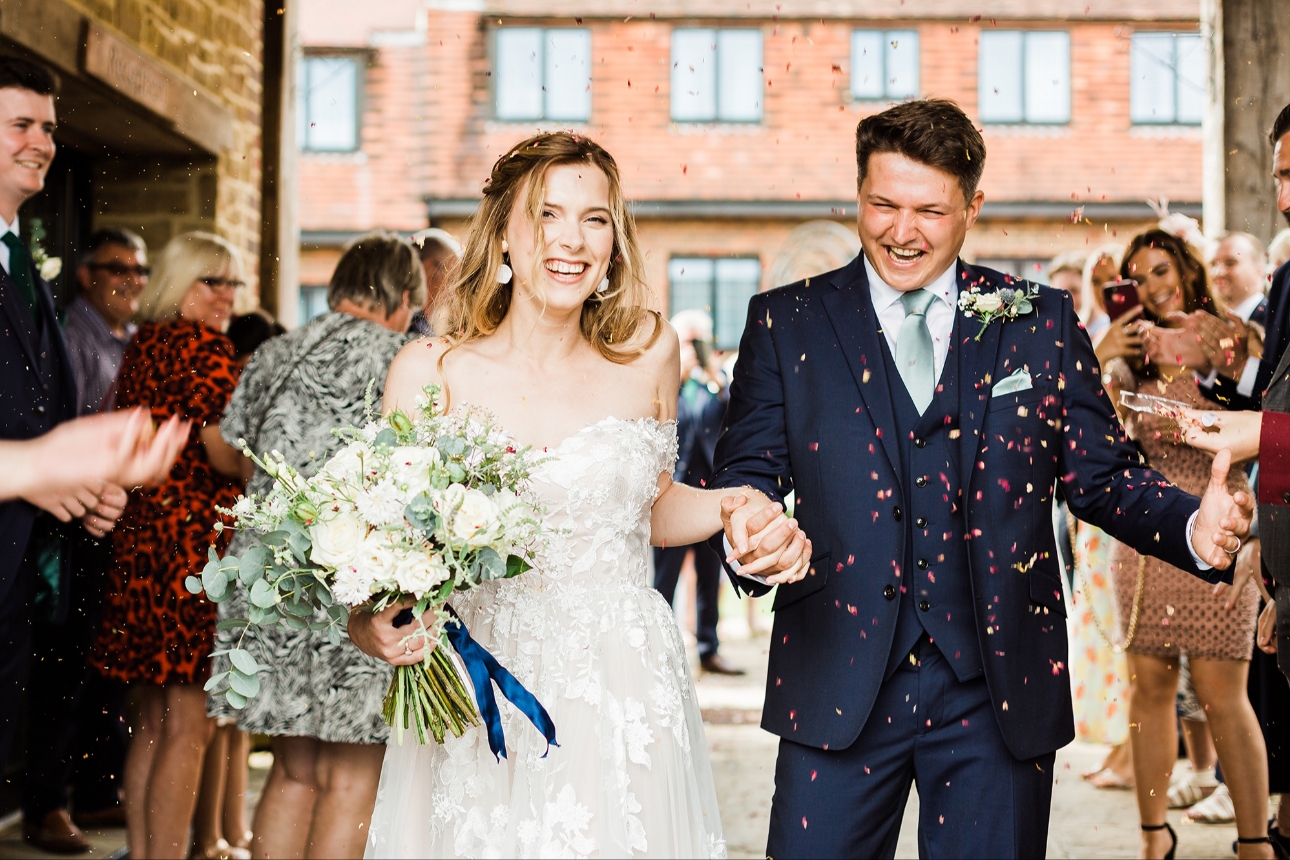 "We haven't been on a proper honeymoon due to COVID-19, but we did manage to go on a minimoon to Cornwall and then to the Cotswold with some friends," shares Emily. "We felt it was really necessary to go away for a few days and spent some time with our loved ones as well."
Enily and Mark's contact book