Lisa and Jamie first laid eyes on each other at work. "Jamie took over my role when I went on a sabbatical to go travelling," says Lisa. "When I returned, we were working in the same team. We got on well and had the same sense of humour and interests. It did take a while for us to eventually pluck up the courage to admit we liked each other more than friends. Jamie asked me to go to the pub for our first date in the same village where we would have our wedding reception eight years later."
The couple bought their first home, and shortly after, Jamie proposed. "We had just celebrated our anniversary, and Jamie said he had a belated gift," shares the bride. "The present was a pack of cards that said '10 things I love about you.' As I read through them, I got to the last one, which said 'will you marry me?' Jamie then got down on one knee with the ring. It was a surprise in the sense that I thought it may have happened on our anniversary, but when that passed, I thought maybe it wasn't happening that year. Jamie referred to the pack of cards in his speech on the wedding day, which was really touching."
The happy couple tied the knot in a church. "It has sentimental value, so it was always a given that we would get married there," explains Lisa. "For our reception, we chose Burrows Lea Country House. We loved the views, the country house, rose gardens, huge marquee and the staff. The team were so accommodating and made us feel at ease and we could go and look around the space as much as liked beforehand. At Burrows Lea Country House, you can really make the space your own as the marquee is a blank canvas, and there are lots of beautiful spots in the grounds to take photographs. It's a hidden gem and I would recommend it to anyone."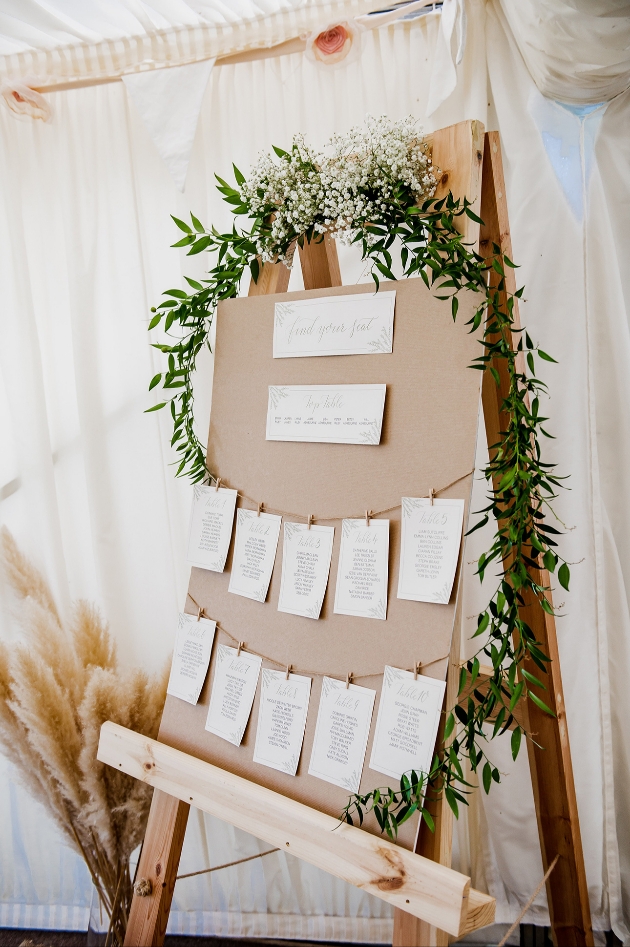 "Our favours doubled up as place names," recalls the bride. "We chose square photo frames with our guests' names written in calligraphy on the glass."
The couple's table plan was made from small cards that were pegged onto a brown board and surrounded by foliage.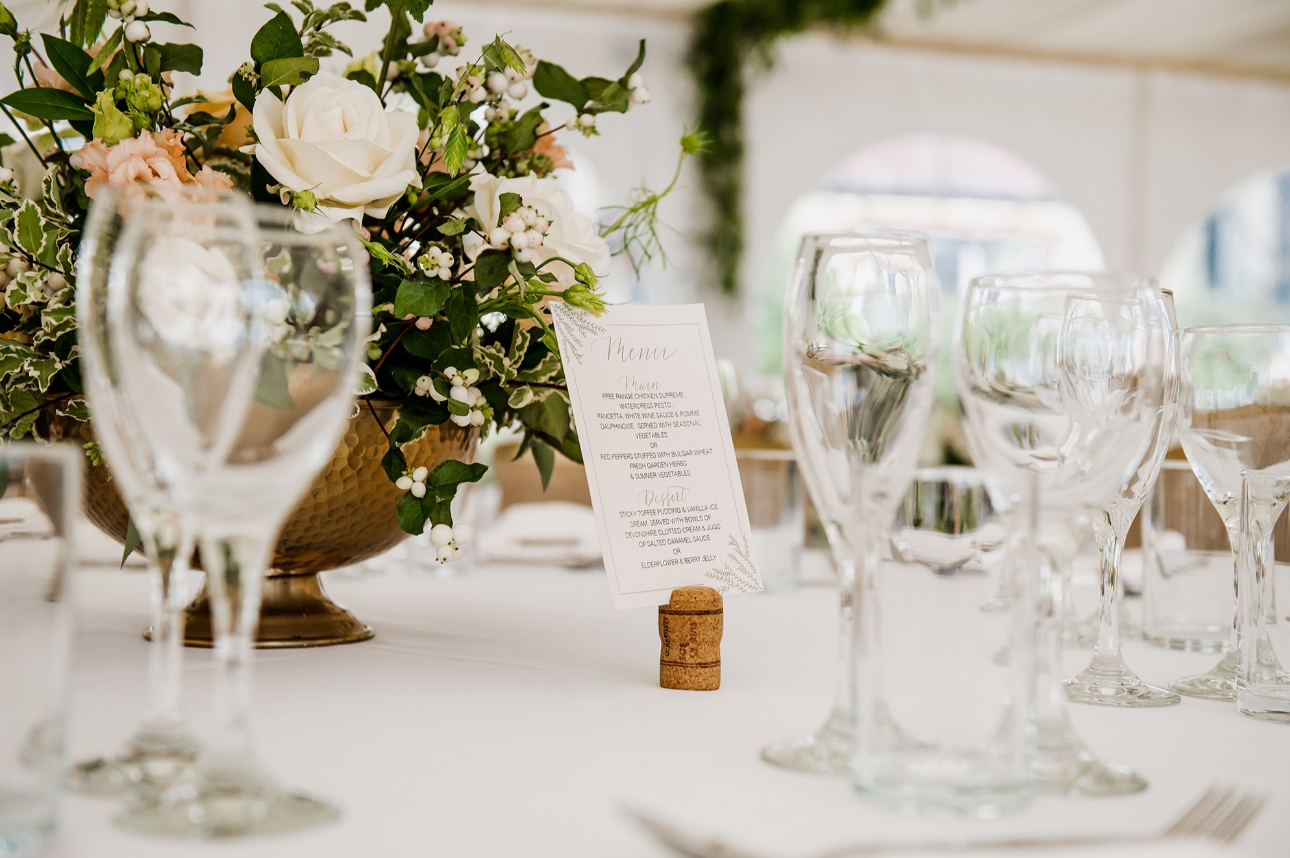 "The centrepieces were rustic bowls with white and peach blooms from Flowers by Rosie Orr," reveals Lisa. "We used the same flowers in the bouquets."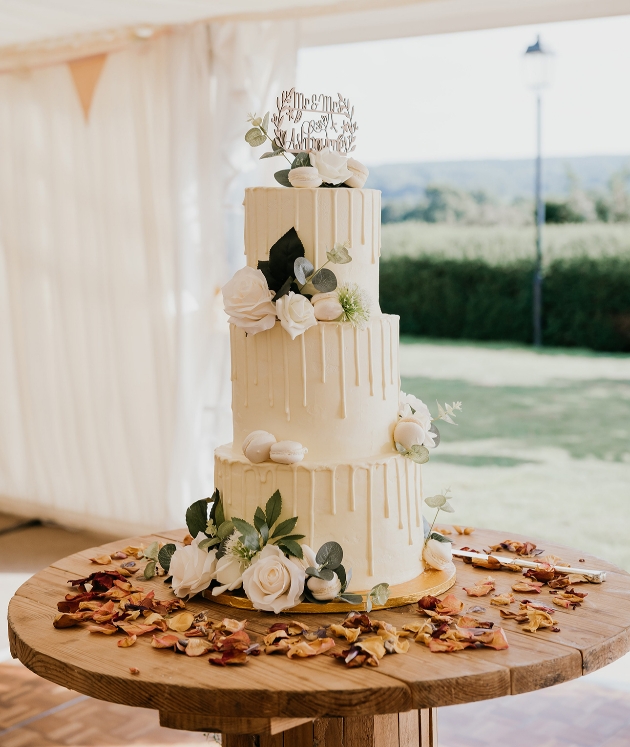 Lisa and Jamie chose a three-tiered cake. "It was made by my bridesmaid, Lauren," says the bride. "It was white with white chocolate drip, macaroons, roses and green leaves."



"We had green foliage garlands on the roof of the marquee, bows on the chairs, and milk churns with flower arrangements outside the bar and doorway to the church," shares Lisa. "We also had giant balloons, beer pong and a Mr & Mrs pallet which had photos of us growing up attached."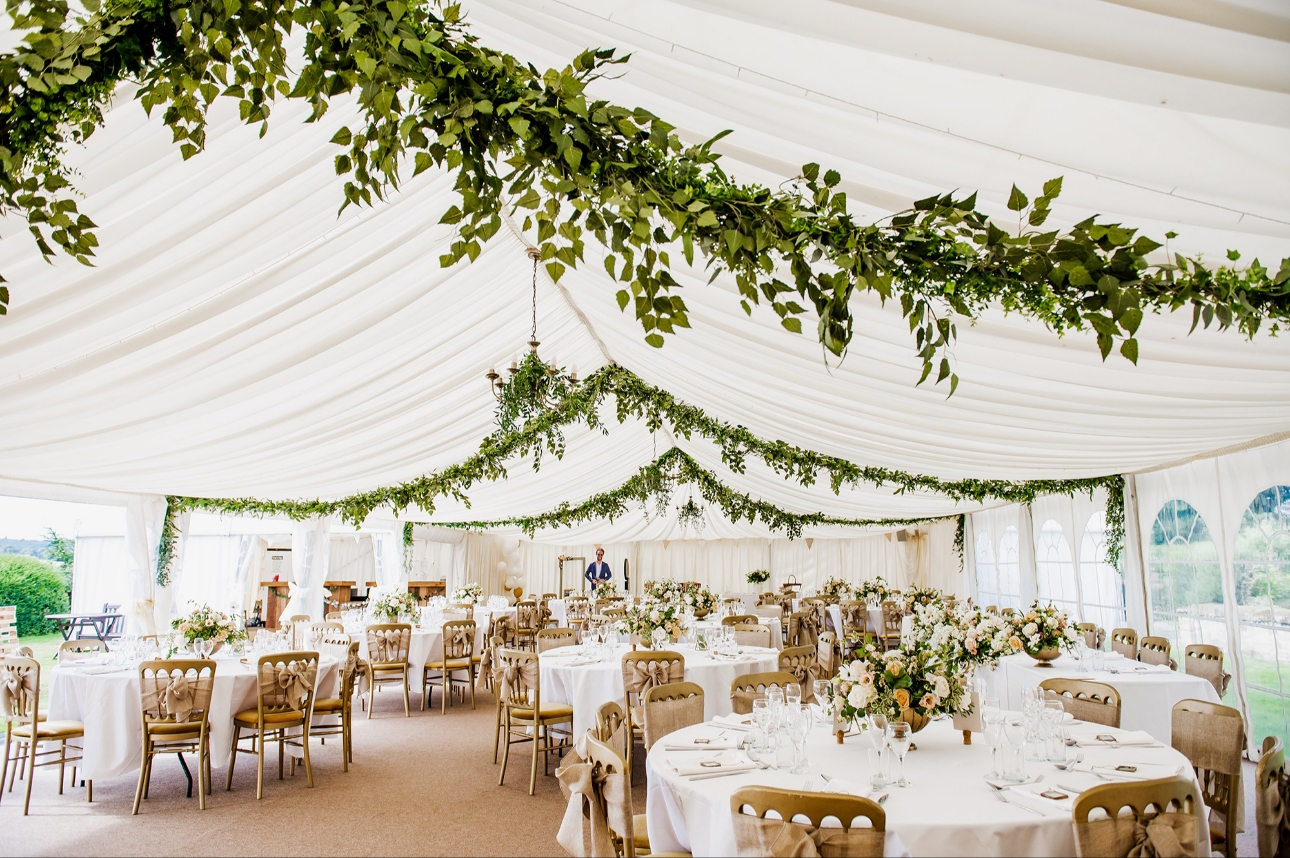 For their catering, the couple hired Browns Kitchen. "We had a selection of canapés for our guests to enjoy," explains the bride. "For our main, we had chicken supreme, seasonal greens and dauphinoise potatoes. The dessert was sticky toffee pudding with salted caramel sauce, ice cream and bowls of clotted cream. In the evening, we had bowls of macaroni cheese with a toppings station of pancetta, chilli oil, chilli flakes, truffle oil and parmesan, which was a huge hit with our friends and family."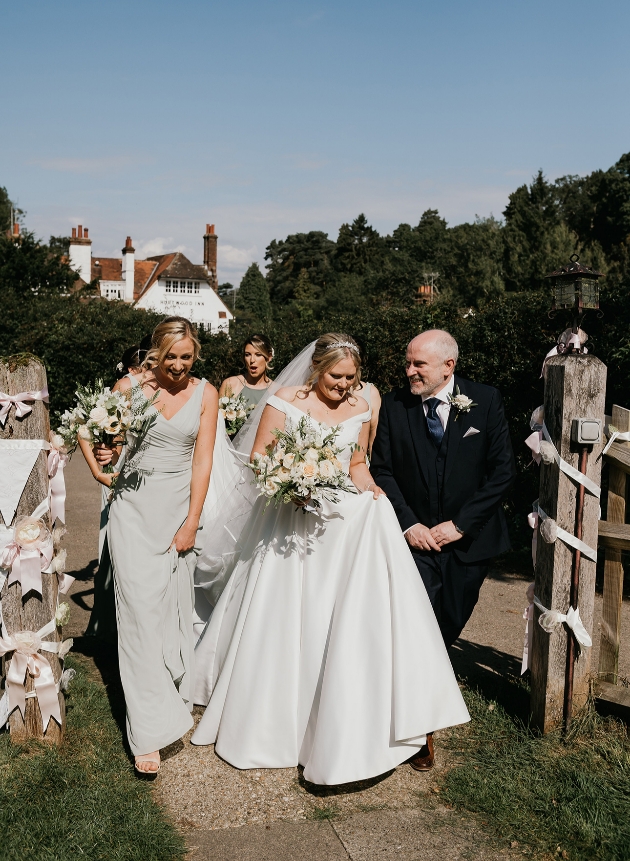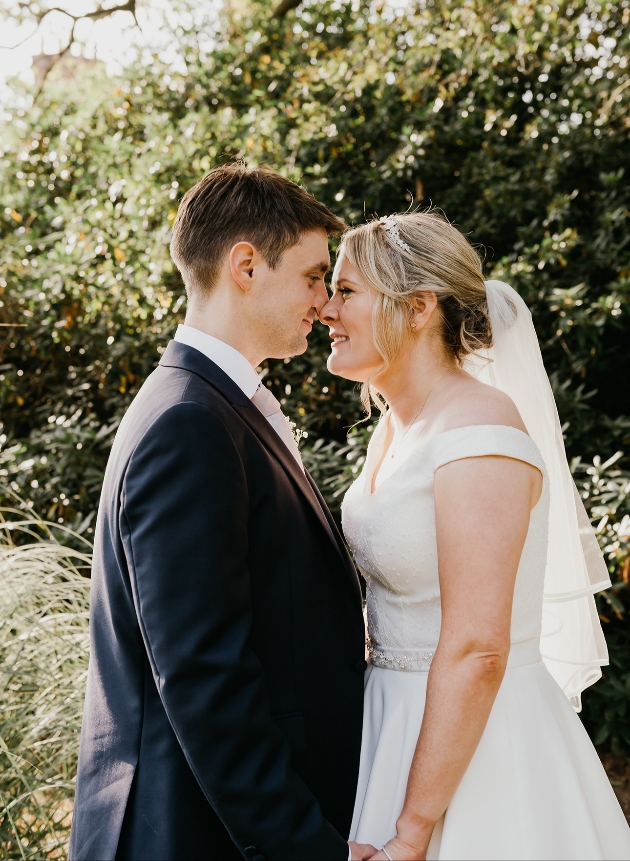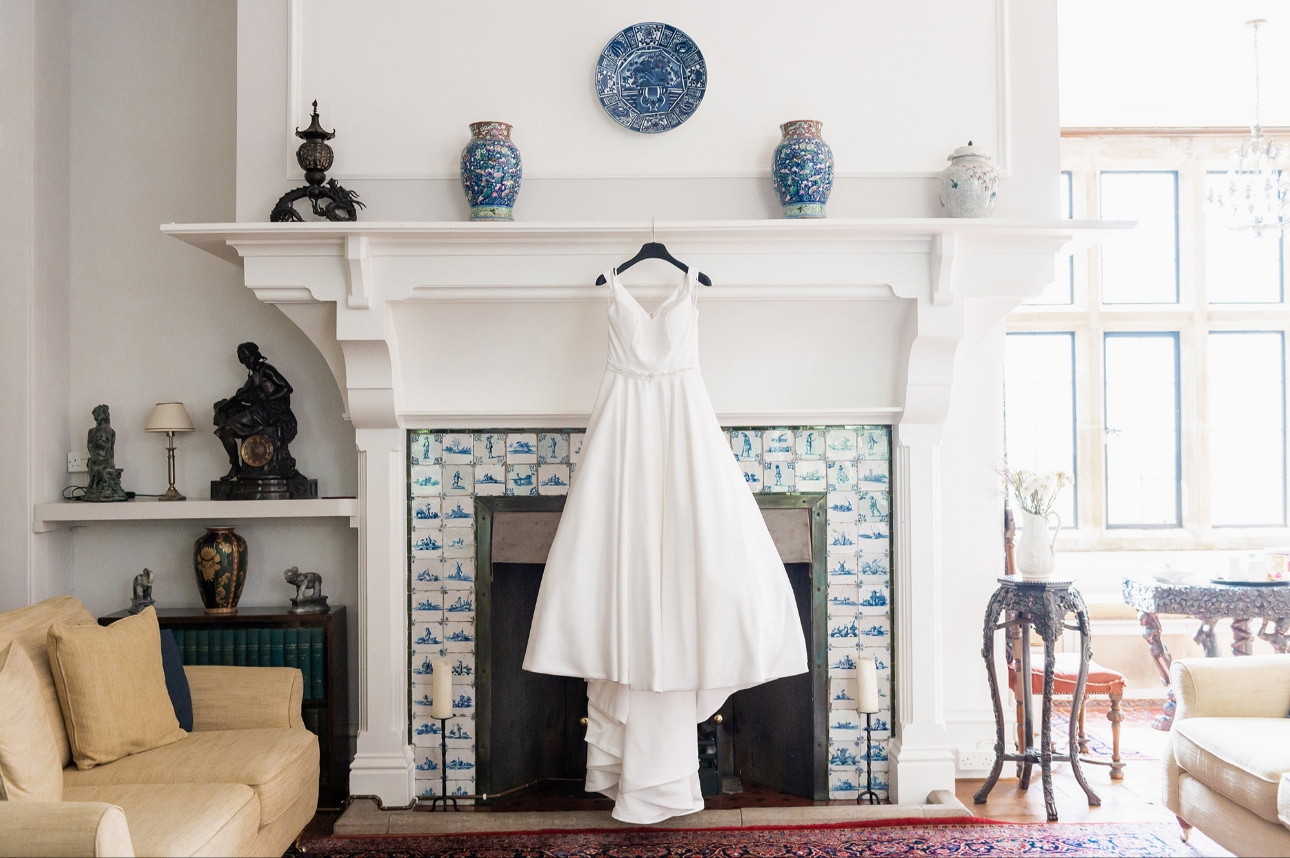 "I wore the Birch dress by Romantica of Devon," recalls Lisa. "I always wanted something very classic and quickly found which style flattered my figure. The team at Brides Visited helped me make it my own by suggesting I add a hair band, which I never dreant of wearing before. I also removed the bow from the dress and added gems that matched the hair band. I had two veils, a long one for the ceremony and a shorter version for the reception. Jamie chose a classic navy suit from HIRE5 Menswear."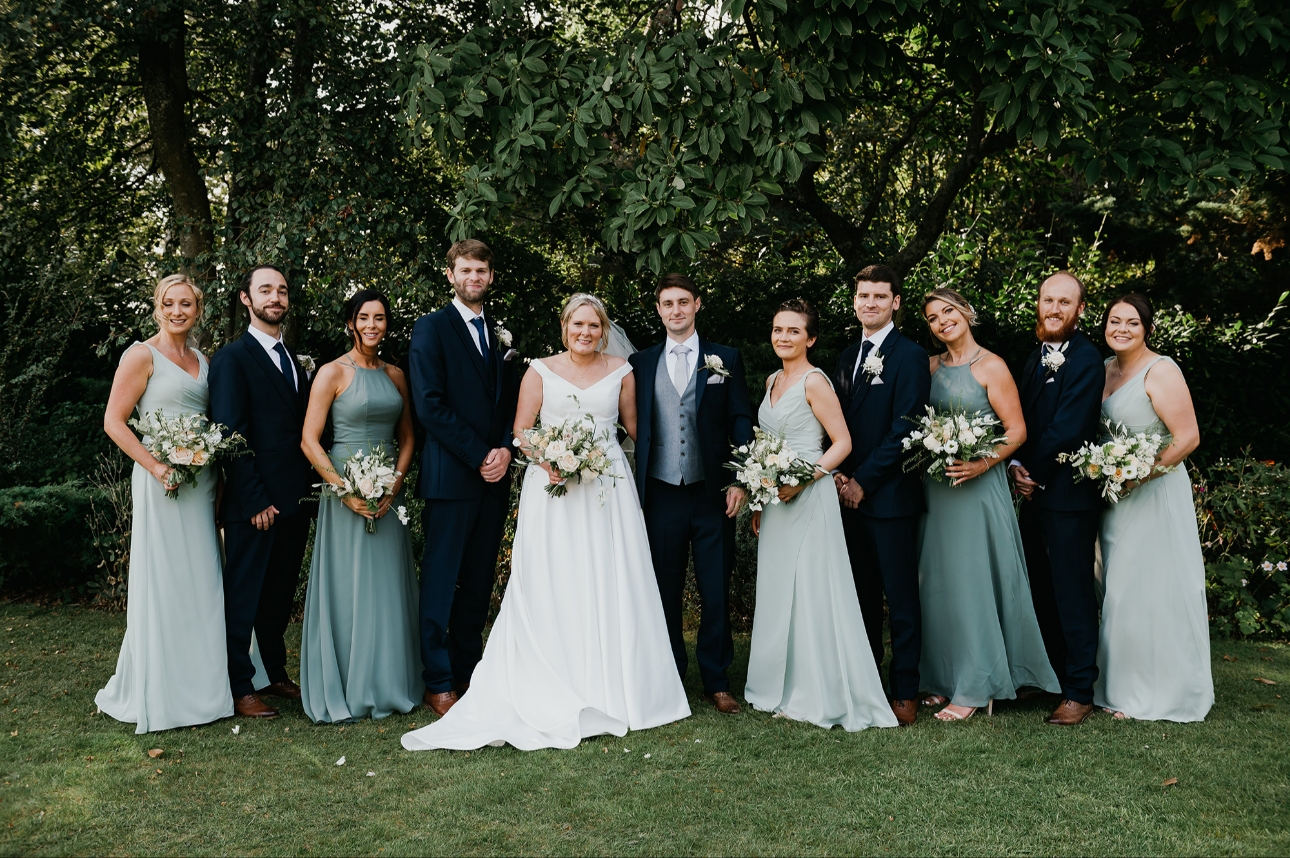 The bridesmaids opted for green dresses from Wedding Frox Bridal Boutique. "Three dresses were light sage, and two were a darker green," reveals the bride. "They all have different figures, so it was really important to me that the girls felt comfortable and confident on the day."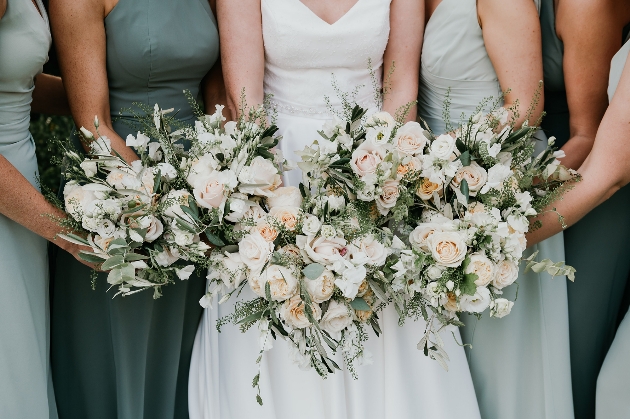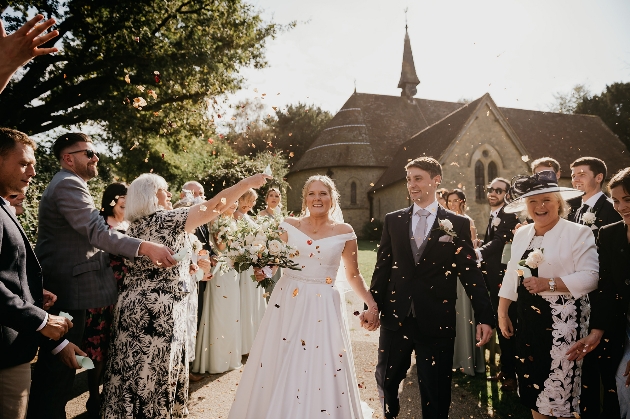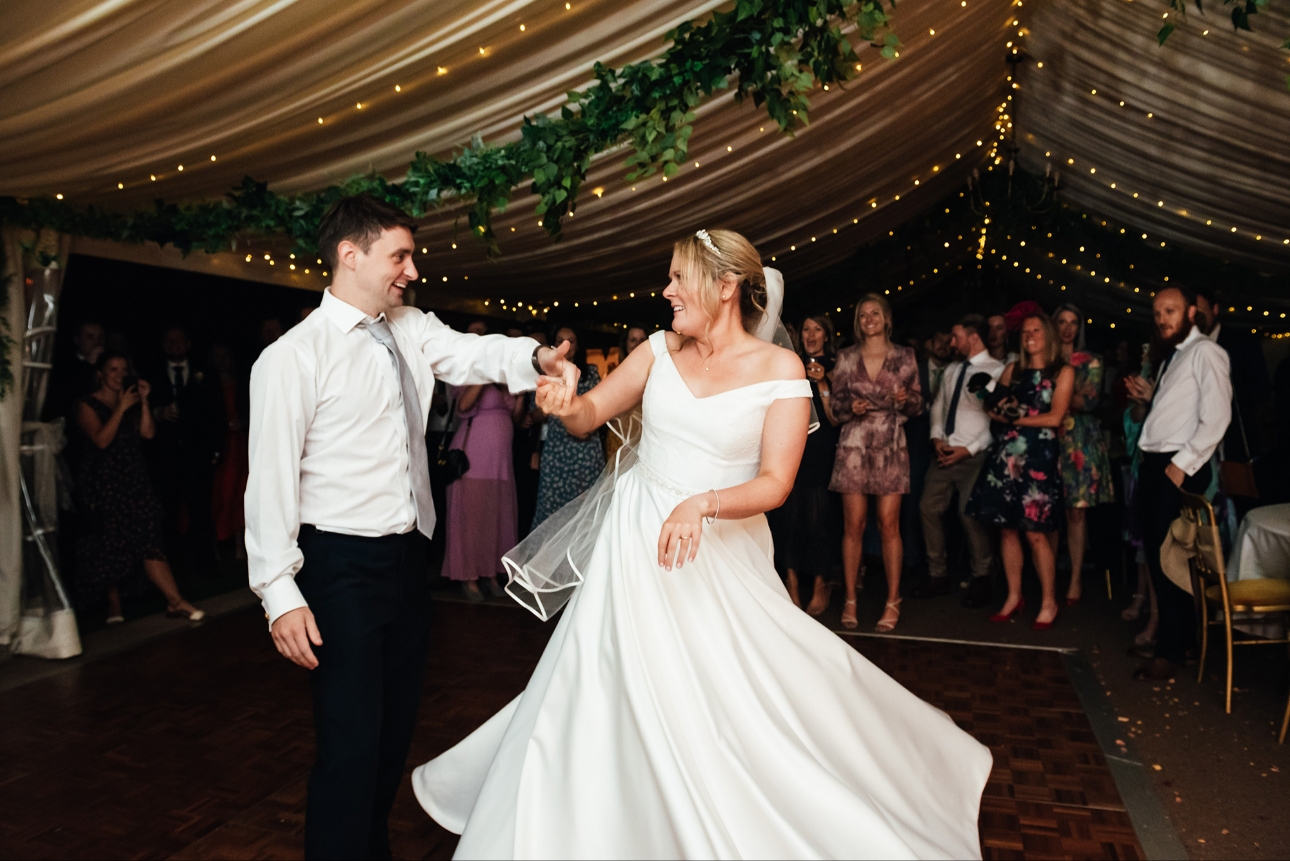 "We had a saxophonist called Sam Sax, who was amazing," says Lisa. "She played more chilled music during the canapés and then came back for the evening disco. She came in with the saxophone during our first dance to signal for everyone to join, and she did three sets with our DJ, which everyone loved. The dancefloor was packed all night! Chris from CHESS Professional DJ was brilliant. He followed our brief of noughties classics even if it isn't to everyone's tastes. The beer pong was also very popular, especially by the end of the night! We also had a GIF photo booth from The Photo Booth Guys, which was touchscreen and people could take moving photos of themselves and send them directly to their email to put on social media."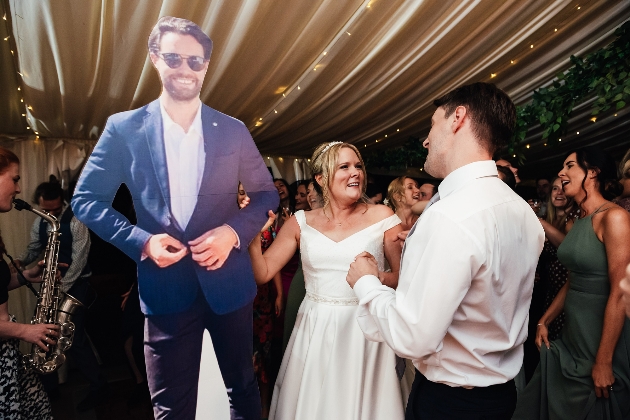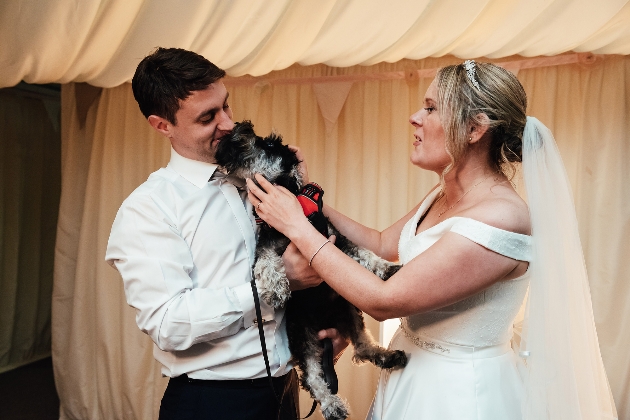 "We felt excited on the morning of the wedding," shares the bride. "We had to move our day a few times due to the pandemic, so by that point we couldn't believe the day had actually arrived. We didn't feel nervous as we were just so glad we could get married and have all our friends and family with us. Everyone cheered when we were finally named husband and wife in the church. We were so pleased we did it, and having our loved ones there was amazing. We also loved having our dog, Hamish, make an appearance in the evening."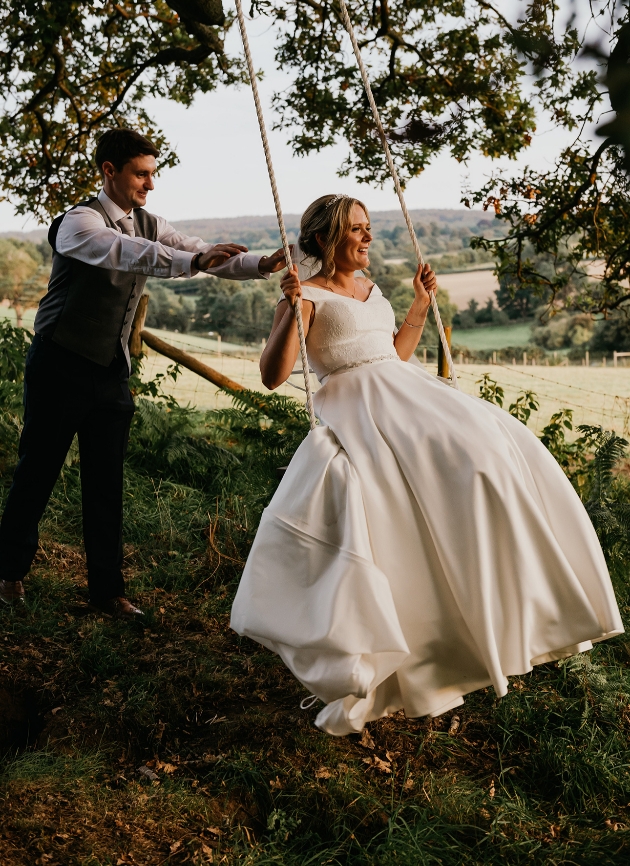 Lisa kissed Jamie at the wrong point in the ceremony. "The reverent hadn't said 'you may now kiss the bride', so I thought he had forgotten to say it," laughs Lisa. "Jamie also forgot the rings and had to drive home to get them! Jamie's brother is in Australia and couldn't come, so a cardboard cut out was made of him which found itself in various parts of the marquee, in photos and eventually ended up on the dancefloor."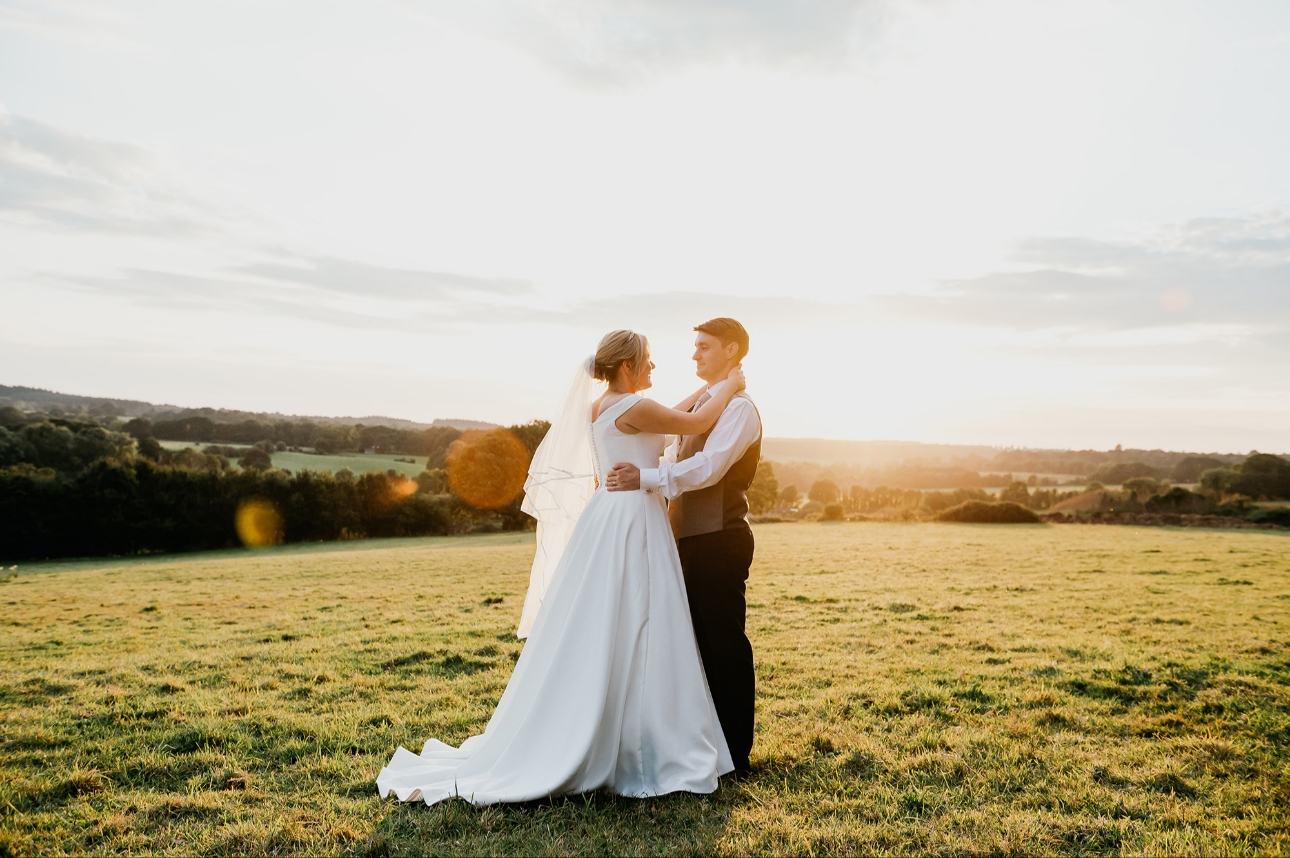 "My dad's speech was extra special as I knew he was very nervous, but he smashed it," explains the bride. "Jamie's brother did a recorded speech, which was played on the big screen in the evening. The amount of help we got from our nearest and dearest to decorate the marquee was incredible and we felt very loved."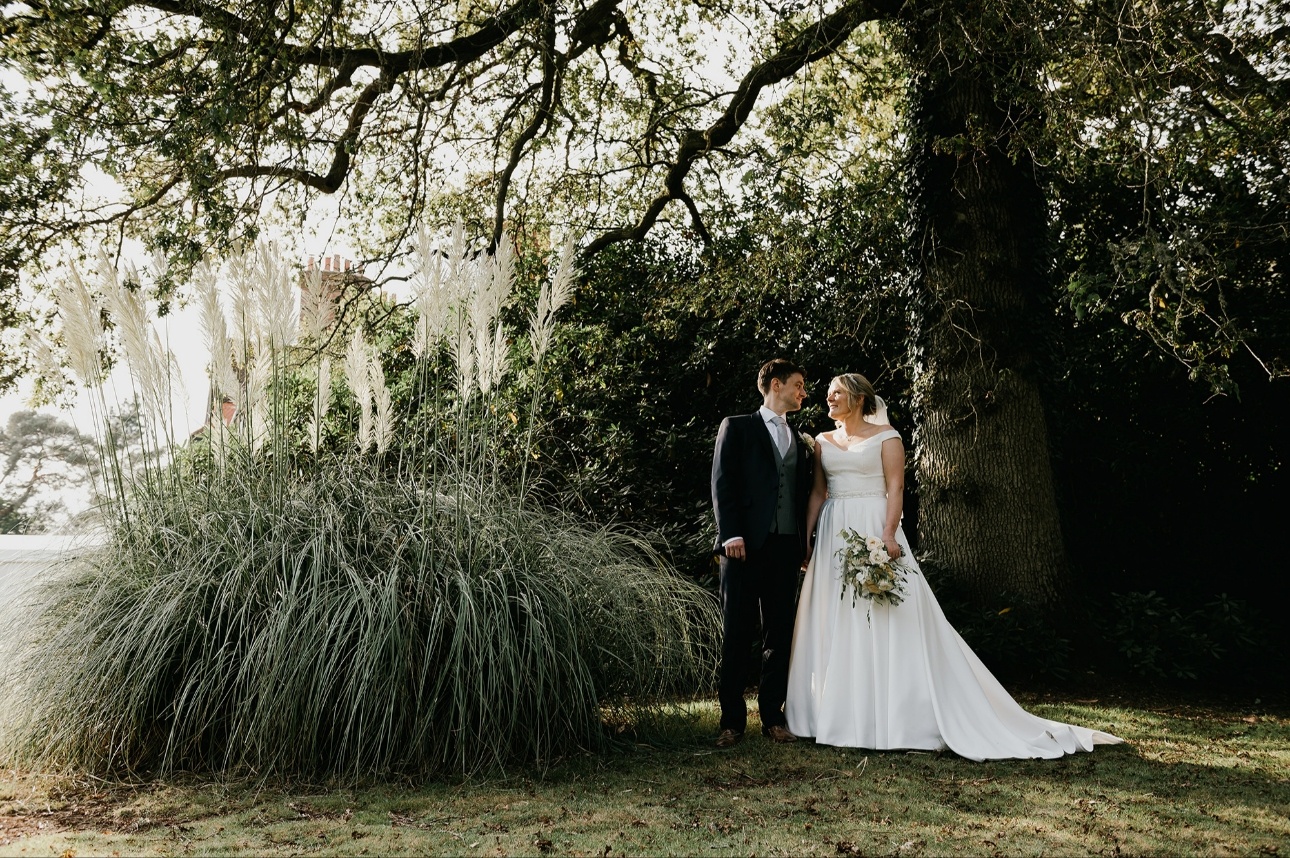 "We went on a minimoon to Dormy House in the Cotswolds for three nights which was lovely," reveals Lisa. "We are still planning to re-book our larger honeymoon in Italy."
Lisa and Jamie's contact book