Orlane and Adam met through a dating website in 2018. "I'm not sure how we matched as I lived in London and he was in Dorking, but I think it was a sign that we were meant to be," says Orlane.
"We went crazy golfing and had dinner in London, which was the best date ever. Adam and I texted for two months before we met, and we would send massive messages to each other and never get bored of talking. I found out later through his family that he is usually bad at replying to people!"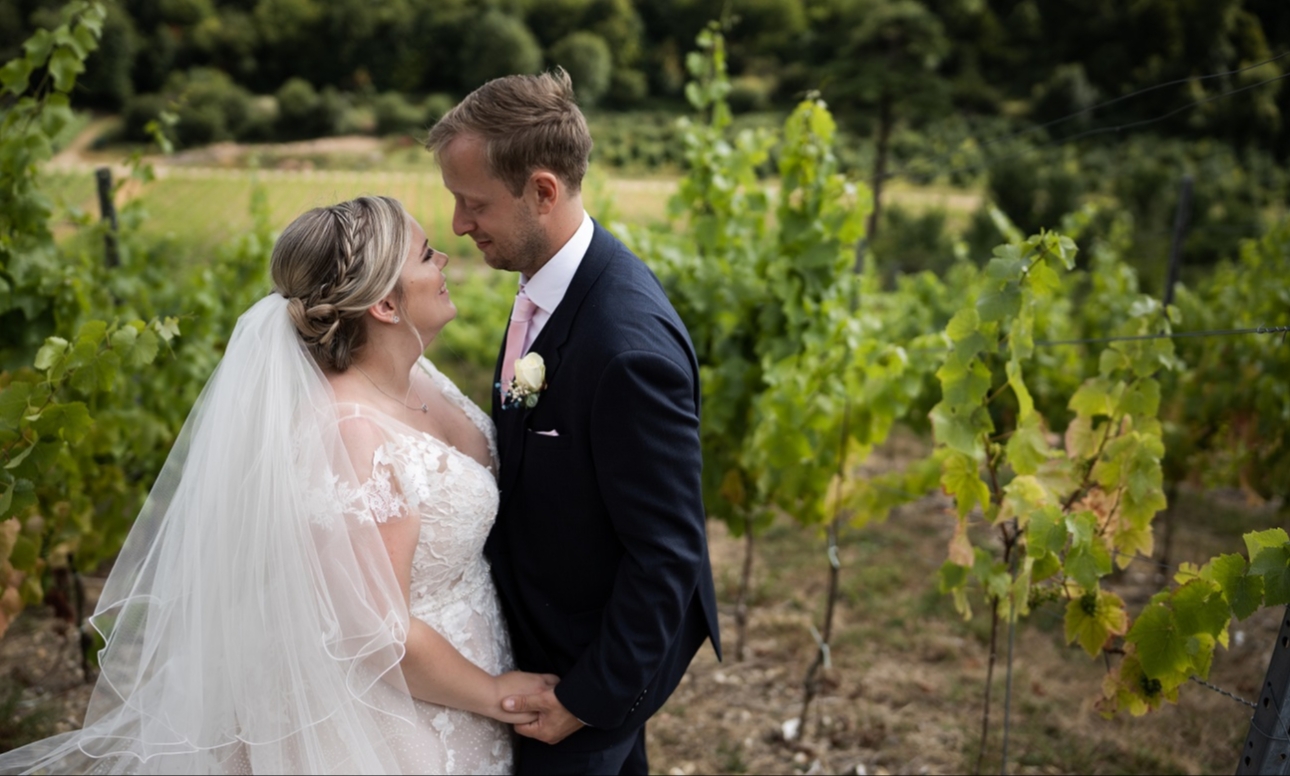 Adam popped the question at home. "I always joked about having a man getting down on one knee to propose to me, but I knew Adam wasn't that kind of person and that it would actually feel a bit weird if he did," shares the bride.

"Adam couldn't quite afford a ring, and I remember saying to him that evening that I didn't need a ring for him to propose, so we decided to become engaged!

We knew what we wanted and that it would take a couple of years to prepare a wedding, so it just came naturally."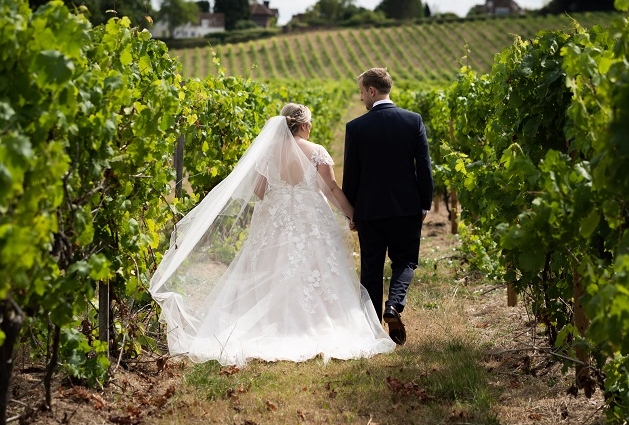 "We used to live next door to Denbies Wine Estate and would go there for walks and lunches," explains Orlane.

"I had planned to visit a few other properties, but I kept talking about Denbies Wine Estate and realised nothing was going to compare, so I cancelled the viewings and booked Denbies.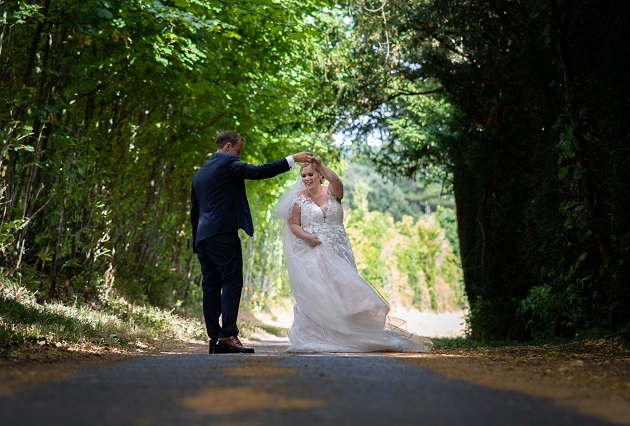 Dawn and her team were absolutely amazing to work with. She made sure the day was perfect and kept checking on us to make sure everything was the way we wanted it to be.

Dawn was there for me from the start, and I never felt worried about anything. I feel so thankful that we never had to deal with any drama and that we could always trust the team with the planning of our day!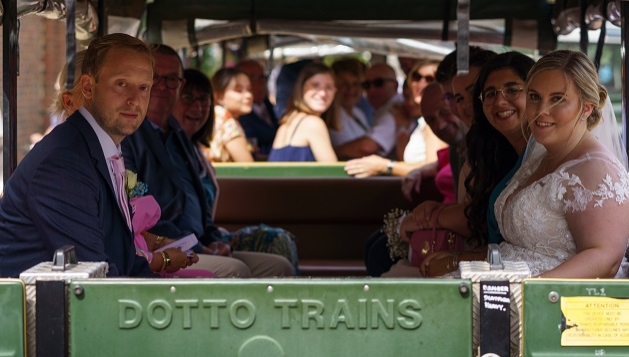 For their favours, the couple gave their guests personalised cards and wildflower seeds. "Our main treat was a train ride," recalls the bride.

"We had a lot of guests travelling from abroad, some of which were making the journey just for the wedding, so we wanted to make sure everyone had fun and would have the best memories.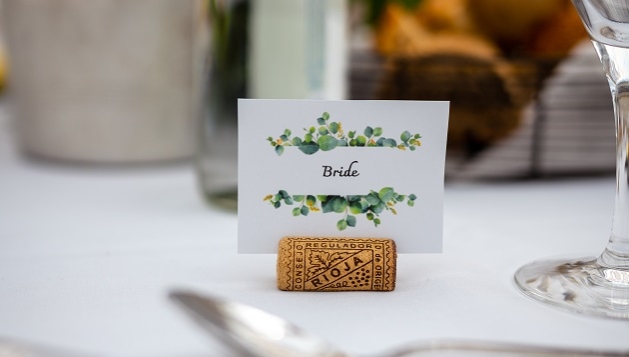 The table plan was provided by The Surrey Wedding Company. "It was a wooden and glass door with the table names written on the windows," adds Orlane.

"We made the place names using corks, which looked great."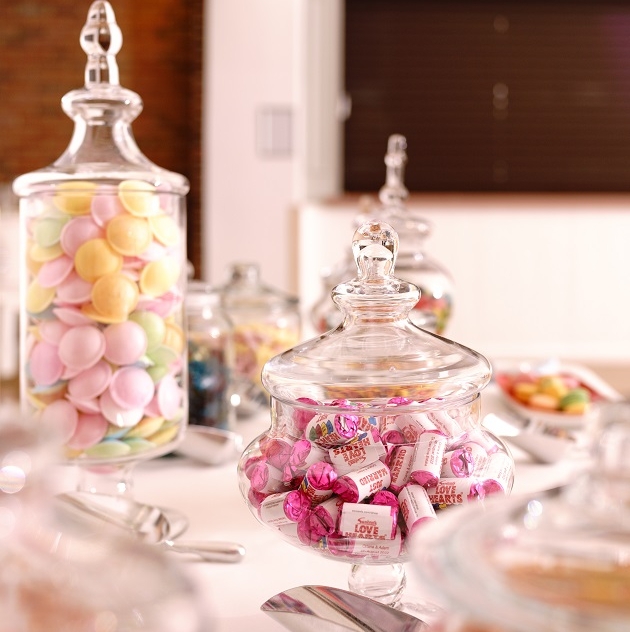 Orlane and Adam opted for a cupcake and macaron tower. "We wanted to have a treats table where everyone could try French and English sweets," continues the bride.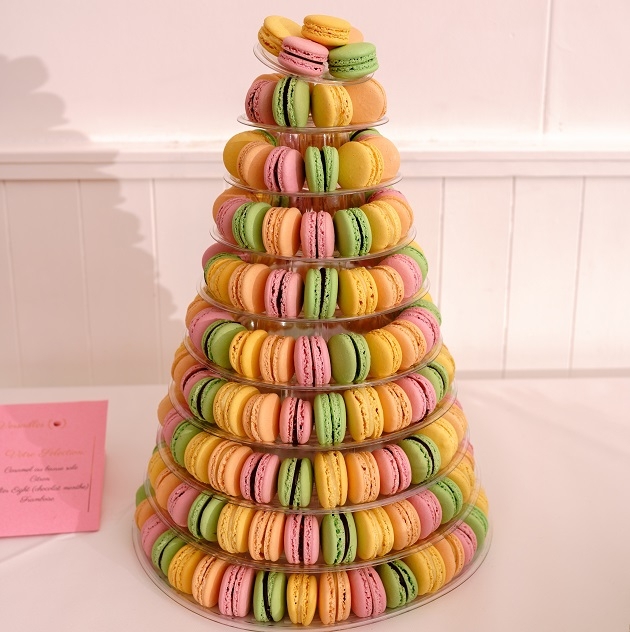 "The cupcake tower had a cake at the top from Gorgeous Gem's Bakery, which we brought home and enjoyed the next day with close family. Having the perfect macarons was important to me, so when I found the talented Jelena from Macarons Versailles, I was over the moon."
Adam drove himself on the day, and Orlane arrived in an executive car booked through a taxi company. "I wasn't overly fussed about having a fancy car," reveals Orlane.

"However, we did book a vintage British bus from 1950s Vintage Bus Hire for our French guests staying in Leatherhead. The bus picked them up and took them to the venue, which they all loved as it was a surprise!"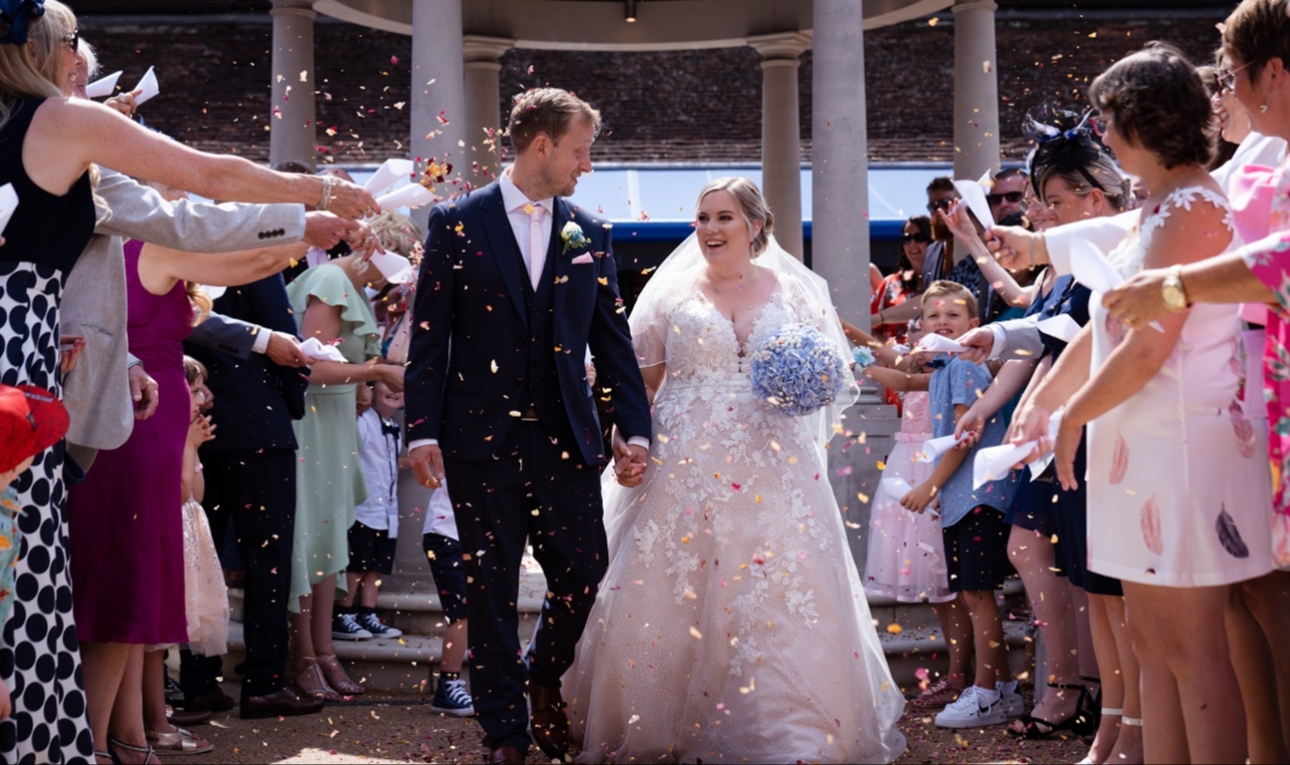 "My dress was called Finley by Modeca," says the bride. "I had seen it on BRIDE by Aster's website but I assumed it would never suit me, however it turned out to be the one!

Hannah and her team were amazing, they are all about body positivity and made sure I felt like a princess. I was stressed about trying on dresses, but they made the experience so special.

I accessorised with a Links of London bracelet that Adam bought me, a necklace and cute earrings. I also wore one of my grandma's pins in my hair. She sadly passed away in December, so it was a way to have her with me on the day and as my something blue and old.

"My employer made me try on her veil one day to see if I liked the look of it and as it fitted perfectly with the dress, she said that it could be my something borrowed!," continues Orlane.

"I am a nanny, so my employer and I are really close. I always knew I wanted her boys to hold my veil as I walked down the aisle, so it felt special that they would be holding their mum's veil."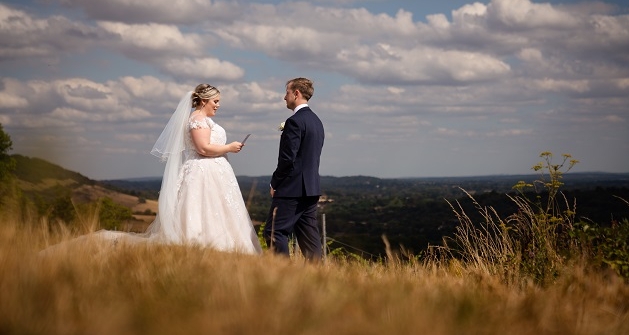 Adam wore a suit from Moss Bros that was slightly different to the groomsmen to help him stand out.

He finished the look with his late uncle's cufflinks.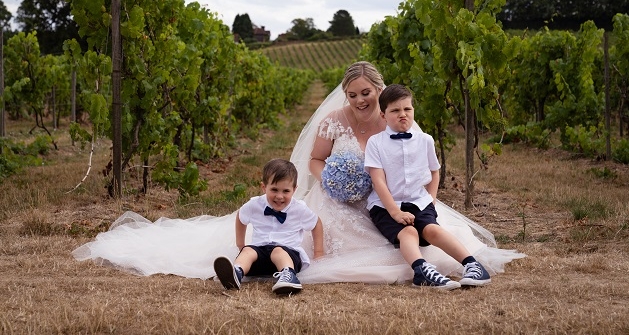 The bridesmaids opted for pink dresses. "They live in different countries, so we chose different shades of pink as it was difficult trying to get the exact same colour," shares Orlane.

"My maid-of-honour had a navy blue dress to make her stand out."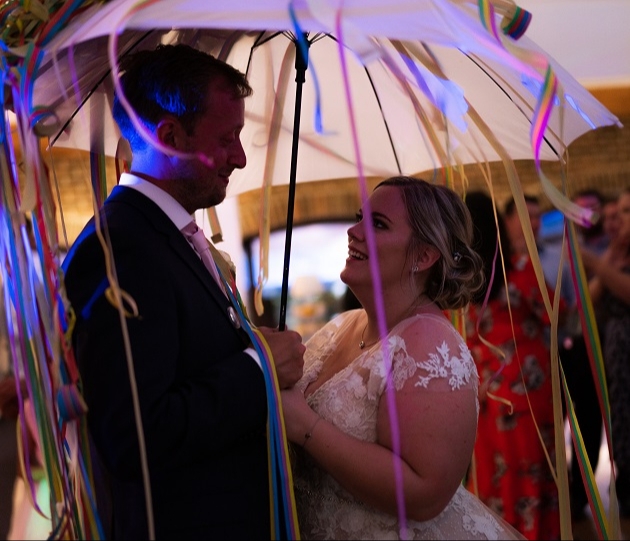 "We had a DJ entertain our guests in the evening," explains the bride.

"We wanted everyone to enjoy the party, and the dancefloor was never empty.

We also had a photo booth as I had seen one at a friend's wedding a few years ago and knew I wanted one at our wedding. It was so much fun, and now we have a lovely album with all the pictures in, and our guests got to take home a copy too!

"We performed a fun dance during the reception," adds Orlane.

"In France, it's traditional for the bride and groom to dance under an umbrella while the guests throw steamers on top of it.

Each piece of streamers that gets stuck on the top of the umbrella is meant to symbolise a year of happiness."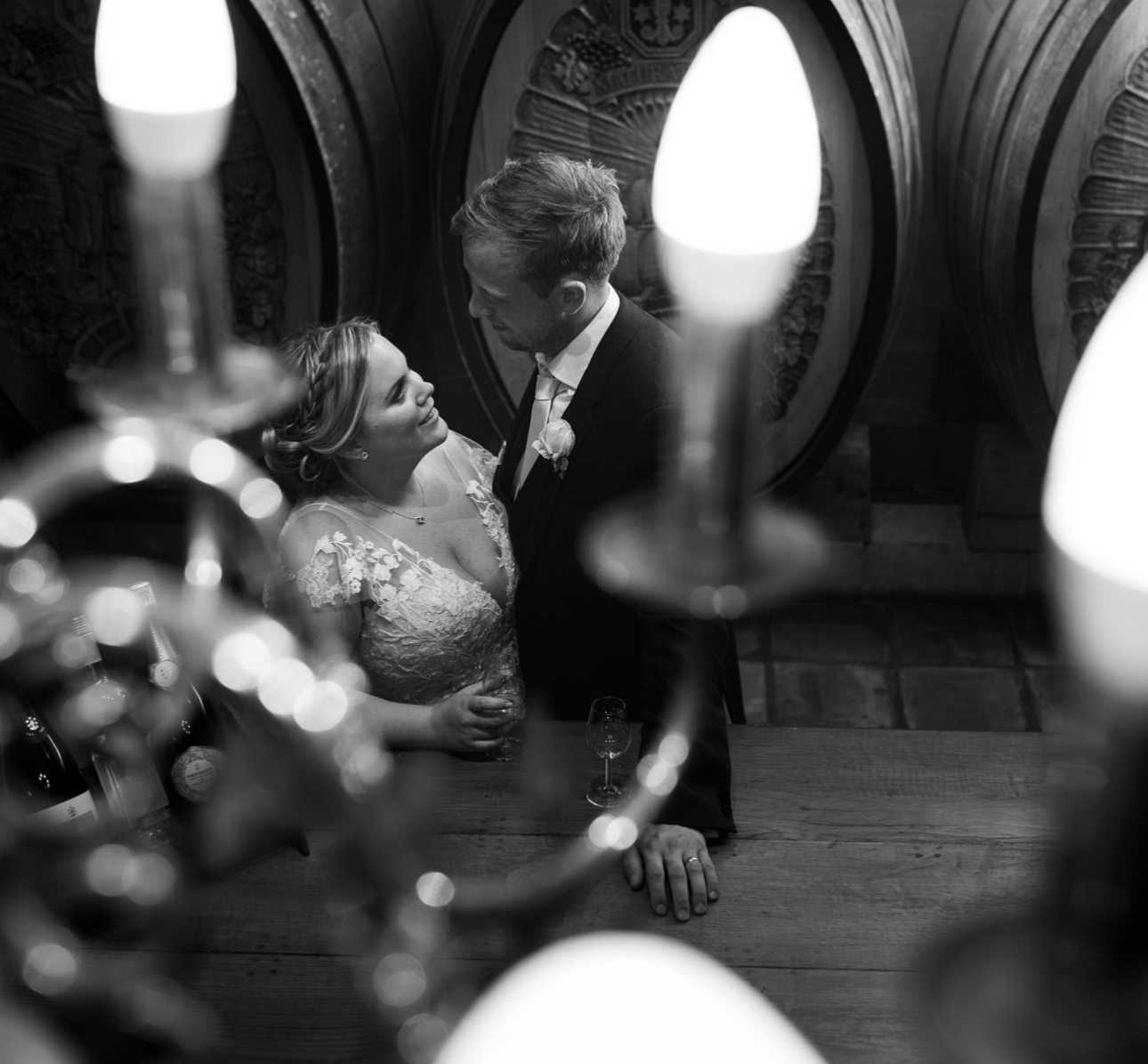 "The morning felt quite weird in a way," recalls Orlane. "It felt like being in a bubble, but once we were at the venue, it all went by so fast.

It had been two years of ups and down, not being sure if we were going to get married or if all the guests would make it. COVID-19 made everything tense, so to see everything going to plan was perfect.

At the end of the night, we got to our room around midnight and sat there for two hours chatting about our wedding, which was a lovely way to end the day."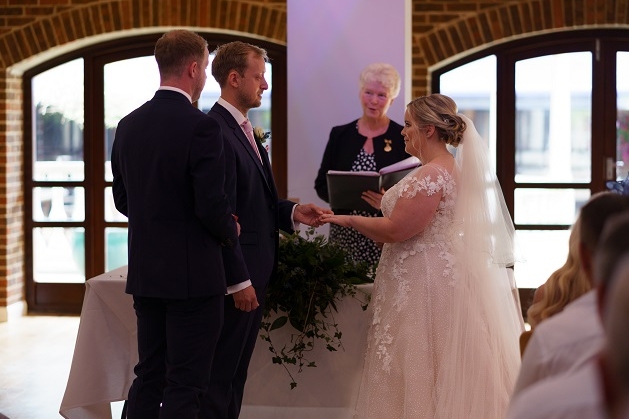 Orlane's favourite moment was walking down the aisle. "Seeing all our families and friends reunited after going through a tough pandemic and having Adam standing there waiting for me was a wonderful feeling," adds Orlane.

"What stood out the most is how our English and French guests became one on the day. We had always thought that because of the language barrier our wedding would be a bit different, but they all mixed together and partied like they always knew each other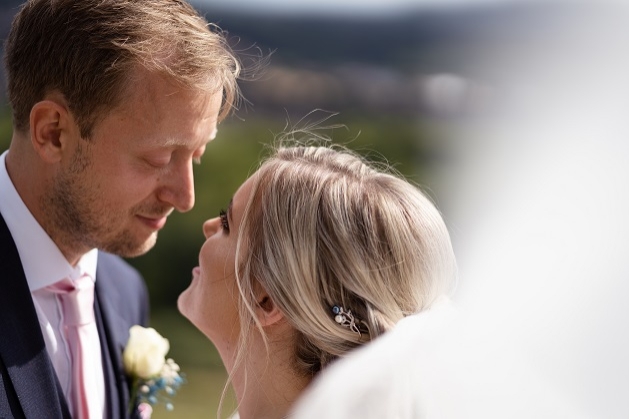 "Not many people know about it, but our first dance was actually our first time dancing as a couple, which made it even more special," continues Orlane.

"When I was getting ready in the morning, the last hour became quite a rush, and my maid-ofhonour took all my bags with her so that I didn't have to worry about it when I arrived at the venue.

She left ahead of the rest of us and I realised two minutes before leaving that I had my house keys in my handbag which was gone with her! I had to leave the house unlocked, but it did make us laugh!"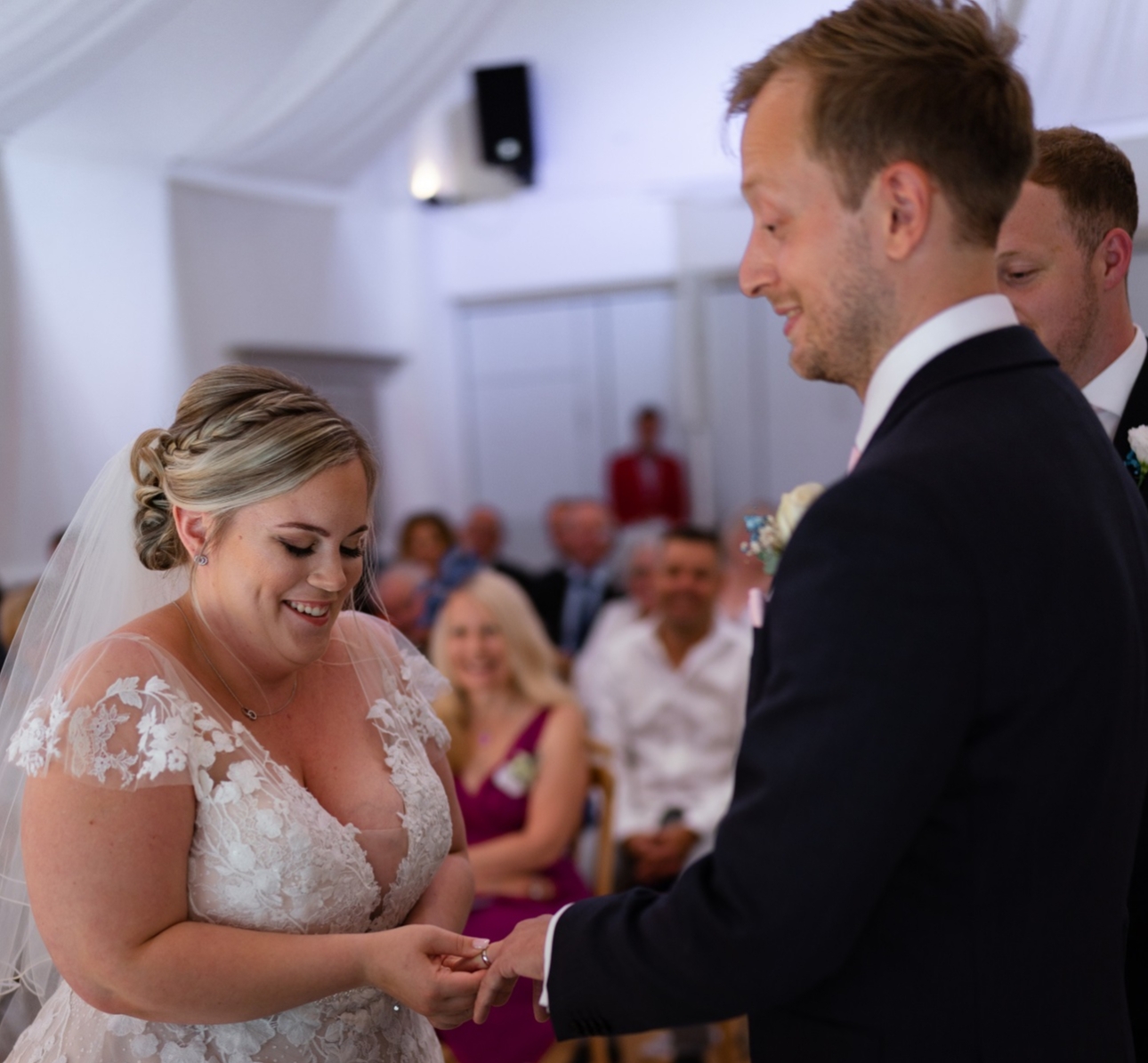 The ring bearers were dressed up as security agents. "They were so cute," reveals the bride. "They walked down the aisle to a song from James Bond, which made everyone laugh.

They walked again behind me, holding my veil acting like my bodyguards, and it meant so much to me to have them with me.When I walked down the aisle, I was at the point where I was about to cry with all the emotions going on, but then I found myself feeling so confused as I realised everyone was mixed up in the room, and Adam was standing on the wrong side.

We laugh about it now as it made no sense, but I guess not everything goes to plan at a wedding!

"Eray and Claire, our photographer and his wife, were just amazing," says Orlane. "I found their website in 2020 and booked them because I knew Eray took amazing pictures.

I loved that he captures natural moments rather than having us posing facing the camera. We always thought we would feel awkward because I'm really self conscious about my body, and Adam is awkward smiling in pictures, but Eray and Claire made us feel so comfortable!

We are beyond impressed with their work, and they are such lovely people to have around on your big day, and all of our guests kept saying how friendly they were."
Orlane and Adam's contact book