Megan and Sam met at a wedding; Sam's brother Oli happened to be marrying Megan's best friend Steph he was the best man she the bridesmaid – and the rest is history!
"When Sam proposed, it was a complete surprise," shares Megan. "Our relationship had progressed quickly, we took my family dog Henry on a walk to The Haycutter pub, in Broadham Green, Surrey. Walking across the field I was walking slightly ahead and turned round to find Sam down on one knee! Rachel Thornhill, who was to be our wedding photographer, was hiding in the bushes and captured the whole thing!

"Needless to say, we never made it to the pub. Sam insisted we went back to the farm, as we call it, to tell my parents. Upon arrival all our best friends and family were there as a surprise to congratulate us – it was a good job I said yes!"

Initially the couple had planned a huge marquee wedding with 200 people in the field right by where Sam had proposed – the farmer had given permission to use it – and the date was set for 29th May, 2021. As the pandemic continued, their plans for a big wedding got less likely, eventually they postponed to the following year.

"Shortly after this we discovered that we were expecting a baby due to be born in December 2021," shares Megan. "So our plans changed yet again. It was Sam's idea to have the reception at the farm, my family home. My parents had recently had a beautiful courtyard renovated and it seemed a perfect setting for a small wedding of 30 people. I immediately had a vision of how the day would be, rustic, laid-back, intimate and most of all fun.

The church is next door to the farm and my grandfather, Hugh, was the church warden when he was alive. It's where my parents got married and where my grandparents are buried. Although we aren't church-goers, it's a place very close to the family and only a short walk!"

The big date was set 13th August, 2021, with St Peter's Church, Tandridge and Tandridge Court Farm setting the scene. Here, Megan tells us more about their day...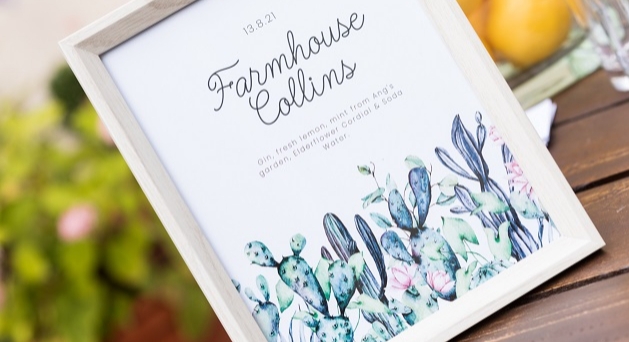 We've had a cactus theme running throughout our lives, we won't go into why as it's rather personal, so we thought it rather apt to gift everyone a mini cactus as a favour.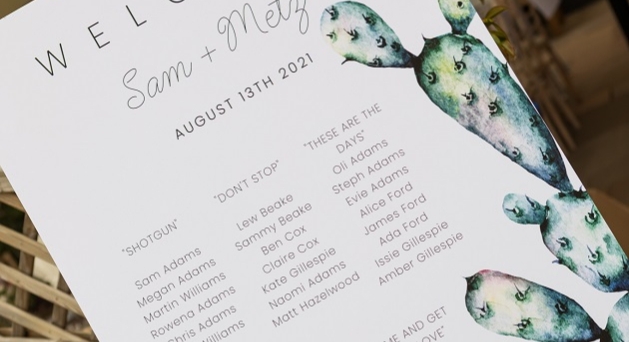 Tables were named after our favourite songs.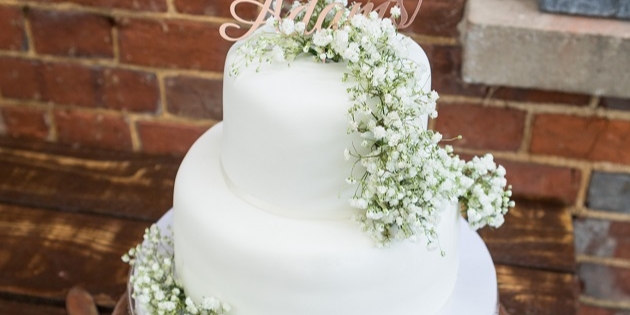 Our cake was made by our lovely caterer Andrea. She had catered at a friend's wedding, and she had to put their wedding cake back together (not made by her) after it slid off the table and on to the floor in the heat - I said to myself 'whenever I get married, she is making my cake!' - she knew all about the foundations of building a sturdy wedding cake! Even though ours was very small and simple, it was utterly scrumptious – every piece was devoured.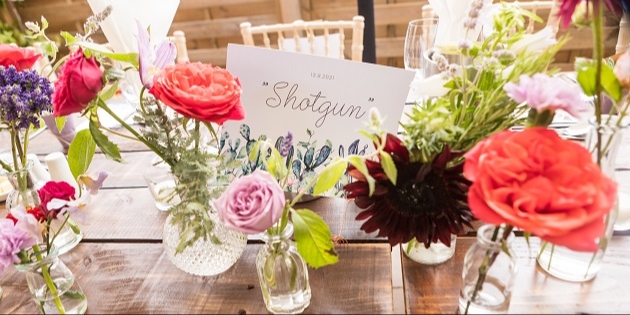 Initially I wanted simple florals for the centrepieces, but the courtyard is such a colourful place full mum's favourite flowers, geraniums, it didn't feel right. Dora, our gorgeous florist came up with the idea of a meadow theme; lots of different coloured flowers in different sized jars and vases running down the centres and it looked sensational.
I wrote a short humorous bio about each guest to help get conversation flowing.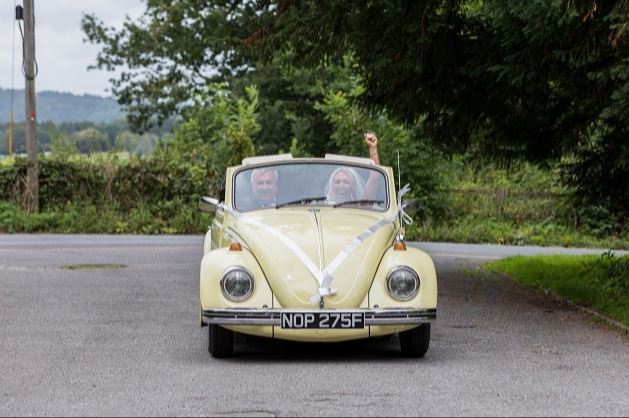 My dad, Martin, drove me on the day in his recently purchased bright yellow Classic VW Beetle – my best friend Steph had attached 'Just Married' cans to the back!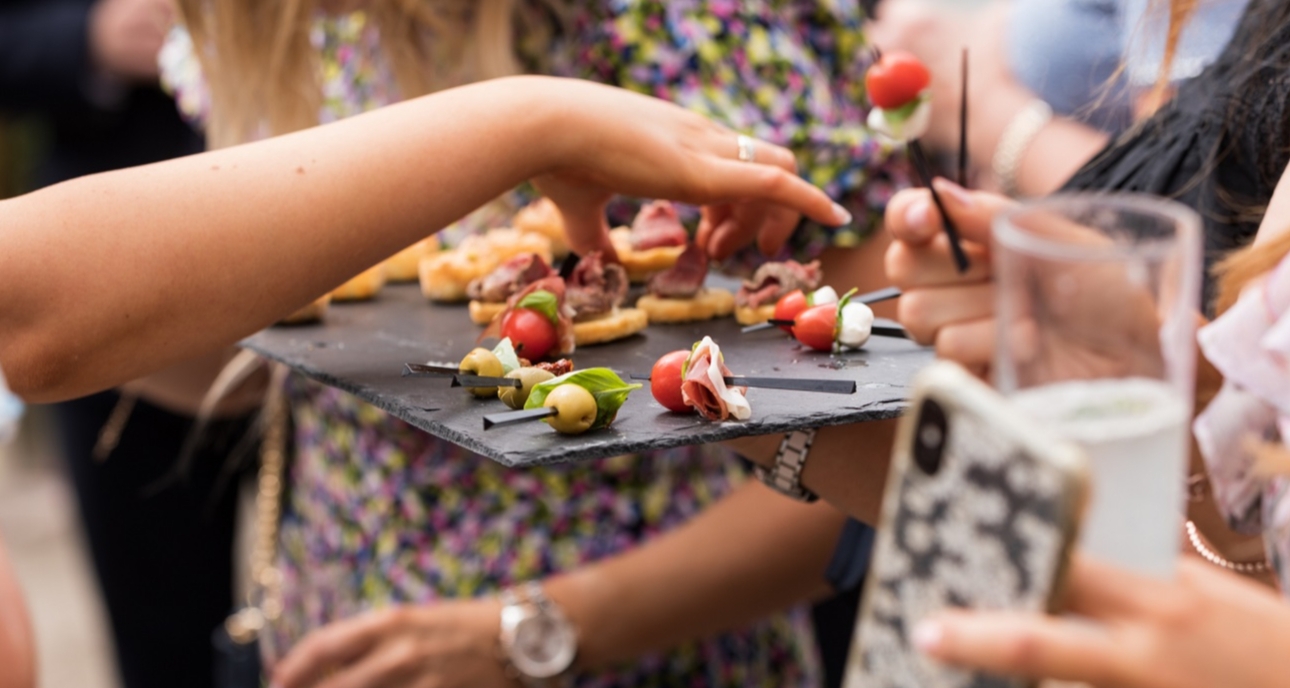 The catering options were all locally sourced using locally produced meats and vegetables – not forgetting the famous homemade chocolate brownies from Sam's mum!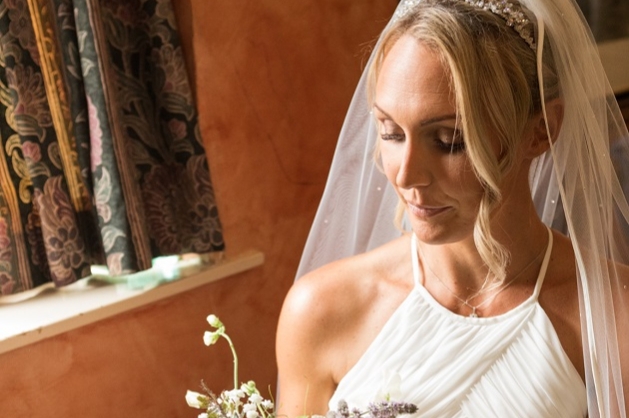 My dress was simple, I was six months pregnant so actually wore a bridesmaid's dress but in white, of course! I felt super-elegant and beautiful, but the setting and the venue was everything to me, not the dress somehow!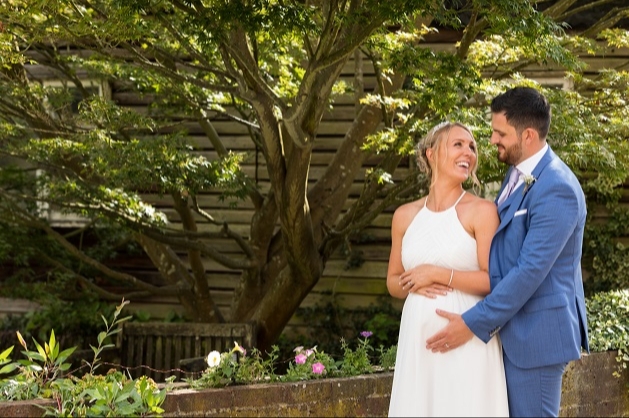 Sam wore a beautiful Hugo Boss light-blue suit with matching waistcoat. Sam's brother, Oli, wore the same while my eight-year-old twin boys, Sam's "best small people" on the day, Zac and Charlie wore cute chino shorts, Converse trainers and Ralph Lauren shirts.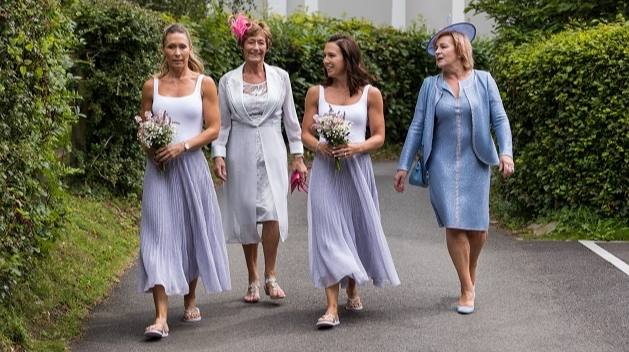 My sisters Kate and Sammy were bridesmaids. They wore white bodysuits with lilac tulle skirts, they looked stunning.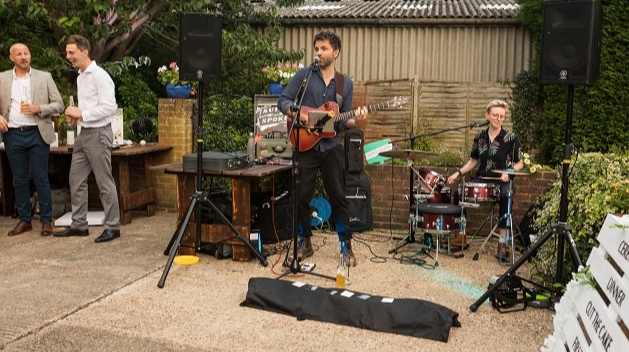 We had an incredible two-piece band Super Spokes, everyone danced under the stars all night! There was a fantastic cocktail bar too.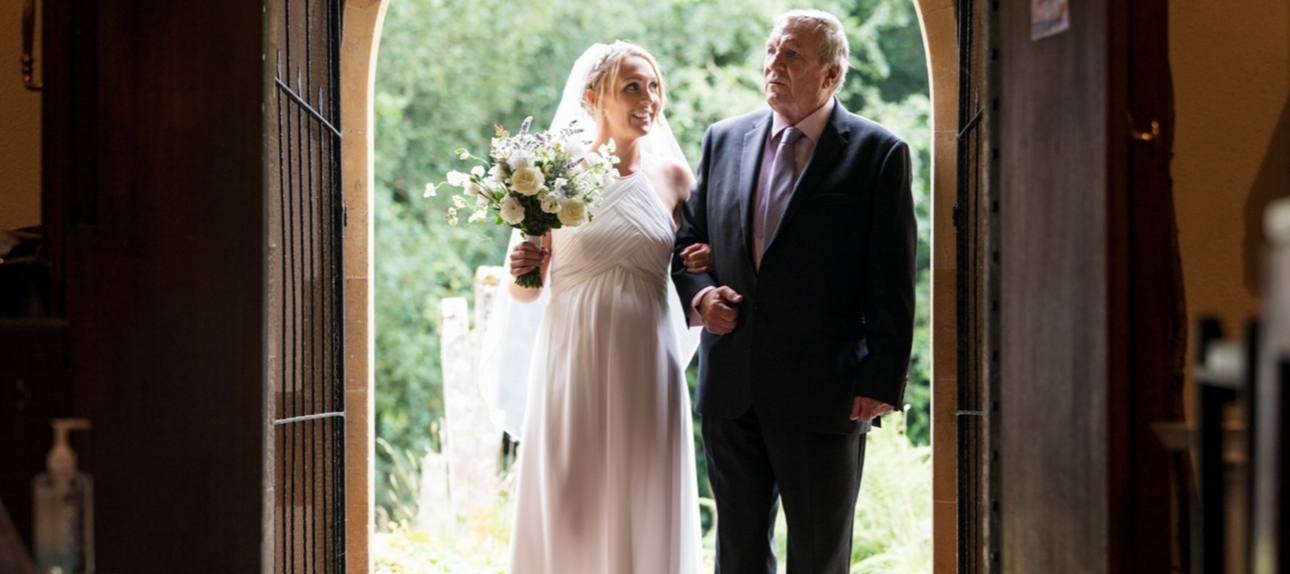 For me being walked down the aisle by my lovely dad to These Are The Days by Van Morisson was a special moment. Music is hugely important to dad and I, and something we have a significant bond over. Sam and I walked back down after saying our 'I dos' to Don't Stop by Fleetwood Mac, a song with very significant words to us as a couple!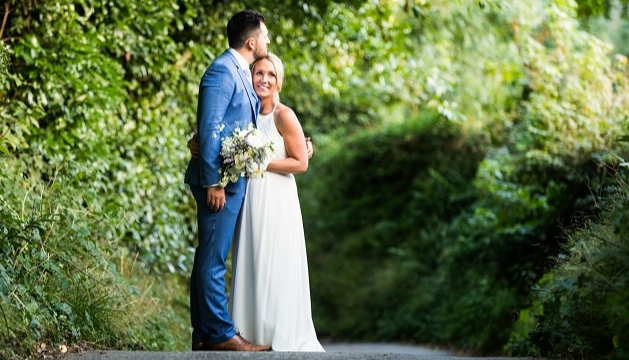 On the day we were unbelievably relaxed and happy. We loved the intimacy of it, it was a fab day with our best friends and family, and it was clear it meant the world to everyone to have been included.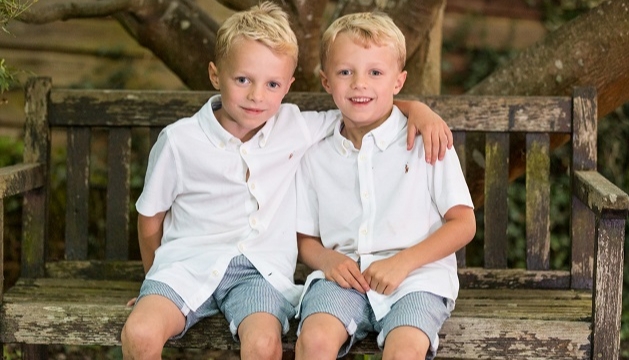 Other standout moments include dad getting out of his suit and throwing on his shorts and polo shirt within five minutes of getting back to the farm! Zac and Charlie standing on the climbing frame singing along with the band to Sweet Caroline (it was the year of the Euros!).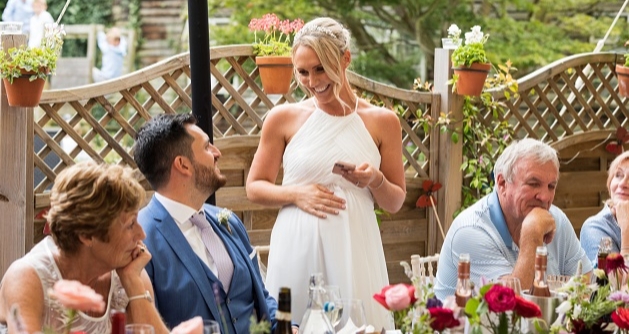 Seeing Sam's face when he realised I had written a poem for him and thought I might outdo his speech. And, finally, Sam's trousers almost ripping at the alter when we knelt to pray and me getting the giggles and us being told by the Vicar to 'behave'.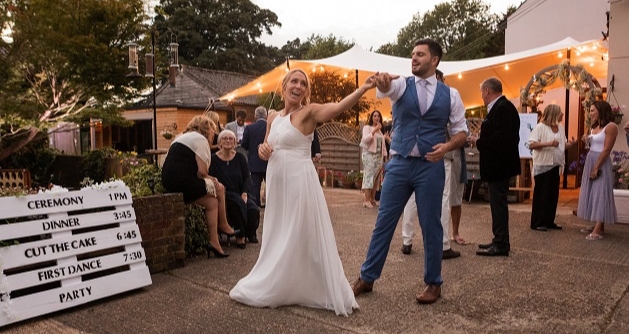 For our honeymoon we went to Antigua. It was wonderful and quiet as the island was still in lockdown. There's nothing we like doing more than having a few drinks together, so it was also quiet for us as I couldn't drink due to being pregnant! However, on reflection, the peace was much needed before the impending carnage of another baby boy!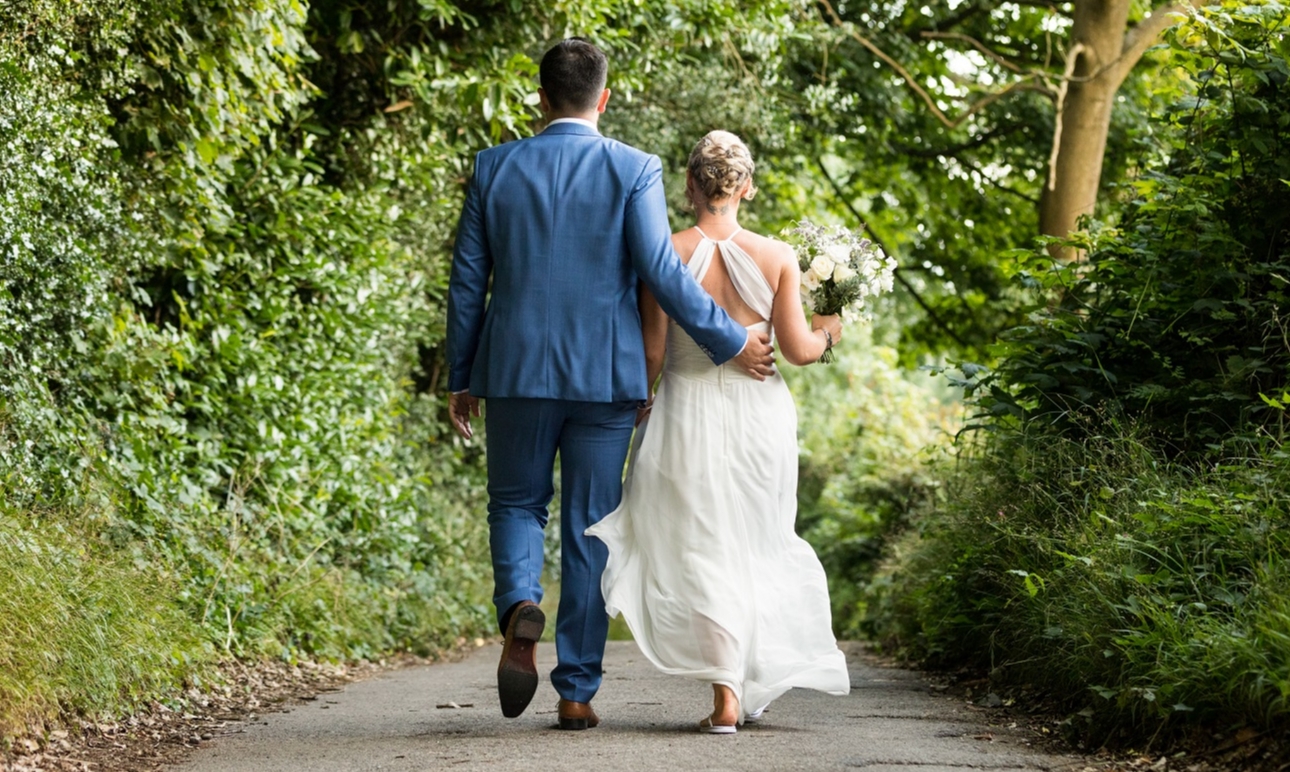 Both Rachel (photographer) and Abigail (videographer) were utterly wonderful! I barely noticed either of them all day apart from on the mini shoots we did, we had such a giggle with the two of them. Despite having never met we seemed to become besties on the day which I loved! The end result was more amazing than we could have wished for and I couldn't recommend either of them enough!
Megan and Sam's contact book