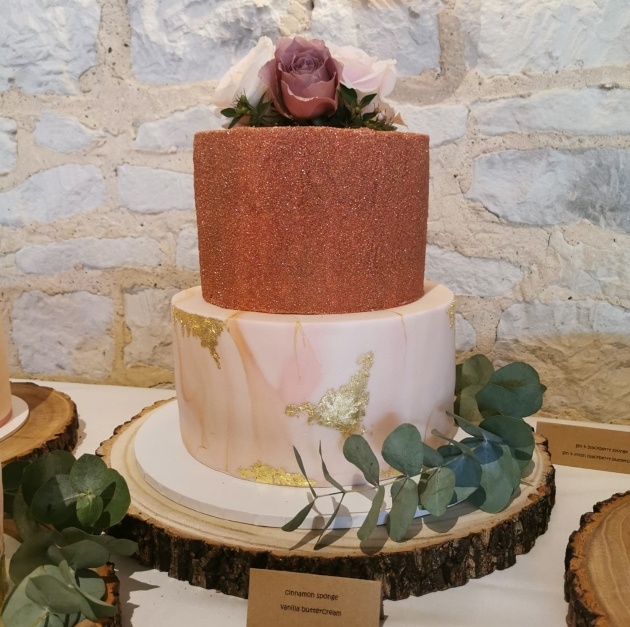 Meet Claire Price from The Polkadot Cakery
info@thepolkadotcakery.co.uk | www.thepolkadotcakery.co.uk

Q – Tell us about your background – how did you become a cake maker?
I've always had a passion for creativity, from art and textiles to photography and design. Having studied art and textiles at college, I spent several years doing 'normal' jobs, but the pull to do something more creative was always there. I qualified in cake making nearly 10 years ago and set up The Polkadot Cakery soon after. Having spent some time balancing baking with my day job, I finally took the plunge three years ago to purely focus on my business – and I haven't looked back. The Polkadot Cakery is the perfect combination of my two passions; weddings and creative design. I love being involved in the process and using colours and textures in my creations.

Q – What should couples expect when booking your services?
During our first meeting, couples will bring their ideas and any colours or design inspiration they may have. We discuss their budget considerations – and then I can get creative! Weddings are a reflection of personalities, and the cake choice is no different, so styles range from traditional white iced, naked cakes and buttercream, all the way through to cupcakes and brownie towers.
Q – How long before the wedding should couples book?
Ideally, couples will contact me 12-18 months before their wedding, but it can be less – availability will just depend on my diary. The process usually starts with a taster session – a selection of seasonal sponges and buttercreams can be sampled, where couples can decide on the flavour of their cake. Your big-day bake should always taste as amazing as it looks, so this is a really important part of the process.

Q – What's your favourite part of the job?
I'm very lucky to have been given creative licence on many of my weddings with a colour or flower as the sole inspiration. Coming up with designs and seeing the delight on the faces of my couples really is my favourite part of the job – that and seeing the cakes all set up on the day, while florists and caterers buzz around to bring the entire day together.

Q – Do you have any top tips for couples looking for a cake maker?
When looking for a cake maker, I'd recommend you do your research first and choose a designer whose range visually appeals to you – but I'd always encourage making a call and talking to someone. Relationships and trust are very important, so to know that your supplier understands what you're looking for and can make your vision a reality is key.