Style your Surrey wedding with the help of a local venue stylist
You've said yes to your loved one and are now officially engaged! After the champers, sharing the news on social media and being on cloud nine, what next?

Before the planning can truly commence, think about how you want your day to look: going classic, then a country manor house might be for you. Modern or retro? Warehouse-chic would be a great setting.

With venue choice, comes styling options, the them should be carried through all the styling elements of the day, flowers, stationery, decor, furniture and so on.

With everything that's been going on in the last two years, you may have found it difficult to keep up with the latest styling trends, so to help you plan the perfect celebration, Your Surrey Wedding asked local suppliers to send in some of their top tips and trend predictions for 2022...

See the full Venue Styling feature and more local features in Issue 92 of Your Surrey Wedding magazine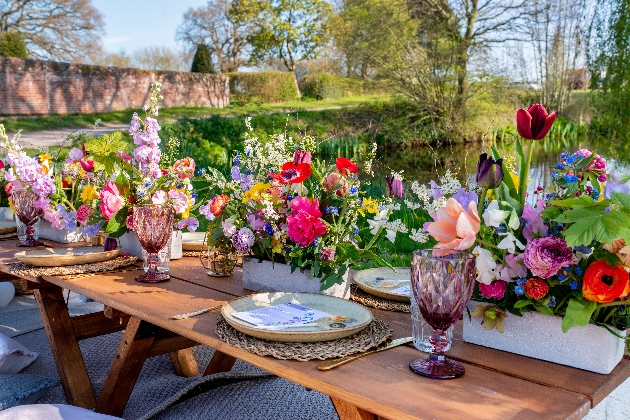 "As more people have taken time out over the last couple of years and enjoyed the outdoors, nature will play a big role in 2022 weddings.
"Earthy tones look set to become an increasingly popular colour palette paired with rich tonesinspired by those found in nature."
– Lucy Wells from Lucy Wells Weddings and Events.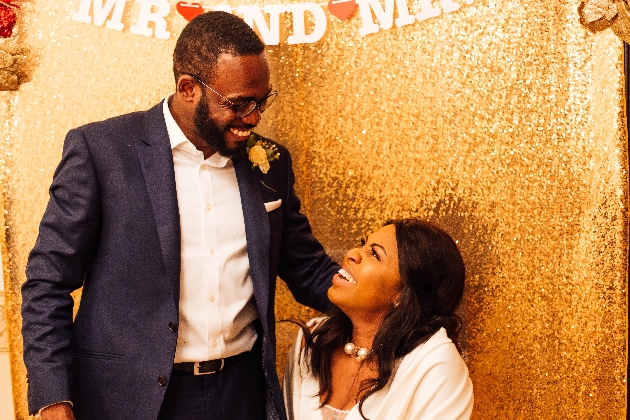 "Are you one of the lucky ones getting to celebrate your love at Christmas?
"Festive weddings are becoming more popular, and there are lots of ways you can make your day extra magical through your décor. Try using wreaths at the venue entrance to create a warm welcome, and use holly, pinecones and festive greenery."
– Tutu Ojo from Prime Violet Events.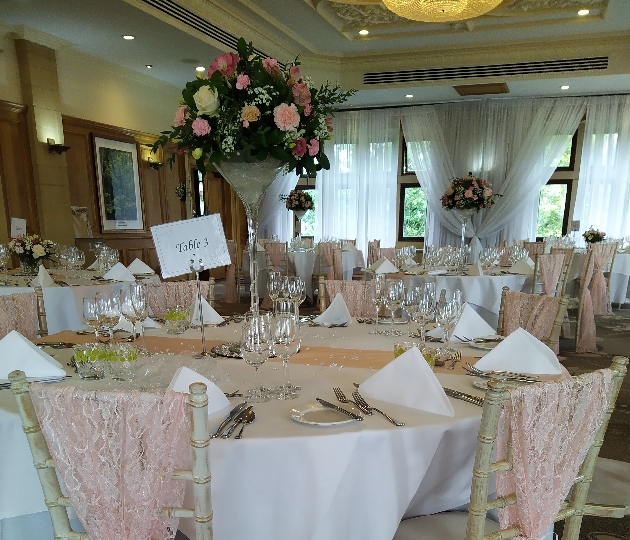 "The rustic look is popular at the moment. If you want to create the wow factor, opt for wonderful cascading bouquets full of beautiful roses, orchids and soft flowing greenery with the addition of diamantés and crystals. Use these after the ceremony on the top table and cake tables."
– Annabel Grange from Butterflies and Bows.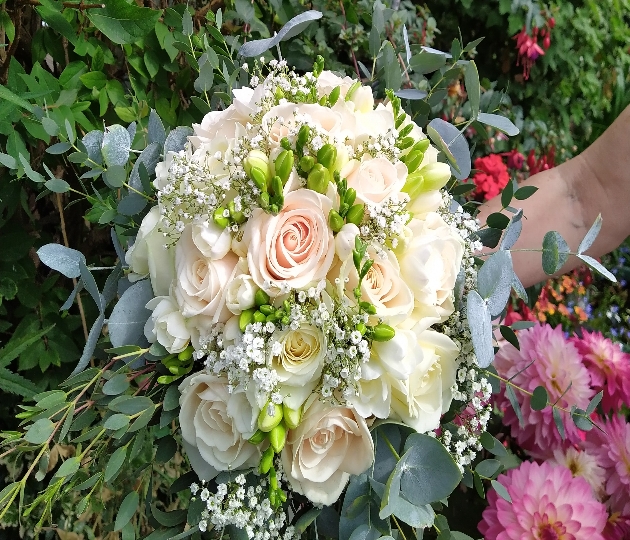 "Create centrepieces using tall glass vases, martini vases or even candelabra. Alternatively, you could use rustic jam jars or jugs, displays using garlands and large blooms such as roses, hydrangeas, gladiolus, alliums and anthuriums to give a real wow factor."
– Annabel Grange from Butterflies and Bows.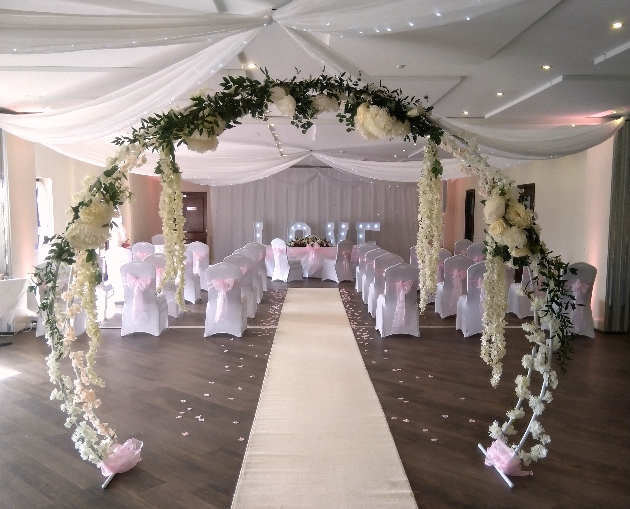 "Use an arch for the ceremony or behind the top table decorated with flowers and greenery. I would also use short square mirror vases set with large roses, hydrangeas and freesias or a bubbly garland brimming with seasonal flowers for the top table."
– Annabel from Butterflies and Bows.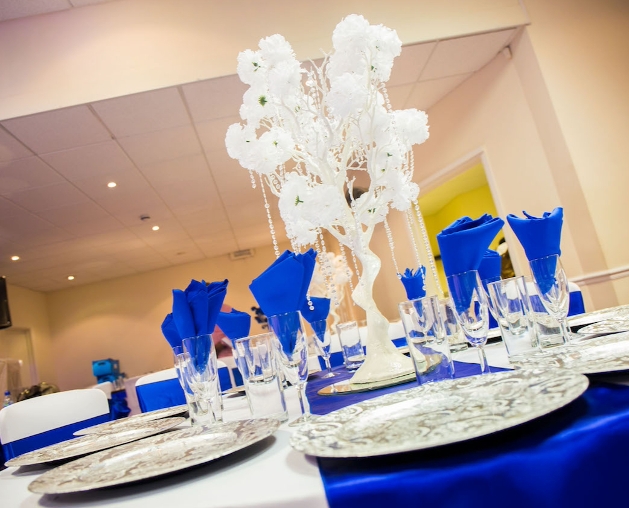 "Don't forget about the food and drink. Eggnog, peppermint and cranberry are perfect for festive weddings, and you could even have your canapés shaped like bows and trees."
– Tutu from Prime Violet Events.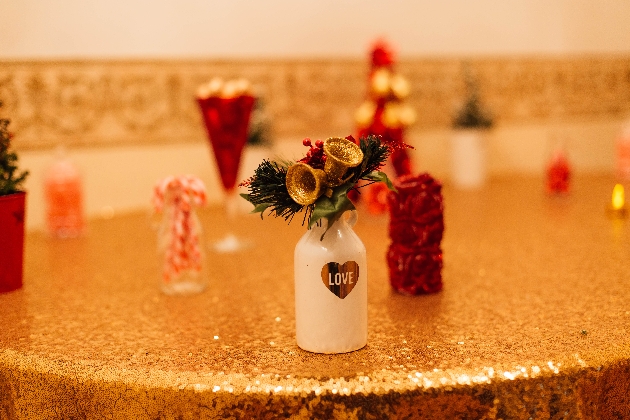 "Christmas stockings could also double up as place cards and wedding favours."
– Tutu from Prime Violet Events.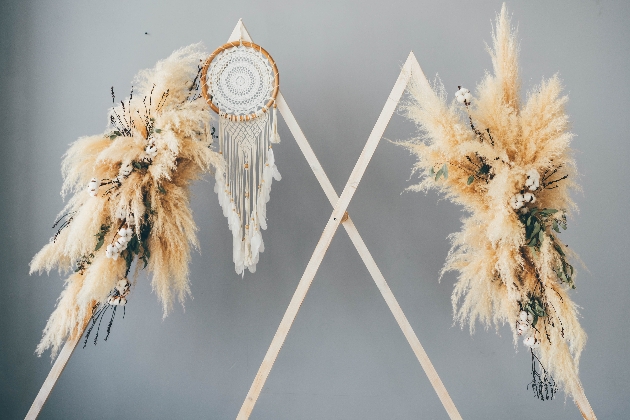 "Faux florals and dried flowers, as well as locally sourced food, will continue to be a big feature in many weddings next year."
– Lucy from Lucy Wells Weddings and Events.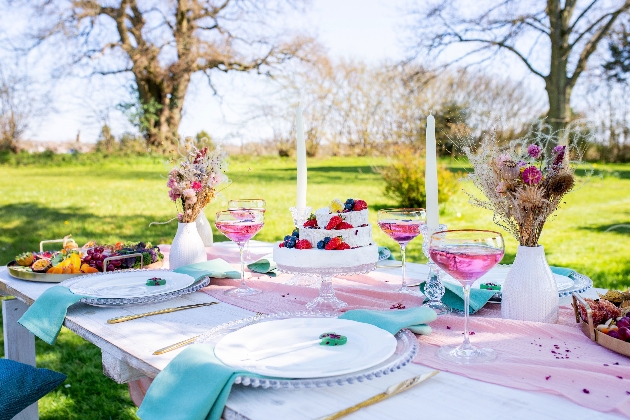 "In light of the current world situations, we have started to see a focus on sustainability in weddings that I feel will continue to grow in prominence in 2022. Many couples will approach their wedding with a more conscious focus on sustainability making use of locally sourced produce and recyclable materials."
– Lucy from Lucy Wells Weddings and Events.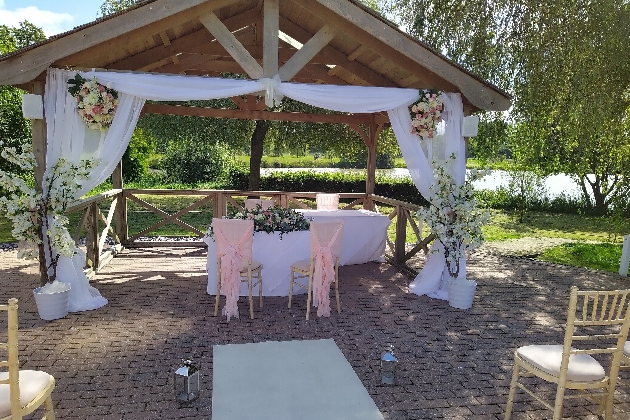 "Drapes and swags of soft voile will soften the look of bare windows or wedding gazebos and can be dressed in flowers, greenery or organza."
– Annabel from Butterflies and Bows.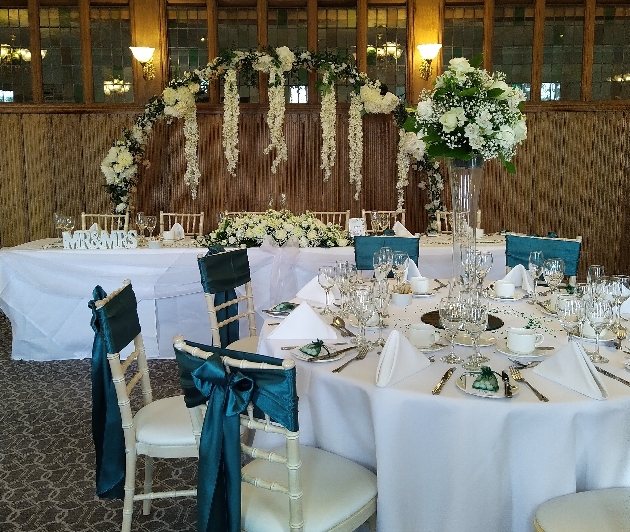 "Fresh flower garlands or greenery decorated with fairylights on beams, fireplaces, entrance doors, posts or bannisters with the modern twist of uplighters or spotlights added around the room are very on-trend."
– Annabel from Butterflies and Bows.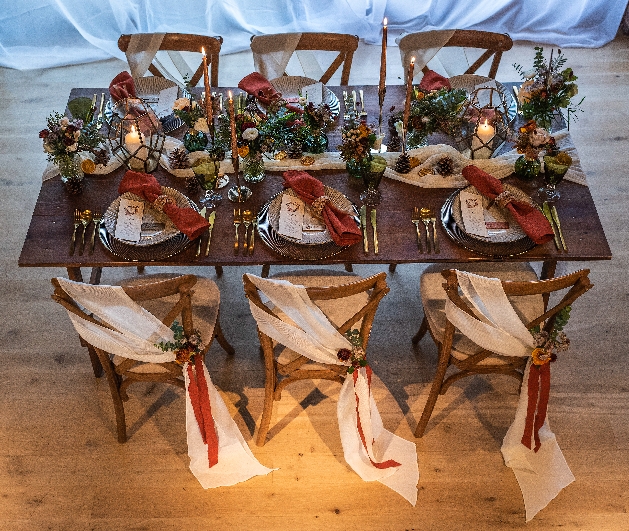 "As options for nuptials continue to grow, we may also see an increase in weddings at home and garden weddings."
– Lucy from Lucy Wells Weddings and Events.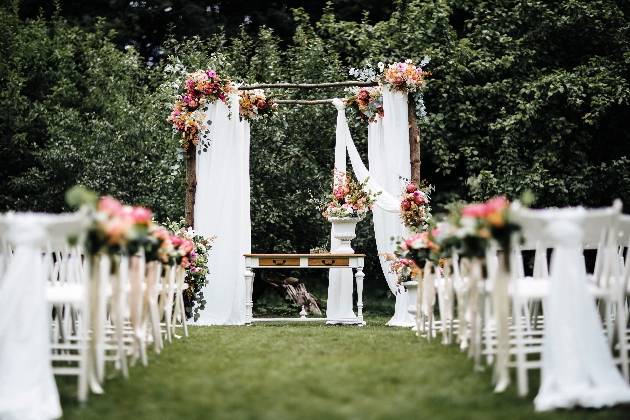 "We will see couples creating laid-back luxury on their own doorstep combining elegance and beauty with the comforts of familiar surroundings; perhaps still preferring to keep guest numbers smaller for a more intimate wedding celebration."
– Lucy from Lucy Wells Weddings and Events.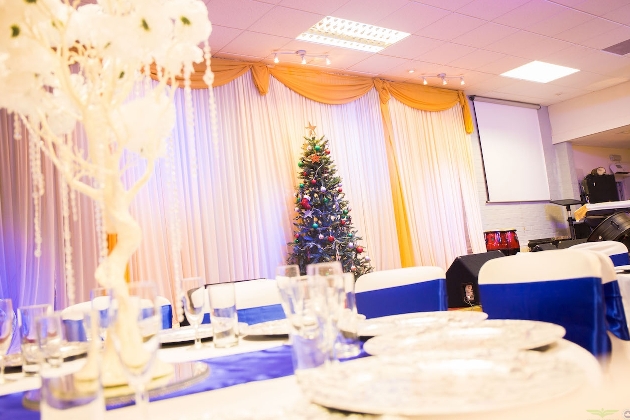 "Did you know that hosting an event around Christmas can mean you spend less on décor, especially if your venue is known to style it out for the season? It's always helpful to know what decorations they will be using, how they'll look, and where they'll be, so they don't clash with your overall theme and vision of the day. Similarly, don't assume your venue will have any decorations because some may leave it as a blank canvas for you to kit out, so it's always good to double check."
– Tutu from Prime Violet Events.
Here's a few other Surrey Venues Stylists that you might want to check out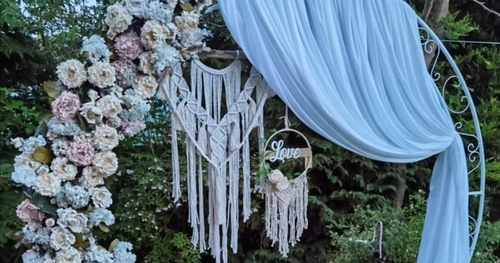 Credit: Bell and Bee event hireBell and Bee event hire
Telephone: 07383 280 752
Email: reynolds.kelly.88@gmail.com

We are a small family business of two sisters who love helping people create magical memories, nothing is too big or too small and we will work around your needs and wants to create your perfect vision.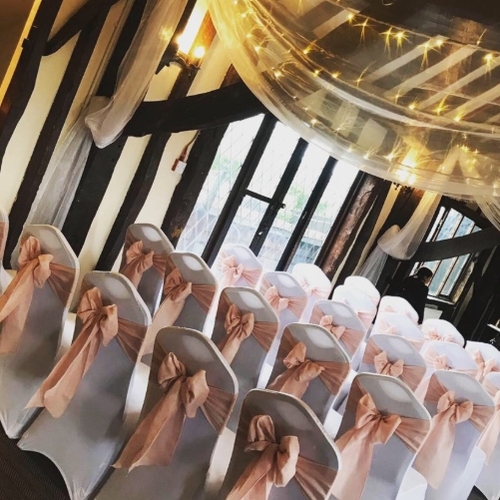 Credit: Chair Cover Dreams, Flowers & Venue StylistsChair Cover Dreams, Flowers & Venue Stylists
Telephone: 07947 324064 or 01932 765737
Email: maxine@chaircoverdreams.co.uk
Website: https://www.chaircoverdreams.co.uk

We Love Weddings!!

Here at Chair Cover Dreams, Venue Stylists, Maxine is the founder and has experience in floristry, interior design and event management. She has the flare to turn an ordinary room into something amazing.

Maxine will provide a service that meets your needs and exceeds your expectation.

Covering Surrey, Middlesex. Sussex, Bucks, Herts and London areas.

Outside of this please contact us for a free quote.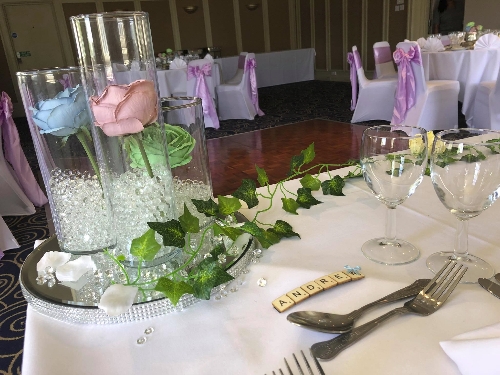 Credit: Loving Moments EventsLoving Moments Events
Telephone: 07985 594036
Email: info@lovingmomentsevents.co.uk
Website: https://www.lovingmomentsevents.co.uk

Creating lasting memories is at the heart of Loving Moments Events. We not only plan and execute the décor for your special event, we also work closely with you to create a theme whilst incorporating your style, wants and needs for your day. Your wedding or event should reflect you and your loved one perfectly. We take the time to get to really know you and to help you with your ideas.

Venue styling and design is all about creating a fantastic impression whilst transforming your chosen space and making it truly yours. We pride ourselves on delivering a fully tailored venue styling with exceptional customer service for each and every one of our clients. We take away the stress and give you a flawless end result that your guests and more importantly you will remember forever.

We work with your budget to incorporate what you want and need without making compromises on quality or style, ensuring you thoroughly enjoy your Loving Moment.

Our services include (but are not limited to) chair dressing, balloon styling, centrepieces and all aspects of table décor, hire items and those finishing touches to make a fantastic impression.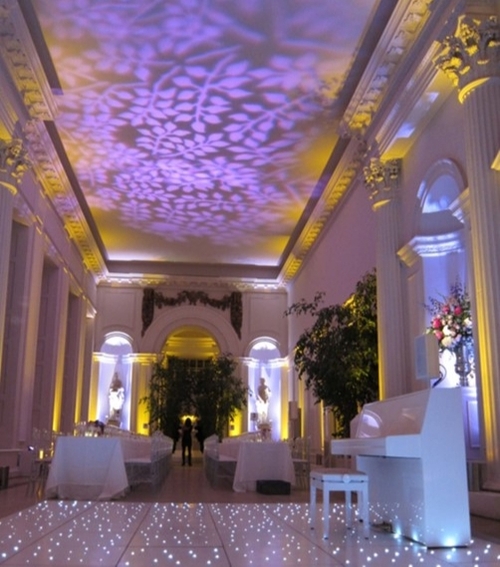 Credit: Peachy ProductionsPeachy Productions
Telephone: 01483 724 751
Email: hire@peachyproductions.com
Website: https://www.thepeachygroup.com

Your wedding day is the most magical celebration, you can count on us to make it truly unique and liven up your party space.