Helen Noble from the Celebrant of Surrey tells us how you can plan an intimate celebration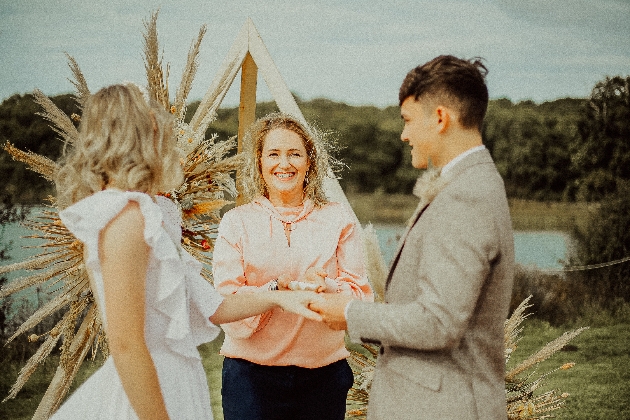 Credit: www.constancedoyle.comMeet celebrant, Helen Noble from The Celebrant of Surrey
07787 530 720 | www.celebrantofsurrey.co.uk

"Small but mighty is the way to approach a micro and intimate wedding. Think of it as an upgrade. By having an intimate celebration, you can enhance the experience. Everyone will get the best view of you declaring your love for each other, and you can really feel the support and love in the room.

"The ceremony is the epicentre of the day, and your stylist and florist will be able to enhance the space. Whether you choose a copper frame, moon gate or balloon arch, your suppliers will want to make your day super special and look amazing.

"If you place the chairs at your service in a horseshoe shape rather than in straight rows, it will create a more intimate feeling. My 25 years of experience mean I can take ceremonies in any which way. Your suppliers will create the feel, vibe and energy you're after. It's not about the number of guests, it's about the quality of love in the room. Everyone from the suppliers and guests to the couple themselves is devoted to making this day the best one of your lives thus far. Remember you have the power to be picky, so if you find someone who isn't on board with your vision, give that privileged place to someone who is.

"You have got through an engagement in a pandemic, your love is already made of strong stuff! The situation hasn't diluted your feelings or made them fragile, so think strong thoughts and reflect those values you hope to live your marriage by in your vows."