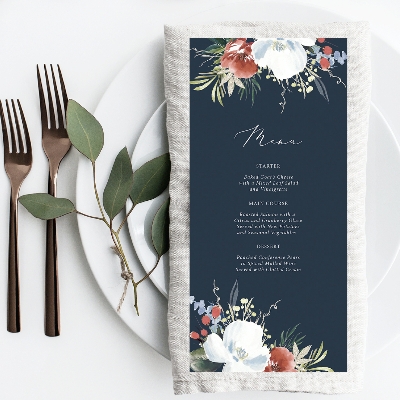 Winter wonderland
Q. How can we create wintry stationery to tie in with our Christmas wedding?
A. Natalie Drage says: Winter is a wonderful time of year to get married, and there are many ways you can embrace the season through your stationery. Don't feel tied to bright red berries, Christmas trees or a holly theme. Instead, you could incorporate these festive vibes with wintry blooms or modern greenery details. You might also think about introducing a touch of sparkle to your stationery, either through the use of pearlescent card and envelopes or metallic foils, the options are endless!

Greenery is an enduring wedding theme, which works particularly well for winter weddings. This design features the pale blue tones of eucalyptus sprigs and other foliage, together with a modern font it's a versatile style that would work perfectly for any country venue or barn.

If you're keen to acknowledge the Christmas feel, but without being too festive, then you could consider incorporating some classic colours into your stationery. This menu design (pictured) features beautiful crimson and snow-white watercolour winter roses, rosehips and foliage on a navy background to present a festive three-course menu. This design would lend itself beautifully to signage and other table stationery.

There's something truly festive about stars, particularly if they bring a bit of sparkle too. Jazz up a flat print and add a bit of shine by printing onto pearlescent paper, or go for metallic foil elements to make your stationery shine.
Natalie Drage, Flamboyant Invites
www.flaboyantinvites.com