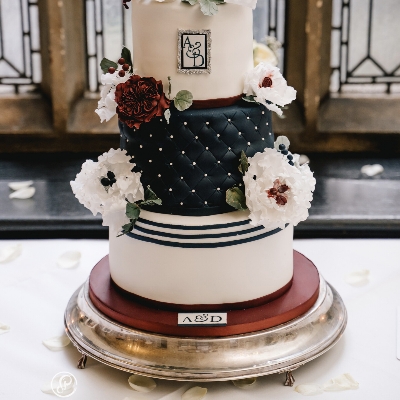 Colour pop
Q. My wife-to-be and I love strong colours and want something unusual for our cake. Do you have any suggestions?
A. Nia Cummings says: If you love strong colours, then go for it! It's not an unusual choice anymore with lots of couples moving away from pastels in favour of statement hues. Painted cakes, strong concrete-like metallics, cakes that follow the lines of the bride's dress, designs rooted in modern art, sculptures and patterns are all great places to start if you're thinking about trying something different.

I love mixing the traditional with the unexpected. Huge, bold coloured sugar-flowers against a traditional, white canvas can look amazing. I'm also a firm believer that anything can be made to look beautiful. I've nestled flags, family silhouettes, models of the wedding venue, sketches of significant places amongst beautiful flowers and clean designs. There's no reason why you can't add vibrant personality to simple elegance.

If you're after something bespoke, I would stop looking at cakes and go for a walk together and see what flowers, textures and colours take your fancy. Alternatively, think about a painting that you love or a place you have travelled to and ask your cake designer to incorporate elements of it into your design. I based my wedding cake around some old wallpaper, everything from the buttonholes to the stationery had a tiny hint of it running through. I have built my brand on the whole idea that every cake tells a story, so think about what reflects you and find a designer that can tell your story.
Nia Cummings, Cakes by Nia Cummings
www.cakesbyniacummings.com