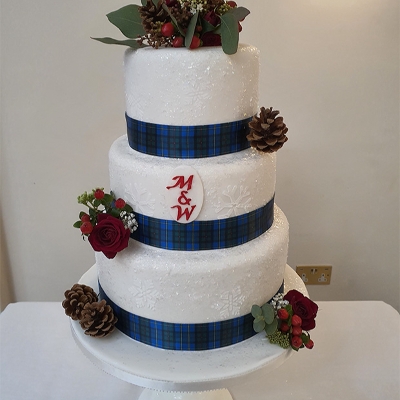 Let them eat cake!
Q. What cake design and flavours would you suggest for a winter wedding?
A. Shenaz Lake-Thomas says: There are so many options available that are perfect for winter weddings. You could opt for a semi-naked design adorned with deep red flowers, pine cones, holly, ivy leaves and foliage or go for sugar versions instead, which you can keep after the big day.

Think of the kind of icing you want on your wedding cake and if you want texture applied, whether it be appliqué, stencilling or edible lace.

Deep reds, purples and various shades of blues, greens and whites would be a great way of incorporating the time of year.

For the flavours, how about cinnamon, mixed spice, nutmeg and clove? Just thinking of these spices will give your guests a warm wintry feeling.

Snowflakes and an iced white snow effect would also look great.
Shenaz Lake-Thomas, Lake Thomas Cakes
www.ltcakes.co.uk