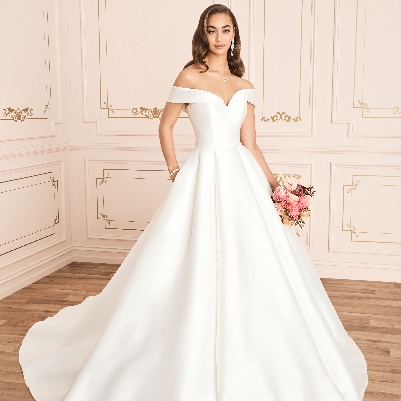 Bridal beauty
Q. I'm going to start looking for my wedding dress soon and wondered if you have any advice?
A. Lorraine Longridge says: It's never too early to start looking for a wedding dress but if you want to see the most current collections, then visit stores around a year before your nuptials. Most dresses can take between three to five months to order (don't forget to allow time for your alterations), but some bridal studios have an off-the-peg range to choose from.

If this is the first time you have tried on gowns, look for different shapes and styles as you might surprise yourself. After all, it's not every day you try on wedding dresses, so how can you be sure unless you try? Be guided by your consultant, as they have seen all their gowns on and will know which ones will work for you.

We tell our brides, 'be brave and think outside your comfort zone. You want the wow factor, but you want people to look at you and be impressed, not surprised. Be you, but the best you that you can be!'

Be open to the consultant about your budget, this will help them find styles for you to try without wasting everyone's time and causing an embarrassing situation when it comes down to the cost. If your budget is flexible, tell them. It doesn't mean that they will always go to the top of your price range but they will know not to go over it.

Here at Brides Visited, we love to put on a dress that ticks all the boxes first so that we have a great benchmark to try and beat. If we can't improve on that first gown, then you know this could quite possibly be the one. How do you know is a question we are often asked. You will know but not always the first time you put it on. Sometimes you need to try on other gowns, just to check that it's right, and then put the one back on again to be sure.

There is something called the first dress syndrome. This refers to when you cannot believe that the first dress you tried on could possibly be the one. Please don't fight it! It doesn't have to be difficult if you have the right consultant with a great collection of gowns, then it could be quite easy.
Lorraine Longridge, Brides Visited
www.bridesvisited.co.uk