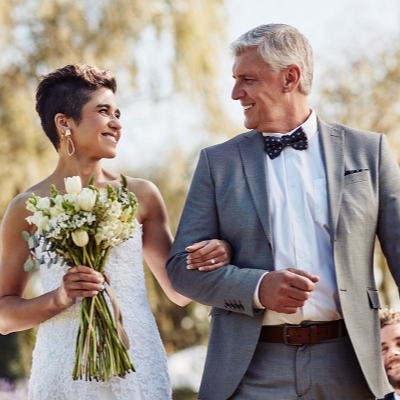 Treasured memories
Q. I want to have a first dance with my dad, but he's shy. How can we build his confidence before the big day?
A. The team at First Dance Studios says: Weddings are a wonderful way for friends and family to come together to celebrate the couple as well as their love. At First Dance Studios, we have helped more than 2,000 couples and wedding parties make their wedding dance something unique and personal.

This dance is a celebration of family and a moment to be really proud of. We've picked up some tips over the years and know some dads and daughters might be a little shy when stepping out onto the dancefloor. Our top tip is to practice, practice, practice. Your teacher will ensure that you both learn the steps, feel the music, listen out for musical cues, know how you can talk to each other verbally and with your hands, and so much more. All you need to do is spend the time listening and dancing over and over, and yes, practice does make the wedding day perfect. Start learning a choreographed routine about six to eight weeks before the wedding. This helps get the dance into your muscle and mind memory and make those dancing feet, dance!

As well as practicing the steps, you also need to work on performance. Your teacher will guide you through the dance together in terms of staging. At First Dance Studios, we work on visualising the venue where the dance will take place, what the lightning will be, where the band or DJ will be. All this so you have a mental reference as you practice so that it isn't a surprise on the day. Always remember, the crowd will be with you, cheering you on so we encourage you to use that energy and go for it. They are watching with joy and love, so work with that and dance it out in style.

The most important thing is to have fun, it's a party after all, and pick music that you both enjoy.
The team at First Dance Studios, First Dance Studios
firstdancestudios.co.uk