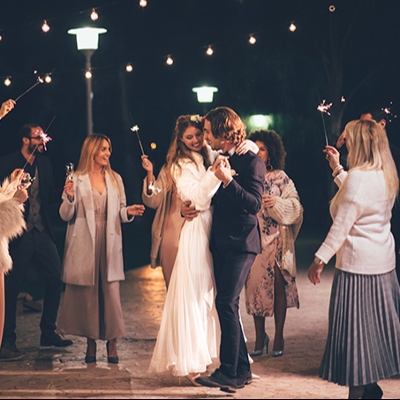 Dance with me
Q. Do you have any ideas of how we incorporate our Christmas theme into our first dance?
A. Lorraine Ansell says: Christmas is a wonderful time of the year for a wedding as everyone is in the mood to celebrate in style. Here are a few things that will help add some extra sparkle to your first dance:

Christmas tunes are a great place to start for your first dance song. They are catchy, festive and can be slow, fast, cute, smooth, sexy and suit whatever style of dance you're looking for. Some wonderful song choices include Mariah Carey's All I Want for Christmas is You and Frank Sinatra's White Christmas. One of our favourites is Michael Bublé's Santa Baby. Any of these would be a perfect music choice for your first dance.

Think about what the second song will be. This song is THE song to get everyone up and onto the dancefloor with you. At this time of year, the choice is huge, and we all know that the floor fills up with songs such as Slade's Merry Christmas Everybody and Brenda Lee's Rockin' Around the Christmas Tree.

If you're having a band or DJ playing at your wedding, you could ask if they could add a Christmas sound to your first dance song or wedding dance playlist. The sound of bells or a carol rift would be a fantastic way to add some festive cheer.

Some dance moves are perfect for this time of year, such as the Sparkly Star, where the couple can create a star shape with their bodies, the Christmas Cuddle, a spin towards each other and sway and the Merry Mistletoe where a cheeky kiss can be added into the dance routine that yes, as you might have guessed, happens under a bit of mistletoe. It's so romantic and a great photo opportunity! However, you choose to commemorate your wedding, be sure to celebrate with a festive first dance!
Lorraine Ansell, First Dance Studios
www.firstdancestudios.co.uk