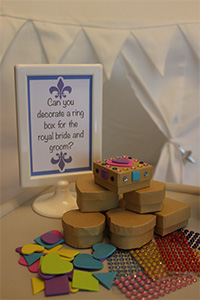 Child's play
Q. I'm a true royalist and we're having this as our theme for our own nuptials. What could we do in our kids' corner that would be fitting to a royal day but be interactive for the little ones?
A. Cat Marks says: There's plenty of ways to incorporate a royal theme into a kids' corner, without the royal budget! Why not decorate foam crowns to make them feel like a real prince or princess? Instead of glitter, adhesive gems are a fantastic way to add the sparkle of the crown jewels, without the glue and mess.

Colouring pages with a royal border are another creative, yet inexpensive, way to keep the little ones occupied. How about designing the wedding dress, or the different tiers of the royal cake? And what's better there's no need to spend hours searching, Sparkle Box online offers several free downloadable royal wedding colouring pages.

Alternatively, if you want to go a step further, how about providing the kids their very own colour-in castle? Not only will this keep them entertained whilst colouring, but is also a perfect addition for a royal role play. These are proving popular and selling quickly, but are often available on Amazon. Lastly, not forgetting the all-important weddings rings! How about supplying mini craft boxes as wedding ring boxes, for the kids to decorate using crayons and adhesive gems. You could even pop a pack of Haribo rings inside as a tasty treat!
Cat Marks
www.catscosycorners.wixsite.com/online