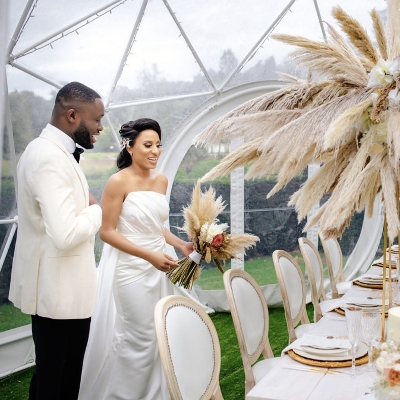 All in the detail
Q. What are the latest trends in wedding styling?
A. Gabriella Olukoya says: Wedding trends come and go, but certain elements are timeless. Your wedding is about expressing your personality and style. One of the fastest-growing trends we've seen and embraced ourselves is the bohemian style, which can also be called rustic-chic or dusty hues. It's very laidback and dreamy with strong use of warm earthy tones, colours, pampas grass, dried plants, natural materials and wood or rattan furniture. This growing trend normally features rich colour combinations to bring some boldness to the wedding style. This type of styling creates a soft look and tone, giving the wedding a dreamy aura.

Another trend is the application of statement lighting. This comes in different styles such as hanging lanterns, glass pendants, giant multi-sized chandeliers, exposed bulbs or clustered candle garlands. These can be placed indoors or outdoors, and when the lights are switched on, it's a glorious scene that sets the tone of your wedding. If you want your wedding styling to be different, opt for something your guests haven't seen before.
Gabriella Olukoya, A Flair to Remember
www.aflairtoremember.co.uk