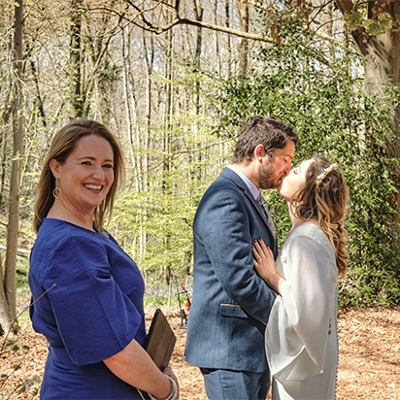 Planning SOS
Q. We've just started wedding planning, and I'm slightly confused about what a celebrant does! Can you help?
A. Helen Noble says: The ceremony is the heart of the day, and a celebrant will set the vibe, tone and energy for the rest of your nuptials. A celebrant-led ceremony allows you to make it personalised, heartfelt, silly or fun. We bring your vision to life. We can weave your words and songs into a tailormade one-of-a-kind service. There are no rules, regulations or limits to what you can and can't include.

Your supplier will explore what you're about as a couple. What your hopes and aspirations are, so you can begin married life feeling happy and excited about your future. They will rehearse with you so you can manage your anxiety, get the timings right, support the reader as they share your readings and make sure you're both 100 per cent ready for the day.

Usually, as a celebrant, my couples would have done their marriage license ahead of the ceremony, but occasionally the registrar kicks off the ceremony with the legal details, introduces me, then leaves, and I take over. Sometimes I conduct the ceremony, then whilst the guests have canapés, the couple register their marriage and join us afterwards.
Helen Noble, Helen Noble: Celebrant of Surrey
www.helen-noble.co.uk