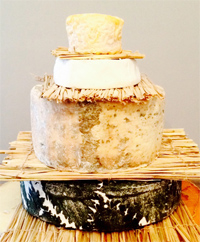 Cheesed to meet you
Q. We'd love to have a cheese wedding cake at our Christmas wedding, what types do you suggest and what should we offer to accompany it that's fitting to the time of year?
A. Mike Leslie says: Cheese wedding cakes are a brilliant idea and are becoming increasingly popular as people come to recognise that quality artisan cheese is far superior to cake! We always recommend a balance of flavours, styles and strengths to cater for everyone's tastes, from the 'cheddar only' eater, through to the 'serious gastronome'. It is important to bear in mind the time of year of the wedding, our palates tend to like heavier fuller flavour cheeses in the winter months rather than the lighter fresher cheeses in the summer.

At Partisan, we're also always keen to factor in geographical affiliations to find cheese wedding cakes that are matched to the bride and groom. With all that in mind we would suggest the following:

Base
• Montgomery Cheddar, half Sparkenhoe Red Leicester. Top-notch, accessible classics.

Tier two
• Cornish Yarg. Beautiful nettle-wrapped, mild and crumbly.

Tier three
• Perl Las. A superb Welsh farmhouse blue and a wonderful Christmas alternative to Stilton.

Tier four
• Baby Wigmore. Unctious Ewe's milk Brie style from Risely, Berkshire.

Tier five
• Langres. Pungent washed rind cheese from Champagne region. Traditionally served with Champagne poured into the top and the perfect size to be shared by the happy couple.

As for Christmas wedding accompaniments, a mixture of neutral crackers and fruit- or nut-studded toasts for cheese, a richly spiced plum chutney, a liberal scattering of dried fruits and whole nuts and some sticky Moscato grape nectar to finish.