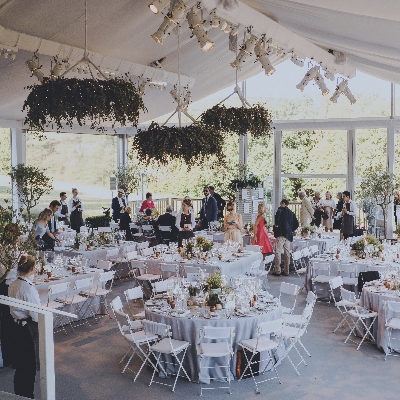 Your day, your way
Q. I imagined getting married in a traditional hotel ballroom, but my partner really wants us to look at a marquee option. What does a marquee offer that makes it worth the additional spend?
A. Simon Sinclair says: A hotel ballroom or full-time wedding venue can recommend a great deal in terms of keeping things simple. It can generally be considered a well-oiled machine, with everything in place and ready for you to turn up and say 'I do'. However, for some couples, this can be a drawback. A marquee offers you the opportunity to personalise every moment and present the venue as a backdrop, unveiling who you are as individuals and a couple. It's an expression of your marriage and is a blank canvas which you can use to paint your history, hopes and dreams.

Starting from scratch means there are no compromises. A marquee can offer you the option to do away with a wall altogether, meaning you don't need to compromise on heavily patterned carpet or bold wallpaper choices.

The structure can be located almost anywhere, from your family's home to the grounds of a country house. It can be climate controlled for any season and incorporate everything from kitchens to toilets. Outdoor spaces can be added so you can enjoy the views and most importantly, the décor is only limited by your budget and imagination. You could opt for clear ceilings for stargazing, sunken dancefloors or secret rooms that can be unveiled throughout the day.

Marquees can be modern-chic, elegantly stylish or romantically traditional you can easily incorporate all the elements you might have leaned towards in a ballroom, without any jarring compromises.
Simon Sinclair, Berry Maruqees
www.berrymarquees.com