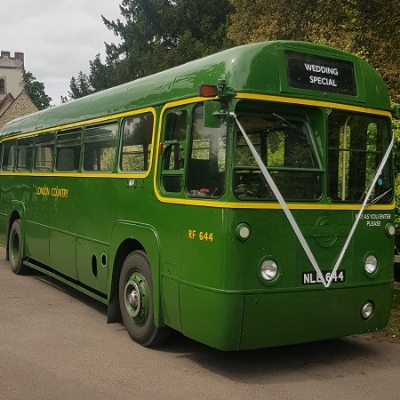 Making an entrance
Q. What questions should we ask a vintage bus company before booking?
A. Richard Shirley says: When hiring a vintage bus, make sure that your supplier has an Operator's Licence. Anyone can own an old bus, but those who supply them commercially must operate within the government's strict licensing system. This gives you the confidence that there will be a competent transport manager making sure that the vehicles pass regular safety checks and that drivers are properly qualified. You can check your supplier has a licence at www.gov.uk but most reputable operators will provide a link from their own website.

Think about your chosen route and the practicalities of where to stop, pick up, set down, and turn around. Even a vintage bus will be around 30ft long, and it's surprising how often we get asked to go into a tiny space designed for cars! There can be other physical restrictions too, such as overhanging trees or a low railway bridge, which a single decker can get through, but taller coaches can't.

Meanwhile, don't forget that groups of people take longer to move around than a car full, and vintage buses travel at a more leisurely pace, so you can reduce stress on your special day by allowing extra time.

If your bus journey is short, it might be practical for the same bus to double back for a second trip: this can usually be done at a much lower cost than hiring two buses. Finally, bearing in mind that most vintage bus suppliers will have set aside their day and come out specially, you might be able to get added value by asking for a trip before the ceremony to bring people from a hotel or station. This could often be done for just the extra time and fuel, so it's always worth asking!
Richard Shirley, 1950's Vintage Bus Hire
1950s-vintage-bus-hire.co.uk