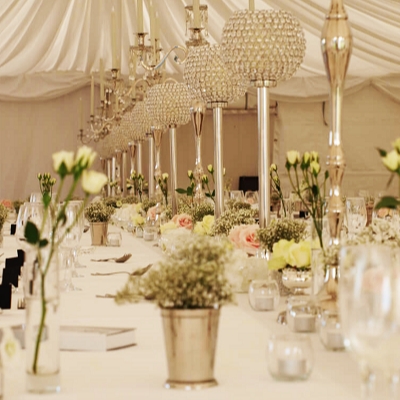 Ready, steady, plan!
Q. We're getting married in a few weeks, and we've left most of the planning until the last minute! I'm panicking about how to decorate our venue – do you have any suggestions?
A. Claire Stevenson says: Don't panic, there's a lot you can achieve in a short period of time. The quick win is to work with a supplier with a make-it-happen attitude who can provide the key pieces you need for your big day. Reliable suppliers will guide you through the process, offering ideas and solutions.

Have an idea of your must-haves and nice-to-haves and be considerate of your budget. You can work through the priority list with your supplier and quickly create a plan and have confidence that it's all being taken care of.

Remember to ask your venue exactly what they will provide or what will be in place at the time of your wedding. For example, a December wedding will more than likely benefit from the venue being dressed in festive garlands and decorations. Will they provide the cake stand; do they have napkins in your colour theme? It's always worth asking.

If you would like to bring a personal touch to the décor in terms of homemade items but are wondering where you will find the time, perhaps ask your friends and family to join in. Hold a favour-making party, this is a great way to quickly get a time-consuming task done while getting your guests in the wedding mood.
Claire Stevenson, Wedding Day Hire
www.weddingdayhire.co.uk