Ask the experts
Here is a selection of Q&As from Your Surrey Wedding magazine. If you would like your question answered by our experts, please email it to editor@yoursurrey.wedding.
To view more Q&A's on a different topic, please select one from the list below.
Hot topic: Seasonal dos
Our local pros solve your winter wedding worries.
---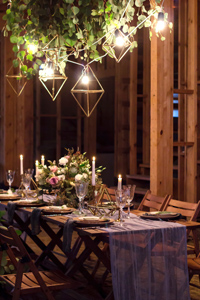 Plumtastic
Q. We're tying the knot in January so feel Christmas would be over by then, so what themes and colour schemes could we opt for?
A. Natalie Fairbairn says: The best way to separate your nuptials from Christmas is to pick a colour that isn't traditionally associated with the festive season.

Purple is a beautiful colour and you can play with different shades and contrasting colours to make a stunning theme.

Team dark purple with gold for elegant invitations and matching on-the-day stationery, alternate lilac and teal chair sashes and add a splash of colour to your bouquet by using purple ranunculus with white hydrangea.

The venue will look amazing dressed in a woodland style as nature is a strong theme to encompass during any season; why not opt for bare-branch centrepieces for your tables with drop diamanté strings hanging from them? The decoration for the top table can carry on the nature theme and have fresh green sprays with fairylights twinkling through to make it magical. Escorts cards to match your invitations with velvet ribbon can be laid out on a table to greet the guests with a hot cider for the drinks reception.

As it's a winter wedding most of the day would be indoors so ensure the bridal party are in lightweight outfits with added layers for any outdoor photographs. Bridesmaids dressed in strapless dresses and a matching bolero or jacket can add a dramatic slant to the day and the groomsmen can add a touch of romance with grey suits and plumb accessories.

Little extra touches can be hot chocolate and churros as an evening snack before your guests leave for the night, patio heaters outside made to look like firepits, and your favours could be little bags of marshmallows with a personalised label in your colour for them to take home to toast or add to their hot chocolate!
---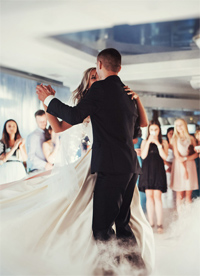 I'm dreaming
Q. We're tying the knot between Christmas and New Year and would really like our first dance to be something magical, and fitting to the season perhaps to a festive song – what do you suggest?
A. Emma Harris says: We get a lot of Christmas weddings now, and last year we did some lovely First Dances for them ranging from The Christmas Waltz (the Kristin Chenoweth version which really is magical) through to the Mariah Carey favourite All I Want for Christmas is You.

Other ideas are to have a good look through Michael Bublé's Christmas album or look at artists such as Nat King Cole, Ella Fitzgerald or Bing Crosby for something a bit more traditional. Sam Smith has done a great version of Have Yourself a Merry Little Christmas and I bet Ed Sheeran has got something up his sleeve this year!
---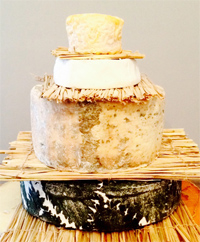 Cheesed to meet you
Q. We'd love to have a cheese wedding cake at our Christmas wedding, what types do you suggest and what should we offer to accompany it that's fitting to the time of year?
A. Mike Leslie says: Cheese wedding cakes are a brilliant idea and are becoming increasingly popular as people come to recognise that quality artisan cheese is far superior to cake! We always recommend a balance of flavours, styles and strengths to cater for everyone's tastes, from the 'cheddar only' eater, through to the 'serious gastronome'. It is important to bear in mind the time of year of the wedding, our palates tend to like heavier fuller flavour cheeses in the winter months rather than the lighter fresher cheeses in the summer.

At Partisan, we're also always keen to factor in geographical affiliations to find cheese wedding cakes that are matched to the bride and groom. With all that in mind we would suggest the following:

Base
• Montgomery Cheddar, half Sparkenhoe Red Leicester. Top-notch, accessible classics.

Tier two
• Cornish Yarg. Beautiful nettle-wrapped, mild and crumbly.

Tier three
• Perl Las. A superb Welsh farmhouse blue and a wonderful Christmas alternative to Stilton.

Tier four
• Baby Wigmore. Unctious Ewe's milk Brie style from Risely, Berkshire.

Tier five
• Langres. Pungent washed rind cheese from Champagne region. Traditionally served with Champagne poured into the top and the perfect size to be shared by the happy couple.

As for Christmas wedding accompaniments, a mixture of neutral crackers and fruit- or nut-studded toasts for cheese, a richly spiced plum chutney, a liberal scattering of dried fruits and whole nuts and some sticky Moscato grape nectar to finish.
---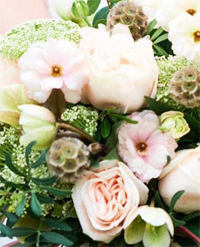 Festive colour palettes
Q. We're tying the knot just before Christmas and for my bridal bouquet, I wanted to avoid the traditional colours of this time of year. What are your suggestions for an alternative festive bouquet?
A. Johanna Pedrick says: Weddings just before Christmas are exciting and enchanting, the festive season is a wonderful time to get married. I always recommend to my brides to use seasonally available flowers to fully embrace the months. For an alternative festive bouquet, one of my favourite flowers during the colder months is the hellebore, it's only available during the winter months through till early spring. Also known as the Christmas Rose they are delicate, elegant, romantic and whimsical with slightly downturned buttercup-like blooms. Colours available range from antique green, white, dusky pinks through to mauve and purple hues so there is lots of scope for a festive bouquet without it being traditional colours. Hellebores are stunning by themselves but also mix beautifully with ranuculus, roses and many other seasonal flowers.

A wonderful selection of foliage, berried ivy, seeded eucalyptus, stunning blue berried viburnum and even mistletoe are all available at Christmas which will add interest and texture to your bouquet. Embrace the festive season and let your florist create a truly bespoke bouquet that will reflect your style and personality.
---
Contact our experts...
Emma Harris
Co-founder of First Dance Ltd
Mike Leslie
Co owner of cheesemongers
Natalie Fairbairn
Wedding planner
---