Ask the experts
Here is a selection of Q&As from Your Surrey Wedding magazine. If you would like your question answered by our experts, please email it to editor@yoursurrey.wedding.
To view more Q&A's on a different topic, please select one from the list below.
Hot topic: Spring has sprung
Our experts solve your seasonal problems.
---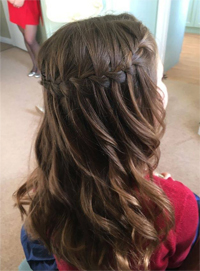 Pretty Plaits
Q. I really don't know where to start with choosing a big day hairstyle for my spring wedding; what tips do you have?
A. Faith Bevington-Hall says: Spring, the season of celebrations! Choosing the hairstyle for your big day can be daunting and with so much inspiration at your fingertips, how do you even start? Spring hairstyles often take on a much more romantic, softer look. Perfectly polished but not 'done'. I always find braids a great way to complement this floral season, from French to fishtail they can be the perfect way to adorn your look. Soft pinned up curls are also great to create gentle textures and detail, leaving out a few face-framing curls to give a romantic touch.

For something a little less 'bridal' low ponytails have been rocking spring 2018 runways and give the perfect modern, edgy approach.

For all you with shorter hair this season, less is more. Perfectly undone waves are simple and super-chic.
---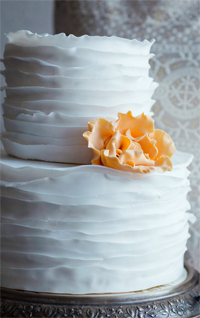 Cake expectations
Q. We're having a spring wedding however with all the floral decorations throughout the day, I wanted something different for our cake. What cake design could we opt for that would be reflective of the season but not using flowers – help!
A. Shenaz Lake-Thomas says: Whether you're having an iced cake or a buttercream cake, you should consider other forms of texture through the use of vibrant ribbon, bright-coloured icing or even a marble-effect as opposed to a plain iced white cake.

Moulded pieces of edible lace, which can be coloured, can be a suitable accompaniment ruffles are another technique you could incorporate.

Remember to complement your cake with the décor, and perhaps use minimal floral decorations around the base of the cake, especially around the cake stand.
---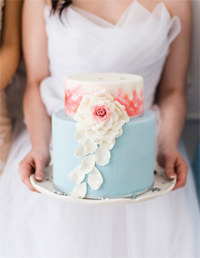 It's all about hue
Q. I love rose gold, and know that it's still very popular to use at weddings, however, what other colour than blush could we team it with to be different from the norm this spring?
A. Monette Tanagon says: You can be different from the norm by using the following colour palettes for your wedding, together with the rose gold colour you love.

In order to create a new and different look my suggestion is use rose gold with aqua or a lagoon colour to create elegance with a refreshing and calming effect.

Using the 'Pantone colour institute spring guide 2018' as a reference, complement these two colours using Pantone spring colour classic palette such as Harbour Mist or Ghost Grey and off white or white. You can also add the pale Dogwood colour as highlights for your wedding bouquet and table centrepiece. You can of course tailor your decorations according to your theme and preference.
---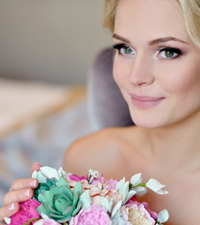 Spring blooms
Q. We're having a spring wedding as I just love this time of year and adore flowers; although I'm very aware of the cost of having so many fresh, large floral displays. How can my wedding have the flower-wow-factor but not cost the earth?
A. Annabel Grange says: Using UK-grown seasonal flowers will make it far more cost-effective! Adding lots of greenery to a pedestal arrangement will also keep the cost down.

- Tulips look lovely and are available in a wide range of colours from yellow, red, orange, pink, purple, lilac and even two-tone − matching lots of colour schemes.

- Ranunculus comes in a wide range of colours, with its many layers of petals it's plentiful and beautiful.

- Muscari, a delicate little flower in pale blue, lilac.

- Daffodils will look lovely for table centres.

- Anemones with pretty delicate petals and a black contrasting centre will make a statement.

- Hyacinths have a gorgeous scent and come in whites, pale pinks and lilac/blue.

- Lily of the Valley is a delicate white flower and is at its best in late spring.

- Peonies are available from April and will go well with roses.

- Irises comes in white and blues/lilac and have a quirky dash of yellow in the centre.

There are a host of other flowers available in spring which can be used with the above; roses, gypsophilia, alstromeria, carnations, eustoma, gerbera, solidago to name but a few.
---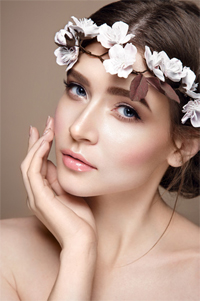 An English rose
Q. For our spring nuptials I'd really like a fresh, natural look for my make-up: what are your top tips?
A. Laura Messina says: Natural make-up looks are on-trend for spring and summer, my top tips for a fresh look would be to use an illuminating foundation to create a dewy and glowing complexion. Applying a good highlighter to the high points of your face will enhance your features and leave you looking radiant.

For oily skin I'd avoid illuminating foundations and go for an oil-free formula or a powder foundation to ensure your make-up lasts the day. Concealer will hide away any dark circles or blemishes and a translucent loose powder will set the look.

For the eyes, choose neutral colours. Browns and beiges are natural and beautiful, choosing a shade slightly darker than your skin tone will create a subtle and effortless effect. Finishing with a soft thin line above the lashes will add definition to the eye area.

Use a light dusky pink, peach or caramel nude colour for your lips depending on what colour suits your skin tone. Lip glosses are back this season, a clear or shimmer gloss can be added over the top of your lipstick shade for that extra wow factor.

Using the correct skincare for your skin type on the lead up to the wedding day will leave it in good condition for your make-up. You could book in some facials for a bit of relaxation time and to leave your skin perfect for the big day.
---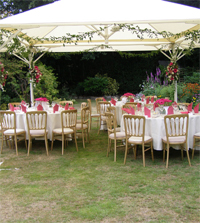 Bringing the outdoors in
Q. We'd love to have an al fesco reception, but given the British weather, what type of structure would give us the outdoorsy-feel we're after yet also provide shelter should we need it?
A. Marissa Draper says: The Colonial is our stunning but elegant 6M x 6M structure. This is a stylish canopy which can accommodate 30 to 40 seated guests and more for drinks and canapés. Fairylights decorated on the canopy provides a fabulous look giving a relaxing but fun atmosphere – a chic alternative to a traditional marquee. The stylish canopy is supported by posts at 4m centres, with rounded corners and varying slopes, its classic look makes this a striking centrepiece for any party still having the outdoor feeling whilst not being enclosed providing an al fresco reception whatever the weather rain or shine.
---
Contact our experts...
Annabel Grange
Wedding planner
Faith Bevington-Hall
Hair stylist
Laura Messina
Make-up artist
Marissa Draper
Marquee specialist
Monette Tanagon
Wedding planner
Shenaz Lake-Thomas
Cakemaker
---