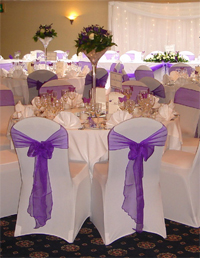 On-trend
Q. How can I incorporate Ultra Violet into my wedding day?
A. Annabel Grange says: Ultra violet! This trend is looking very popular for 2018 – think dark purples and lilacs, even a hint of a blue accent, with only a small amount of ivory and whites.

Use the strong base colour of purple throughout the flowers and venue decorations with lilac hues and silver or diamantés for the smaller venue styling accents such as the top table swags, favours, bows.

Round and shower bridal bouquets are both popular this year too – purple lisianthus gladioli, hydrangeas, veronica, anemone, campanula with lilac roses, agapanthus, carnations, gladioli, freesias – to name but a few of the flower options available! With a hint of white gypsophilia, and greenery to contrast. Not to be forgotten the amazing orchids look fab in deep purple and lilac!

Larger pedestal arrangements can be created with bold larger purple flowers (season dependent) such as allium, gladioli and alstroemeria. These make a statement not only at the ceremony but also look amazing at the reception.

Short, square vases with large, bold blooms – such as hydrangea – in purple look amazing for the ceremony tables then moved to the top table which can feature a larger purple satin swag.

Martini vases are still very popular for table centres, or tall wider vases with a modern striking arrangement of tall larger purple and lilac flowers. I'd use allium, gladioli, lisianthus, or alstromeria, hydrangeas with long, modern steel grass.

To set off the trend, set on a mirror plate with purple and lilac or even blue crystals, petals, lights, favours and napkins.

For overall venue styling, sparkling purple fairylit backdrops and ceiling drapes, and fairlights in a colour can be used for railings, bannisters, and outside trees and shrubs.

For the darker months purple up-lighters can be placed around the room or at entrance ways – why not light up a fireplace or the bar front in purple? Purple satin chair sashes with white covers work very well for this look giving a wonderful modern sheen with a strong colour; or for a very modern twist why not have a black cover with a purple sash? You could opt for chivari chairs and have a purple table overlay or runner to give more colour in the room.